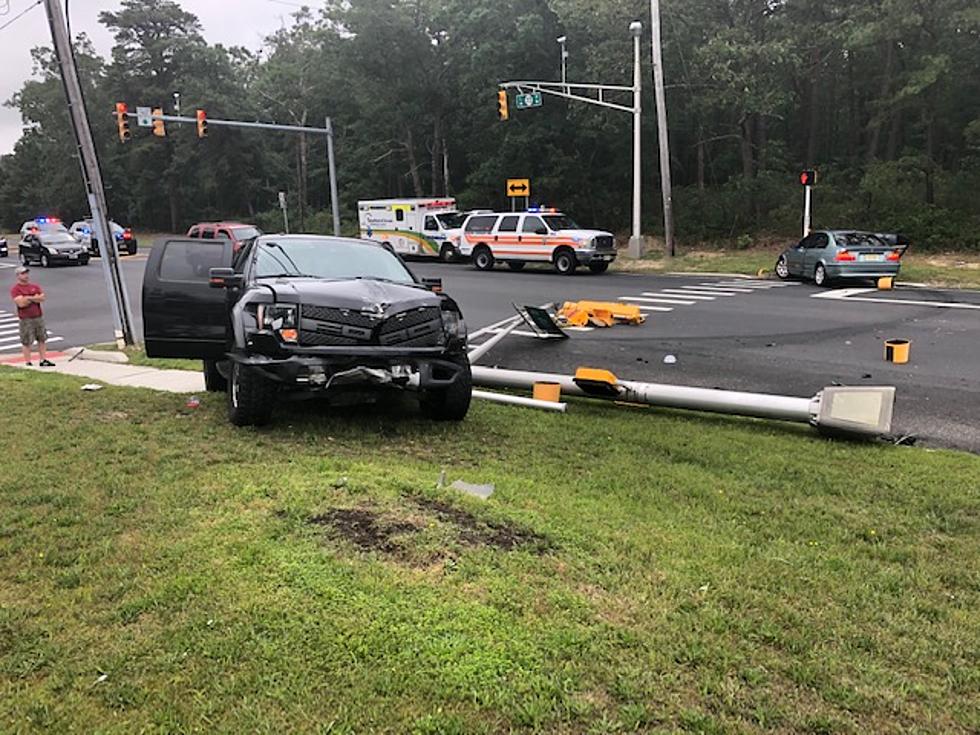 Two car collision knocks out traffic signal on Route 72 in Stafford
Two car collision on Route 72 near Neptune Drive in Stafford. (Stafford Township Police Department)
A two car collision led to a traffic signal being knocked out on Route 72 near Neptune Drive in Stafford Wednesday afternoon around 1:00 pm.
Police say a BMW being driven by Dylan Houser, 20, of Little Egg Harbor was traveling east on Route 72 approaching the Neptune Drive traffic signal to make a left turn when he was struck by a Ford pick-up truck that was heading westbound.
The Ford pick-up truck was being driven by Rudy Esteves, 54 years old of West Chester, Pennsylvania.
The MONOC Paramedic unit 216 and the Stafford Township First Aid Squad treated all injured parties involved, which included both passengers of the BMW, Christian Stott, 18, of Manahawkin and a 17 year old male from Manahawkin.
They were transported to the Southern Ocean Medical Center for further medical evaluation.
The driver and passenger of the Ford Pick-up truck were evaluated and released on scene by medical personnel.
All of the injuries are considered non-life threatening and everyone was wearing their seatbelts at the time of this crash.
Both vehicles sustained significant damage and had to be towed from the scene.
Houser was issued a summons for Careless Driving.
Patrolman Jillson is the investigating officer.
If anyone has additional information regarding this crash, please contact Patrolman Jillson at (609) 597-8581 or at Ajillson@staffordpolice.org.