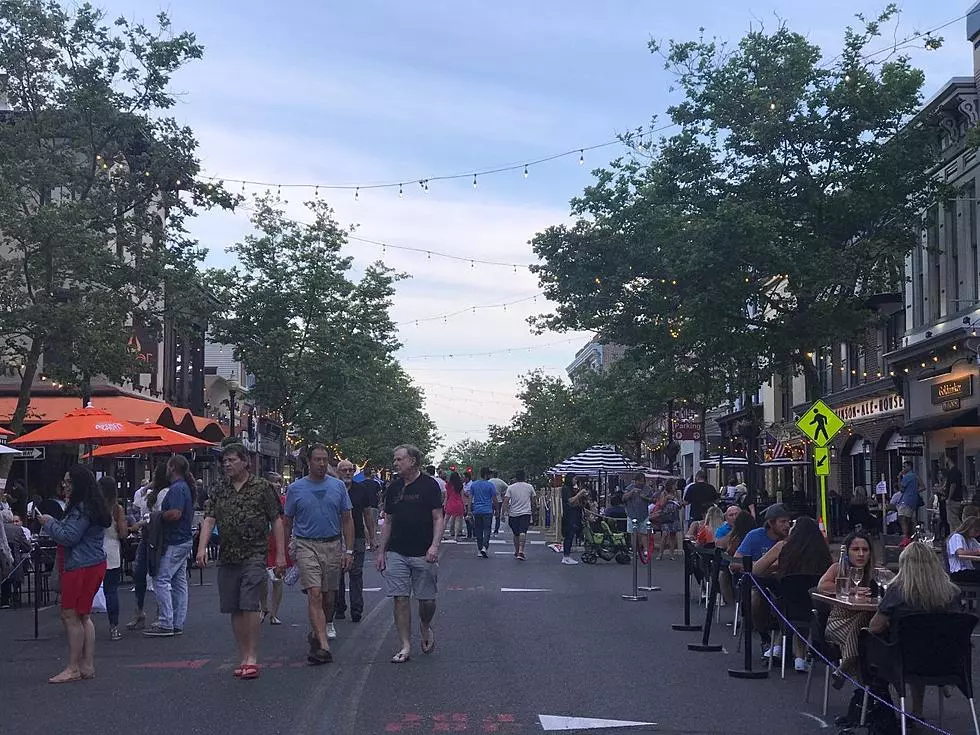 Iconic Outdoor Attraction In Red Bank, NJ Might Return For 3rd Year In 2022
(Red Bank Broadwalk photo by Liz Jeressi)
Did you know Red Bank took matters into their own hands and basically created their own boardwalk?
That is what you call iconic.
It is officially known as Red Bank's Broadwalk.
You get it? The title is a play on "Boardwalk" and "Broad Street" which makes sense because this area is set up on Broad Street and Monmouth Street in downtown Red Bank.
In case this is the first you are hearing of this, it is described as, "a sprawling pedestrian plaza that mimics the style and allure of many European old cities," according to RedBankPulse.com.
Picture a boardwalk - but on a road.
It was created during the peak of COVID-19 in 2020, returned for 2021 and now, MAY return for a 3rd year in 2022.
The borough did informally approve the Broadwalk to return, but it won't be the same as last year.
According to RedBankGreen.com, if Red Bank's Broadwalk is brought back for a third year, it won't be up and running until at least mid-July due to construction delays.
I am very surprised about this part: there is an intense debate about this Broadwalk returning among Red Bank residents.
I would have thought this attraction would only be loved amongst residents and visitors.
This attraction brought more business to the town and also put Red Bank on the map and able to compete with shore towns like Asbury Park and Long Branch.
"If you don't have a Broadwalk, you're going to have businesses leave.  All remaining businesses will 'suffer,'" said Patrizia's business owner, Louis Maschi.
But, there are quite a few people who are hoping the Broadwalk does not return because it originally started as a short-term solution for COVID-19.
Some say the attraction has brought a massive amount of traffic and congestion, there is never any parking and there is more trash and debris from the influx of visitors.
Quick thought - isn't traffic a good thing? Doesn't it mean this Broadwalk is just extremely popular?
Overall, it sounds like a lot is still up in the air with Red Bank's Broadwalk.
It looks good for it return this July but nothing is concrete thus far.
Are you hoping it returns? I sure am.
Once I have any updates, I will let you know immediately.
Looking for other attractions to hit up this Summer? Here you go:
38 Jersey Shore Tourist Traps Even Locals Can't Resist
There are some places at the Jersey Shore visitors will seek out for their sheer notoriety. But, we'll let you in on a little secret. There are some, like AC casinos and Lucy the Elephant, we can't resist them either.
The Top Brunch Joints At The Jersey Shore!
They may not have bottomless...but their food is top notc