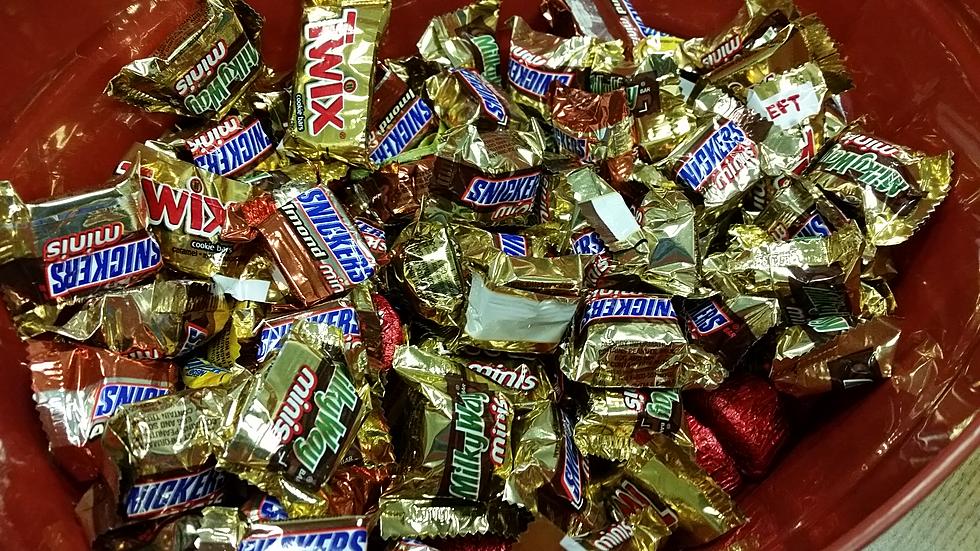 New Jersey: Here's How To Donate Your Halloween Candy To Our Troops
A bowl of pre-Halloween candy (Dan Alexander, Townsquare Media NJ)
Unfortunately, there is such a thing as having TOO much Halloween candy.
Be honest with yourself here. There is nothing good that can come from you eating that entire 10 lb. bag of Halloween candy all on your own.
So to save you from a cavity nightmare....here are a few worthy causes for you to donate that excess Halloween candy to.
Before we get to how you can donate, how about a quick Halloween-themed game before we officially say goodbye to the spooky holiday?
Did you get them all? Should I make it more difficult? Let me know: Nicole.Murray@townsquaremedia.com.
But now, back to donating your Halloween candy.
As much as you want that stash to last all year, a simple chocolate bar could really brighten up someone else's day. Can you think of anyone who could really use a little extra pick me up?
I can. OUR TROOPS! So let's get to it:
Solders' Angels is looking to collect your excess Halloween candy for a great initiative known as Treats For Troops.
There are two purposes of this drive: to avoid your kids from over-indulging in those Halloween sweets and to show our troops some extra love....in chocolate!
Families can gather their unwanted candy and drop it off at a nearby donation site.
This program has been collecting candy for our troops since 2005 and it is still going!
Local businesses -- traditionally but not limited to dental offices -- offer to be drop off locations for candy donations. Participants will "buy back" Halloween candy with cash (you give $1 per pound of candy donated), coupons and other creative exchanges.
Businesses will then, "send the donated candy to Move America Forward, Operation Shoebox or other Military support groups," via their website.
CLICK HERE and scroll down to search for a Buy Back event near you.
This nonprofit has one goal: to meet the needs of every hero with dignity and appreciation.
They send out care packages to those who are deployed overseas and one of their favorite bonuses is to include is candy!  I am sure an actively deployed soldier's day could be made with one bite of a Snickers. You feel me?
Just to put it into perspective, this organization sends out nearly 400 care packages every month which costs $14,000! (This number definitely went up thanks to inflation)
Mail your candy donations to: Operation Shoebox located at 8360 East Highway 25 in Belleview, Florida. The zip code is 34420.
RMHC's mission is to, "find and support programs that directly improve the health and well-being of children and their families."
Ronald McDonald families are usually burdened with massive medical bills  will live in Ronald's house for free Call your local chapter and ask for the specific rules on donating unopened candy for the sick kids and their families.
Take a look at the original source HERE. 
P.S. If none of these options appeal to you, you can always donate your excess Halloween candy to a local shelter or food pantry.
For that candy you do want to eat, here are some good movies to watch while you snack:
10 Family Friendly Halloween Movies All New Jersey Kids Will Love
Spooky season is upon us which means Halloween movies are a must. You need to make sure you hit the classics!
The 20 Best Halloween Costumes For Your Jersey Shore Dog