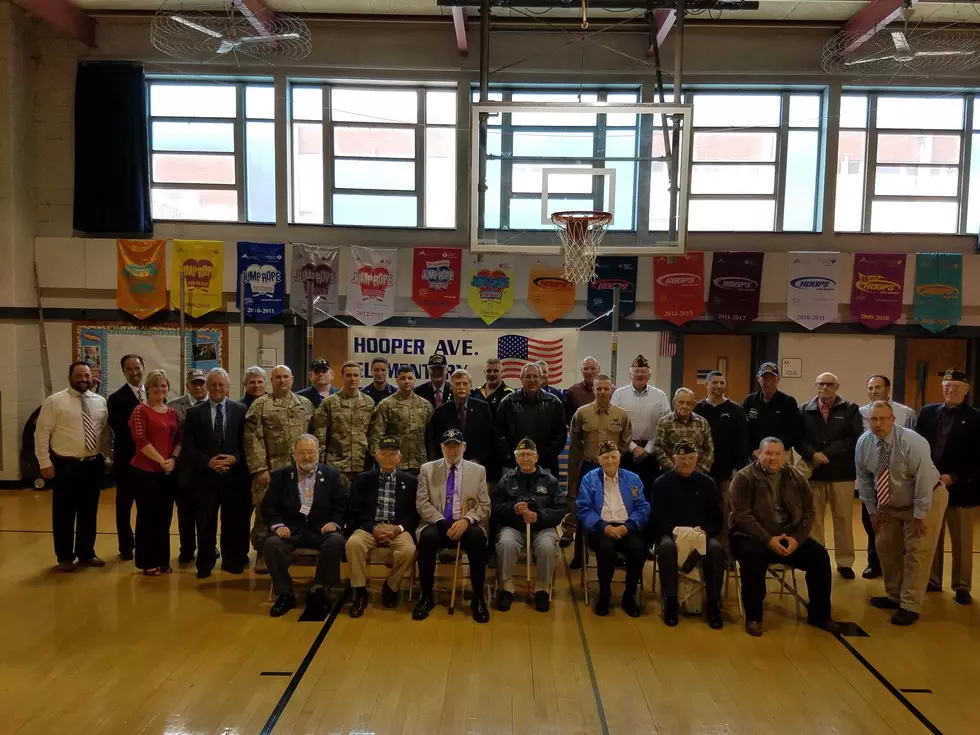 New Jersey Military Veterans would significantly benefit from two new pieces of legislation
Military veterans speak to students at Hooper Avenue Elementary school. (Vin Ebenau, Townsquare Media)
Our military service men and women do so much to protect us and our freedoms and keep us safe both here and across the world, so more should be done to ensure they are taken care of when they return home and to take care of their families as well.
There are terrific non-profit organizations such as Recalibrate in Ocean County, run by Jackson Police Officer and Military Veteran, John Roth, which helps military men and women transition back to civilian life financially, emotionally, physically, and more and also helps first responders in our community.
There are two pieces of legislation that were approved in the State Senate last week which would provide a boost to military service members, veterans, and their families.
State Senator Michael Testa (R-1) sponsors legislation that would provide added financial benefits to Veterans with service-connected injuries as well as spouses of those veterans who made the ultimate sacrifice, coming in from the state of New Jersey.
"It is our duty to ensure the well-being of New Jersey's veterans and their spouses," Senator Testa said in a written statement. "Some veterans have suffered significant disabilities in the line of duty including permanent paralysis and loss of sight. This bill will offer some much-needed financial relief and stability to these injured veterans, and their loved ones, during their time of need."
His bill, S-1536/A-1477, would, specifically, have the State of New Jersey increase the annual payment from $750 to $1,800 to a veteran with certain specified service-connected disabilities and the surviving spouse of that veteran.
Senator Testa said that service-connected injuries include total loss of sight, paralysis, or amputation.
"Shockingly, the amount paid to disabled veterans has remained the same for 40 years," Senator Testa said. "This legislation will more than double the amount veterans receive under current law and help account for inflation and rising health care costs. These benefits are hard-earned and well-deserved for those who have sacrificed so much to protect our country."
There is a separate piece of legislation, sponsored by State Senator Kristin Corrado (R-40) which is designed to help New Jersey Military Veterans struggling with mental health issues from the service.
Her bill, S-2383, would expand assistance to include former service members diagnosed with service-connected mental health conditions honorably or otherwise discharged.
"Too many veterans are wrestling with mental health conditions related to their service, but they are abandoned because they received 'other than honorable' discharges for any number of reasons," Senator Corrado said in a written statement. "Discharge designations shouldn't stand in the way of potentially life-changing professional assistance for those who served."
Senator Corrado said that the bill would require DMAVA to assist these Military Veterans with the necessary forms and conditions required to petition the U.S. Department of Veterans Affairs to upgrade discharge papers so they can get the mental health assistance they need.
"These veterans served our nation, and as a result, they are struggling. Once their designations are changed, they will be eligible for the same assistance currently offered to their honorably discharged colleagues," Senator Corrado said. "The priority is getting them the help they need."
Honoring our Military and Veterans
First Responders Appreciation
How Firefighters training helped put out major fires