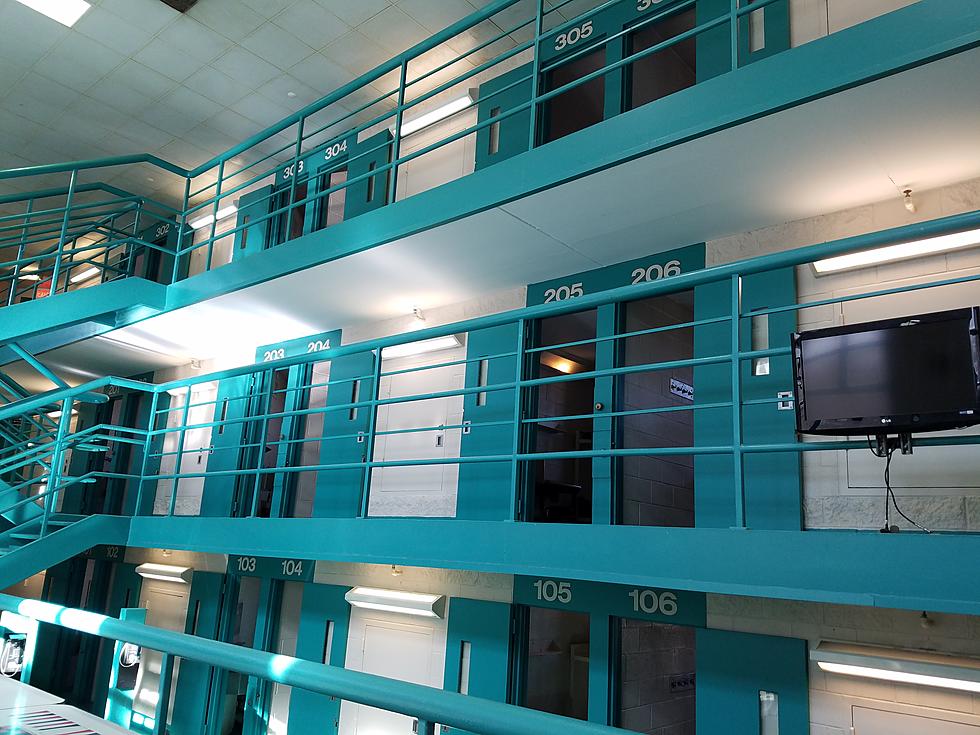 Neptune man charged with stalking, burglary and stealing a bra
Prison cells at the Monmouth County Correctional Institute. (Vin Ebenau, Townsquare Media New Jersey)
A Neptune Township man has been jailed as he faces charges for stalking, burglary and cyber-harassment for his persistence in pursuing a woman on social media and in person, announced Monmouth County Prosecutor Chris Gramiccioni.
Wayde M. Delhagen, 25, is facing charges in his hometown of third degree Burglary, fourth degree Theft by Unlawful Taking, fourth degree Criminal Mischief, and related charges of fourth degree Stalking and fourth degree Cyber-Harassment.
Delhagen first found himself in trouble after allegedly stealing an 18-year old's bra and bathing suit top at her home on Wayside Road around 3:00 am on June 15.
When officers arrived on the scene shortly after getting a call for a possible burglary they spoke to the 18-year-old female victim and her mother, who said that someone had broken into the girl's bedroom through a window, while they were sleeping in another part of the home.
The victim told police that she had been having trouble with a man she met using social media.
While continuing their investigation during a search of the surrounding area, Neptune Police Officers located Delhagen in front of a nearby home with the victim's clothing he stole from a laundry basket located under the window of her bedroom.
Delhagen was then charged with Burglary, Theft and Criminal Mischief.
He was released on a summons in accordance with the recommendation from Delhagen's Public Safety Assessment.
As Neptune Township police continued their investigation they learned that the victim had had first come in contact with Delhagen last year via social media.
The interaction turned into harassment after the victim denied a request by Delhagen for the two of them to meet in person, forcing the victim to cut off any communication between them.
Police learned that In May of 2019, Delhagen contacted the victim using a different social media platform, asking if he could come over to the victim's house and inquiring if the victim's mother was home.
He then sent her "disturbing images" including a Google Maps image of her residence.
After he was again rejected by the victim, Delhagen sent a harassing message to the girl's mother.
Neptune Township Police charged him with Stalking and Cyber-Harassment and he was taken to the Monmouth County Correctional Institution.
Delhagen is also charged out of Neptune City, with two counts of fourth degree Cyber-Harassment, as part of an ongoing investigation into harassing messages sent via social media and his cell phone to a separate set of victims.
In that case, Delhagen is accused of utilizing social media accounts to repeatedly send threatening messages and sexually explicit materials to another young female victim and her mother.
Delhagen is currently being held in the Monmouth County Correctional Institution in Freehold Township.
He had a first appearance on June 26, 2019, before Monmouth County Superior Court Judge James J. McGann.
A detention hearing is scheduled for July 1, 2019, before Judge McGann.
If convicted of Burglary, Delhagen faces a sentence of three to five years in prison.
If convicted of the fourth degree offenses, he faces up to 18 months in state prison on each count.
Despite this arrest, law enforcement authorities continue to seek names of other potential victims that may have been contacted by Delhagen on social media.
Anyone with additional information about this case is asked to contact Detective James Van Etten of the Neptune City Police Department at (732) 455-0117, or Detective Erick Amadruto of the Neptune Township Police Department at (732) 988-8000 extension 419.
The case is assigned to Monmouth County Assistant Prosecutor Joshua Carmel and William Visone.
Delhagen is represented by Shane S. Paugh, Esq., of Middletown.