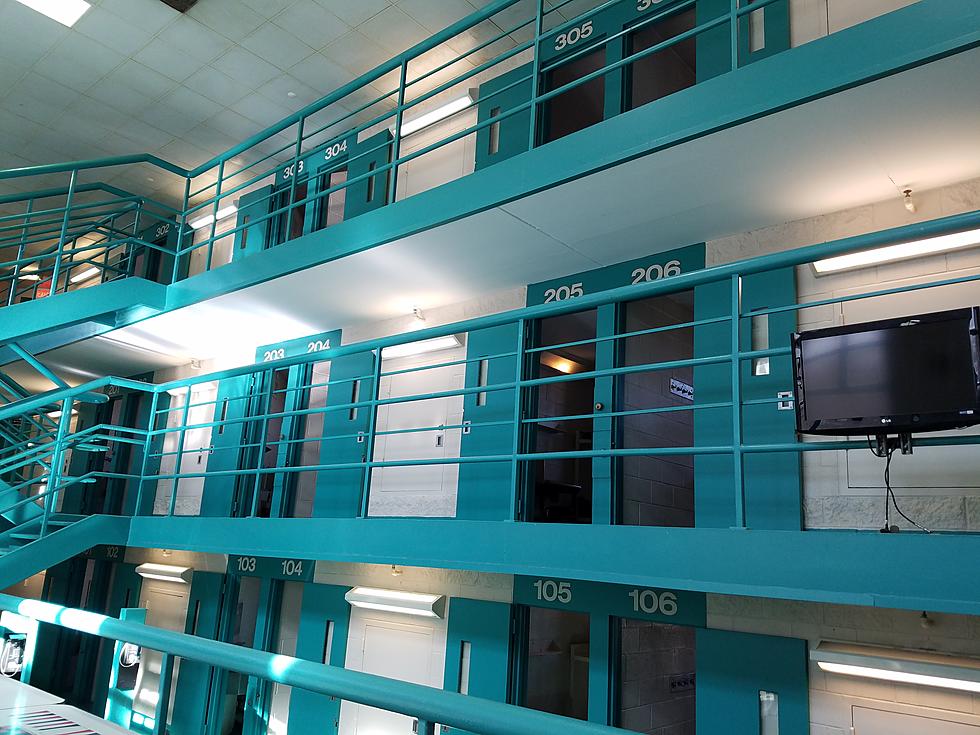 Monmouth County pair arrested for attempted burglary after shots fired in Tinton Falls
Prison cells at the Monmouth County Correctional Institute. (Vin Ebenau, Townsquare Media New Jersey)
When the dust settled, there were no injuries but two arrests from the people allegedly responsible for starting the series of events.
One man was arrested quickly but a second suspect fled to a Freehold Borough apartment, triggering a call for the Monmouth County Emergency Response Team, announced Monmouth County Prosecutor Chris Gramiccioni.
A Tinton Falls police officer responded to the sound of a single gunshot in the area of William Street around 1:27 p.m.
As the officer proceeded into nearby Hance Park to investigate further, he was approached by the victims of an attempted burglary at their Peach Street residence.
The victims reported that they confronted the two burglars before one of the men pulled out a handgun and fired one shot into the air.
The two burglars then ran from the park.
Alix Eugene, 20, of Eatoncrest Drive in Eatontown, was located and arrested nearby.
A second suspect, Omari Key, 18, however was believed to have fled to his apartment at Spring Terrace in Freehold Borough.
Freehold Borough Police responded to Key's apartment and determined that he was inside the residence but refused to surrender.
Officers secured the area and requested assistance from the Monmouth County Emergency Response Team (MOCERT).
Following a 2-hour stand-off, Key finally came out of the residence and was apprehended without incident.
The single gunshot prompted a brief "shelter in place" warning for Brookdale Community College in Middletown due to an abundance of caution while police sorted out the situation.
Key and Eugene are charged with second degree Conspiracy to Commit Armed Burglary, second degree Attempted Armed Burglary, second degree Possession of a Firearm for an Unlawful Purpose, and second degree Unlawful Possession of a Weapon.
Key was additionally charged with third degree Hindering by Suppressing and Concealing Evidence and fourth degree Aggravated Assault by Pointing a Firearm.
They are both scheduled for a Detention Hearing on Friday.
If convicted of any of the second degree crimes, Eugene and Key each faces a sentence of five to ten years in a New Jersey state prison.
If convicted of the third degree offense, Key faces a sentence of three to five years in prison, and the fourth degree charge carried a potential prison sentence of up to 18 months.
Anyone with information on what they saw or heard on Monday is urged to contact Detective Ramon Camacho of the Monmouth County Prosecutor's Office at 800-533-7443 or Detective Brian Cahill of the Tinton Falls Police Department at 732-542-4423.
Anyone who feels the need to remain anonymous but has information about a crime can contact Monmouth County Crime Stoppers confidential telephone tip-line by calling 1-800-671-4400; can text "MONMOUTH" plus their tip to 274637; or, they can email a tip via the website at www.monmouthcountycrimestoppers.com.
Monmouth County Crime Stoppers will pay up to $5,000 for information leading to the arrest of criminals and fugitives.
The case is assigned to Monmouth County Assistant Prosecutor Matthew Bogner.