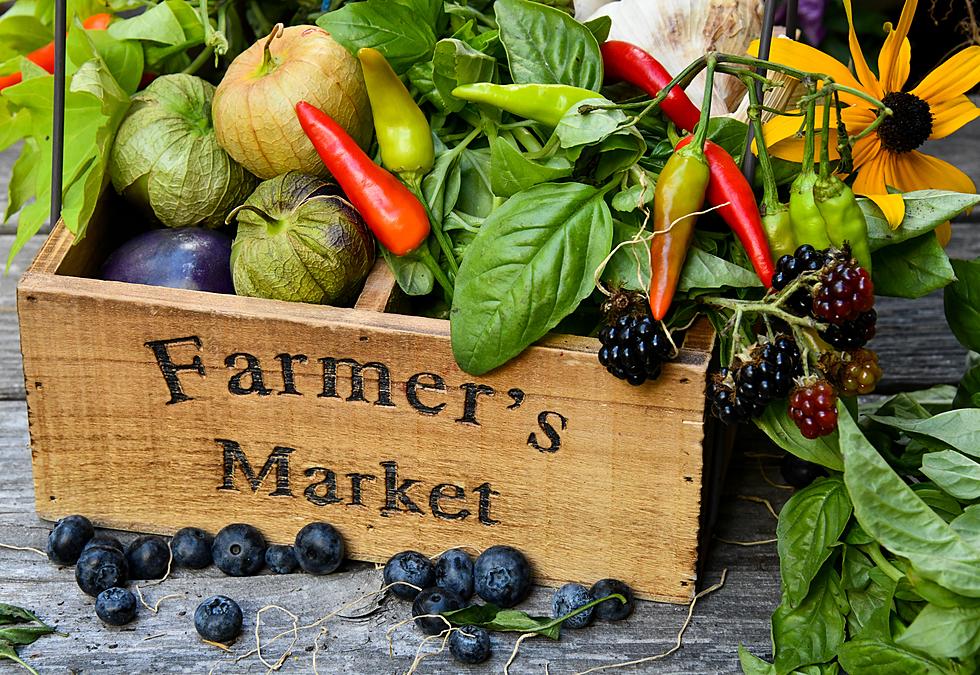 Awesome Farmers Market In Brick, New Jersey Is Back And Bigger Than Ever
Photo by Shelley Pauls on Unsplash
I'm obsessed with a great farmer's market and now that Spring is here and Summer is on the way, we're ready to shop for epic Jersey corn, tomatoes, and beyond!
The Brick Farmers Market is awesome and I'm so looking forward to getting there!  It's such a great way to support local farmers and artists in our community.
They will be open for business on May 7th at Windward Beach Park from 8:30 a.m. to 1:30 p.m. If it is raining don't worry, just grab an umbrella because they always power through the rain.  You can check for daily additions to the vendor list below by looking on the Brick Township website here.
Vendor List For 2022 Brick Farmers Market at Windward Beach Park
502 Baking Company: Scones, pies, cookies, brownies, gluten-free and vegan desserts
A&A Dips: Dip mixes of all flavors, flavored balsamic and extra virgin olive oils
Abraham's Landscape Design & Nursery: Dwarf trees, flowering shrubs and perennials
America's Kettle Corn: Fresh popped kettle corn, fresh lemonade
Barbara's Kitchen Jams and Jellies: Jams, jellies, marmalade and salsa
Baker's Bounty: Crumb cakes, zucchini loaf, cakes, banana loaf, pumpkin loaf, stuffed breads
Bark & Bites: Homemade farm fresh frozen dog treats
Barnegat Bay Oyster Collective
BBQ on Wheels Catering: Smoked chicken, pork ribs, smoked turkey breast
Beansy's Biscuits: Homemade dog treats
Beckage Farms: Local in-season produce, honey, PA Dutch baked goods, cider, eggs, flowers
Betsy & Lola's: Dairy-free bakery and gluten-free cupcakes in a jar, 100% dairy-free frosting
Bon Nut Butters: Stone-ground nut butters including almond, peanut, pecan, coconut, hazelnut, cashew
Butter Me Up: Gourmet flavored butter
Caldino's: Fresh mozzarella, ravioli, fresh pasta, breads
Chef Vinnie's Kitchen: Homemade sauces including tomato, marinara, and vodka
Cream Ridge Winery: Natural, handcrafted wine
Dachshund Distilling: Artisan rum
D'Agostino Specialty Desserts: Chocolate covered strawberries, bananas, pineapple, grapes, bacon, gelato
Deliciously Alicia's: Organic, gluten-free, and vegan foods, mac n' cheese, veggie pot pies, spinach pies, and many more
Danny's Seafood: Crab cakes, tuna steaks, mahi-mahi, shrimp kabobs
Farmer Al's Market and Greenhouse: Fruits and vegetables, hang plants, bedding plants
Garden State Distillery: Vodka, bourbon, river rye, rum, whiskey
Gourmet Nuts & Dried Fruit: Nuts, dried fruit, seeds
Green Goddess: Raw honey, organic herbal teas, herbal remedies
Icarus Brewing Company: Craft beer
Josephine Creations: Handmade 100% soy candles
Jaker's Pickles: Homemade pickles, olives, sauerkraut, mushrooms
Jamming Foods: Maha premium granola
Kauffman Farms: Local fruits and vegetables, flowers
Knight Glassworks: Unique hand-blown glass
Krakus Deli: Pierogis, kielbasa, soups, stewed cabbage, cabbage noodles
Little Bean Apothecary: Elderberry syrups, cough syrups, herbal tinctures, soaps, deodorant, bug spray
Momma Homemade: Applesauce, sweet potato syrup, apple carrot cake in a jar, cocktail sauce
My Brittle: Small and large jars of handmade, gourmet nut brittles
Pine Coast Culture Company: Kombucha tea
Point Pleasant Pottery: Handmade stoneware pottery
Port Coffee: Fresh hot coffee, coffee beans, cold brew, nitro cold brew, local honey
Ramblin' Sol: Chemical-free sustainable products, vegetable, and herb flower seedlings, mixed vegetables
Rella Works: Woodwork primarily from locally fallen trees such as cheese boards, cutting boards, and charcuterie boards
Savvy Fit Soaps by TASCOFit: Natural soaps, lotions
Sea Glass Jewelry by Kristen: Handmade necklaces, bracelets, and earrings made with genuine sea glass
Shore Sauce: Hot sauces
Shore Shake: Smoothies, milkshakes
Simply Sofrito: Handmade organic empanadas and traditional Puerto Rican specialties
So Good Guacamole & Dip Company: Fresh-made guacamole, hummus, salsa, tortilla chips
Sweet Spot Donuts: Fresh mini donuts with toppings
The Spoon & Bowl: Hot soups, cold soups, prepared meals, and salads
Three Girls Garden Flowers: Homegrown fresh-cut flowers
Toms River Brewing Company: Craft beers
Trading Post Jerky: Gourmet beef, bacon, and turkey jerky
Two River Gourmet Mushrooms: USDA Organic Certified gourmet mushrooms
Orchardside Farm: Fresh in-season vegetables and farm to table fresh prep salads and grain basted entrees
Potent Potables: Fresh juice and craft cocktail mixers
Colors of the Wind Apothecary: Teas, tinctures, salves, sprays, sacred smudge bundles, nourishing herbal infusions, vinegars, oxymels, lip balms, massage oils, & more
Now I'm in the mood for a power salad!  If you looking for other amazing places to enjoy fresh farm-to-table entrees and more?  Here are some of New Jersey's finest spots:
Every Extraordinary New Jersey Eatery Featured on The Food Network
20 Succulent New Jersey Seafood Restaurants too Sensational Not to Try