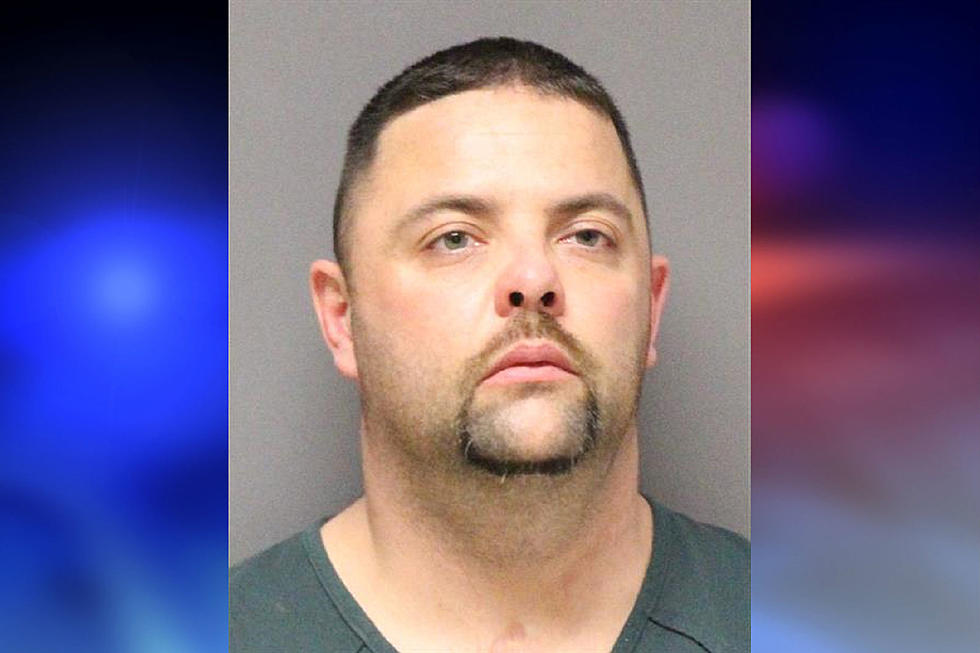 Toms River, NJ man in trouble with the law again after placing non-explosive device in roadway
David Giordano (Ocean County Jail)
A Toms River man, who has found himself in trouble with the law a few times over the past year alone, is back in jail after leaving a suspicious device in the heart of the downtown area on Saturday night.
David Giordano, 36, who has had some trouble with the law prior to 2021, was arrested last March after spray painting a blue line between the yellow street lines in a section of Hooper Avenue downtown.
That incident took place a week after Giordano took his impounded bucket truck from the parking lot of Freedom Towing & Recovery on Route 9 and then drove it downtown, parking it in Mayor Mo Hill's spot outside of town hall.
Giordano's truck had been impounded for more than 300 days at that point, police said,  and he was actually caught on surveillance at Home Depot the Monday before the spray painting incident, stealing 11 cans of paint from the hardware store.
In that arrest, he was also found with drugs and drug paraphernalia.
Then in May of 2021, Giordano uploaded a series of videos to YouTube where he threatened to turn the Ocean County Justice Complex and Toms River Town Hall, "upside-down".
He was promptly charged with Making Terroristic Threats and creating a False Public Alarm by the Ocean County Prosecutor's Office.
Between the OCPO, Toms River Police, and Berkeley Police, law enforcement executed search warrants at his homes at that time and seized several items containing digital evidence of Giordano's activities.
In August of 2021, Giordano was indicted for the May incident.
Flash forward to today, Giordano is again being charged with False Public Alarm, according to Ocean County Prosecutor Bradley Billhimer, after his planting of a suspicious device on Saturday night, February 5.
Toms River Police were called to the area between Hooper Avenue and Washington Street, between the Ocean County Courthouse and Ocean County Administration Building, around 9:00 pm Saturday evening and officers who responded to the once found a car battery with a power inverter attached to it.
That power inverter had a strand of blue LED Christmas lights plugged into it with the other end of the lights in a bottle of Clorox bleach with the liquid inside of it.
Police then shut down the area between Hooper Avenue, Madison Avenue, and Washington Street out of concern the device in the roadway might be explosive in nature.
The Ocean County Sheriff's Office K-9 Unit, Ocean County Prosecutor's Office Major Crime Unit-Arson Squad, New Jersey State Police Bomb Unit, and Berkeley Township Hazardous Materials Unit, helped investigate the scene and authorities were then able to determine that the device, was not an improvised explosive device.
The Ocean County Prosecutor's Office Major Crime Unit-Arson Squad and Toms River Police investigation then determined that Giordano was responsible for placing the device in the roadway.
On Sunday, a warrant was issued for Giordano's arrest for causing false public alarm, and on Monday, Giordano was involved in a motor vehicle accident on the Garden State Parkway near Bloomfield.
Giordano was taken to a medical facility in Belleville, and treated for his injuries, but before he was released from the hospital, he was taken into custody by Toms River Police.
He was also searched at that time, and police found him in possession of alprazolam, methamphetamine, and drug paraphernalia.
In addition to the False Public Alarm charge, Giordano has also been charged with Possession of Alprazolam, Possession of Methamphetamine, and Possession of Drug Paraphernalia, and is now in the Ocean County Jail, pending a detention hearing.
Previous reporting by Dan Alexander was used in this article.
When Ocean and Monmouth County Police saved the day