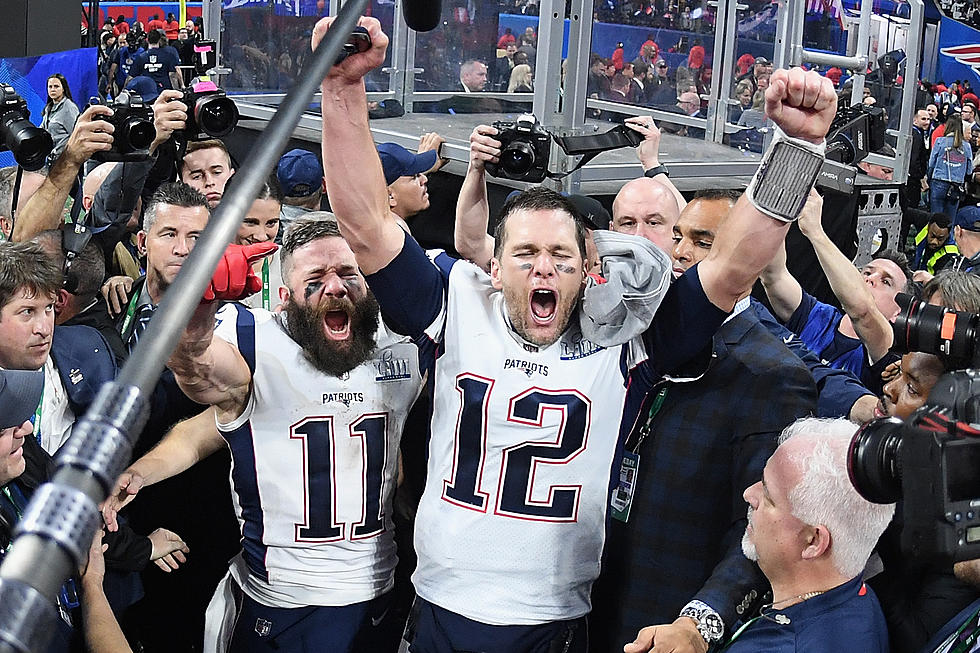 No Love for the Super Bowl
Julian Edelman #11 of the New England Patriots and teammate Tom Brady #12 celebrate at the end of the Super Bowl LIII (Harry How/Getty Images)
Let's be honest.  Super Bowl 53 was a dud for most unless you're a diehard fan of the Patriots, love games dominated by defense or had 3 and 3 in your box pools.
In a season that featured record-breaking scoring the NFL's annual "ultimate game" saw the Patriots throttle the Rams 13-3 as Tom Brady and Bill Belichick won their record sixth Super Bowl together.  You don't need any more post-game analysis but here are some thoughts in general on what we saw on TV:
Gladys Knight killed it with the National Anthem which was a prop bet winner for those who took the over.
CBS had a solid if not spectacular day as broadcasters Jim Nantz & Tony Romo were good but the supporting cast was basically non-existent until the almost comical and yet slightly embarrassing post-game interview on the field with Tom Brady. Give Tracy Wolfson credit for fighting through a ridiculous crowd of photographers and then having to wait as Brady hugged about ten people before finally asking her questions.  Considering CBS pays over $1 billion a year to the NFL couldn't then get a bunch of security people to build a wall around Wolfson and Brady.  Oh. Wait a second. Building walls is not very popular these days.
As for the commercials, here's the thing. For a Super Bowl ad to be really effective you have to remember who the advertiser was.  I saw someone post a message on Twitter that they loved the "Elevator" commercial featuring Jason Bateman but they didn't remember who the advertiser was.  That's not good for a $5 million investment.  By the way it was Hyundai.
Some of my favorite commercials were:
Amazon Alexa ad with Harrison Ford and a dog.
Stella Artois featuring Sarah Jessica Parker and Jeff Bridges.
The Doritos mashup with Chance the Rapper and the Backstreet Boys.
The Bud Light commercial that took a shot at Miller Lite and Coors Light because they add corn syrup.
The NFL 100 commercial featuring past greats and current stars.
As the one with a really nice message you can't beat the Microsoft "We All Win" commercial that featured children with various challenges who get to play video games because of the Xbox Adaptive Controller.
By the way for those of you who really hate Brady, Belichick and the Patriots, they are the co-favorites along with the Chiefs at odds of 8-1 to win Super Bowl 54.