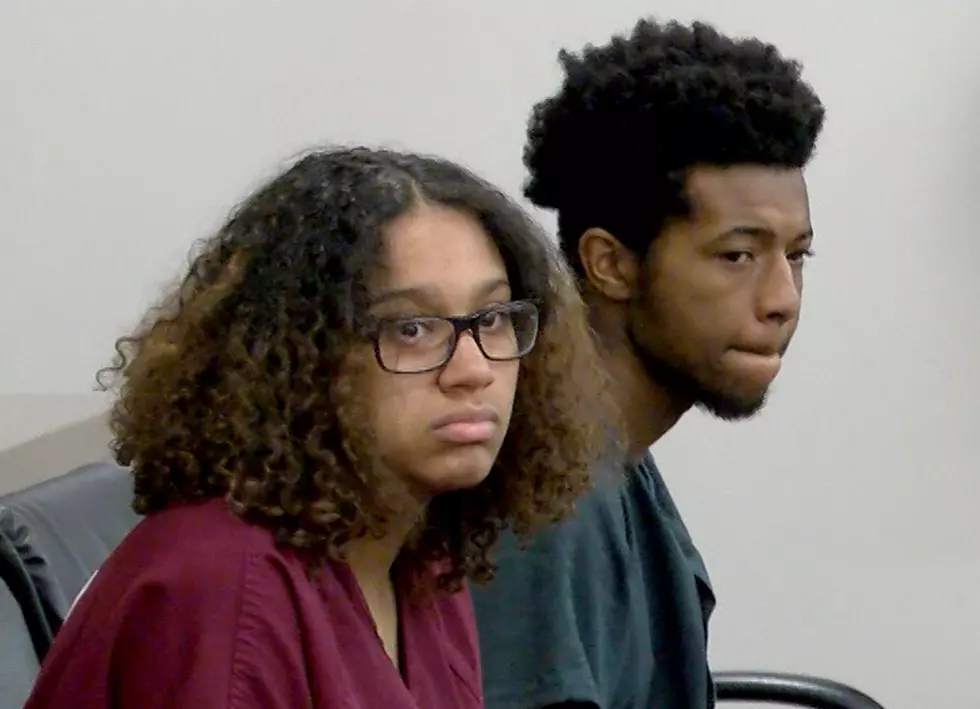 Neptune parents who suffocated their newborn, put in Asbury Park dumpster head to prison
Jada M. McClain and Quaimere Mohammed at their first court appearance (Thomas P. Costello, Asbury Park Press POOL)
The Neptune parents who committed the unthinkable heinous crime of suffocating their newborn child then putting him in a dumpster in Asbury Park in March of 2019, have received their prison sentences.
Monmouth County Prosecutor Chris Gramiccioni announced Thursday that Jada M. McClain, who is now 20, is being sentenced for 10-years after pleading guilty to first degree aggravated manslaughter and Quaimere Mohammed, who is now 21, is being sentenced for 5-years after pleading guilty to second degree disturbing or desecrating of human remains.
Both pled guilty to the 2019 infanticide.
McClain must serve 85-percent of her sentence before becoming eligible for release on parole.
Asbury Park Police began the initial investigation on April 4, 2019 after learning that McClain, who was a student at Neptune Township Regional High School, had given birth and her child was dead.
They got in touch with Neptune Township Police, who along with the Monmouth County Prosecutors Office MCU, picked up the investigation.
Between the law enforcement agencies, they found out that McClain had become pregnant by her boyfriend, Quaimere Mohammed, also a student, in July of 2018.
McClain later told investigators she hid the pregnancy from her parents, gave birth on March 29 at home and then put her hands on the infants chest until he wasn't breathing anymore.
Then, McClain and Mohammed put the child in a dumpster on Monroe Avenue in Asbury Park.
A security camera picked up Mohammed disposing the body near the Washington Village apartment complex.
Detectives also found out during the investigation that the contents of the dumpster, including the newborn, were transported to the Monmouth County Reclamation Center in Tinton Falls, where they were compacted and buried.
The infant's body was never recovered.
"This case is a horrible tragedy. An infant is dead and two young people are going to prison. New Jersey's Safe Haven Protection Act provides a legal, safe, and confidential process for anyone wishing to relinquish custody of a newborn. It is important that people be made aware of this law," Prosecutor Gramiccioni said in a statement.
Prosecutor Gramiccioni reminds everyone that almost 21-years ago, the New Jersey Safe Haven Infant Protection Act became law and "it allows a parent who is unable or unwilling to care for an infant to give up custody of a baby who is less than 30 days old, safely, legally, and anonymously. All that is required is that the baby be brought to a hospital emergency room or police station in New Jersey. As long as the child shows no signs of intentional abuse, no names or other information is required from the person delivering the baby."
Monmouth County Assistant Prosecutors Joseph Competello and Stephanie Dugan prosecuted the case.
Thomas Catley, Esq. of Ocean Grove represents McClain.
Stephen Nelson Esq., of Neptune Township, represents Mohammed.
You can follow Vin Ebenau on Twitter and Instagram and email news tips to vin.ebenau@townsquaremedia.com.
Have You Seen Them? Monmouth County's Most Wanted
12 Times Being High Cost NJ Residents & Towns
Have You Seen Them? Ocean County's Most Wanted
NEXT: 10 Jersey Shore School Districts Losing Millions From S2 School Funding Formula
Ten times drunk driving changed New Jersey Lives Forever
Strange NJ Laws You've Never Heard Of
Marijuana legal in NJ: How do the laws work?
Answers to common questions about legalized recreational marijuana in New Jersey and rules about underage use of weed.
NEXT: INSIDE JOE PESCI'S HILARIOUSLY OVER-THE-TOP LAVALLETTE MANSION
LOOK: GO INSIDE JON BON JOVI'S $20 MILLION MIDDLETOWN MANSION
Go Inside Mike 'The Situation's' NJ Mansion
TAKE A TOUR OF JON BON JOVI'S NEW $43 MILLION PALM BEACH MANSION
Jersey Shore Nor'easter 2021 Listener Pictures
LOOK INSIDE: The Most Expensive House in Rumson
This is the most expensive house for sale in Rumson, NJ in 2021
Peek Inside Snooki's New Toms River Waterfront Home
LOOK: See the iconic cars that debuted the year you were born
NEXT: The 100 Best Places to Live on the East Coast