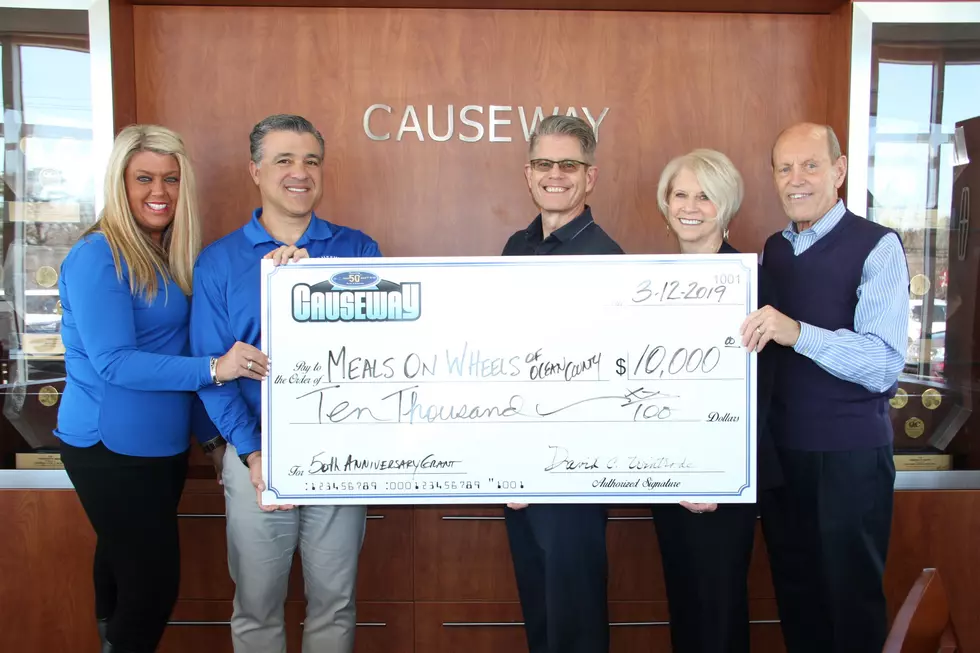 Meals on Wheels of Ocean County benefits from '50 Golden Acts of Good'
(L-R) Jennifer Maier, Sales, Joe Stroffolino, Director of Advertising & Marketing, Jim Sigurdson, Executive Director of Meals on Wheels, Ginny Haines, Ocean County Freeholder Director, Dave Wintrode, President Causeway Family of Dealerships (Kevin Williams, Townsquare Media NJ)
In January I announced that as part of their 50th anniversary the Causeway Family of Dealerships was going to "celebrate" in a rather different fashion.
As part of a year-long "50 Golden Acts of Good" campaign to help their neighbors and positively impact Ocean County the auto dealership in Manahawkin will salute a non-profit each month and award them with a $10,000 grant.  This program will culminate in December with the awarding of a new Ford Transit Connect Van.
March's recipient of this charitable endeavor is Meals on Wheels of Ocean County, a home delivered meal program for county residents who are at least 60 years old, homebound, unable to prepare their own meals and have nobody to assist them.  However with more than 162,000 senior citizens living in Ocean County and over 20,000 of them 85 and over Meals on Wheels is more than just a food delivery service.
Executive Director Jim Sigurdson told those from the auto dealership that every time a meal is delivered the driver must hear or see the recipient in order for them to receive the food.  This allows them to make sure the senior is doing okay and establishes a trusting relationship whereby the driver can tell when things are not going well.  In that case they immediately let someone know so that a loved one or doctor can follow up.
Meals on Wheels uses paid employees because the seniors depend on the food arriving to their homes every day and trying to schedule volunteers would be virtually impossible.
By providing nutritious meals this allows seniors to remain in their homes while maintaining a sense of independence for as long as possible. More than 40 years after they were established the organization has more than 50 full-time employees with 8 on-site meal centers and each day they prepare about 1,200 meals while also providing a diverse range of health, wellness, educational and outreach services.
The Causeway Family of Dealerships $10,000 grant will help Meals on Wheels continue providing services and there are ways you can help as well by donating at csimow.org. For 50 years the Causeway Family of Dealerships has been a fixture on Route 72 in Manahawkin and so has been their commitment to the community.  This is just the latest example.