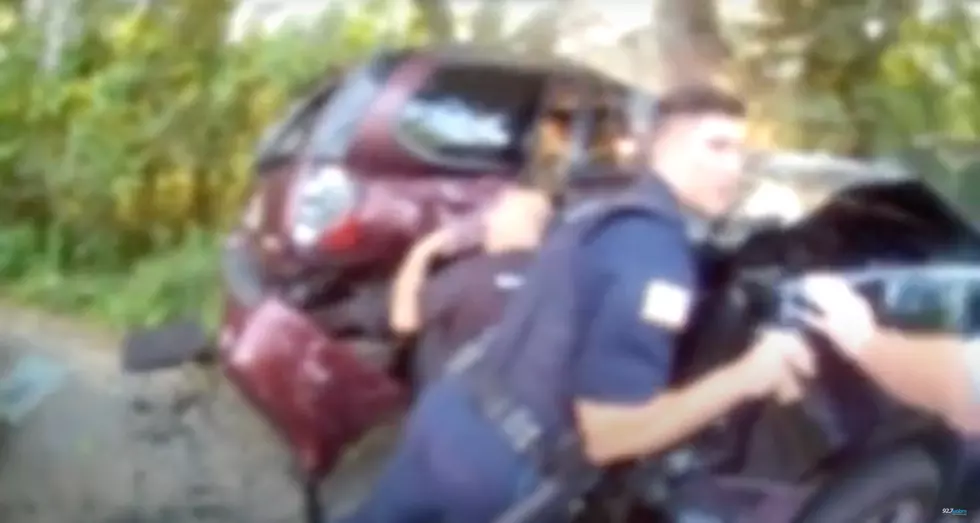 Marlboro Police Officers save teen girl from burning vehicle
Marlboro Police Officers save teen from burning vehicle. (Marlboro Police Department)
Two Marlboro Police Officers are being hailed as heroes today after saving the life of a teenage girl stuck inside of a burning vehicle on Monday night.
Police received a 911 call around 6:00 pm regarding a car collision between Conover Road near Route 520 and Pleasant Valley Road.
A black Cadillac Escalade had collided with a red GMC Envoy which caught fire and was stuck between the vehicle and the trees leading into the woods.
As a result, a young woman was partially stuck in the back seat of the Envoy while also being partially out of the vehicle.
Police Officers, as seen in the video, made a quick effort to try and push the Escalade away from the Envoy but couldn't get much success.
Other police officers on site tried to extinguish the flames which then spread across the vehicle.
Ofc. Donna Gonzalez and Ptlm. Robert Kelly then tried using a patrol vehicle to push the Escalade away from the Envoy.
Ptlm. Kelly put the Escalade in reverse while Ofc. Gonzalez got into her marked patrol car and pushed the Escalade off of the Envoy which freed the teenager.
(Article continues below video)
Officers were able to move her to safety and began treatment.
She was treated by members of the Morganville First Aid Squad and paramedics from Hackensack Meridian Health then flown by medevac helicopter to Jersey Shore University Medical Center with serious internal injuries and is listed in critical but stable condition.
The fire was extinguished by members of the Morganville Fire Department.
Ptlm. David Stattel of the Marlboro Township Police Traffic and Safety Bureau is investigating the crash.
At this time, a cause has not yet been determined and police say that drugs or alcohol do not seem to be a factor in the crash and no complaints or summonses have been issued.
The driver of the Escalade was a 57 year old male from Morganville who was not injured in the crash and there were no passengers in his vehicle.
The driver of the Envoy was a 17 year old male from Marlboro who was also uninjured in the crash. He had two juvenile passengers, the aforementioned victim who is 17 years old from Freehold and a 17 year old male from Marlboro who sustained minor injuries and was transported by ambulance to the hospital.
Marlboro Police Chief Peter Pezzullo arrived on location shortly after the victim was freed and today, looked back on what happened.
"If not for the officers' decisive action, the young lady pinned between the two vehicles would have undoubtedly perished. Officer Gonzalez and Officer Kelly acted with swift certainty and relied on sound judgment. I am extremely proud of both officers and I commend them for their actions," Pezzullo said.
Anyone with information about the accident is asked to contact Ptlm. David Stattel at (732) 536-0100 ext. 1116 or Dstattel@marlboropd.org.
You can follow Vin Ebenau on Twitter and Instagram and email news tips to vin.ebenau@townsquaremedia.com.
More From 92.7 WOBM News:
Enter your number to get our free mobile app