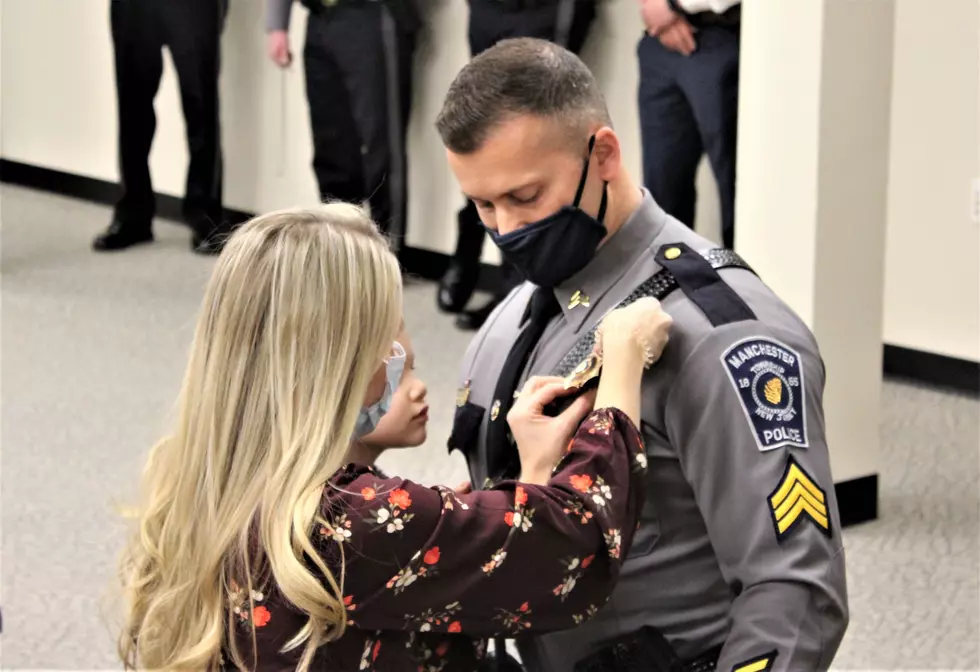 Manchester Police hires two recruits with Toms River, Little Egg Harbor roots
Manchester Police swears in new officers, promotes two officers. (Manchester Township Police Department)
Enter your number to get our free mobile app
Manchester Township Police have added depth to their department with the hiring of two recruits and the promotion of two officers.
Chief Lisa Parker has announced in a statement, the promotion of Sgt. Albert Vega to Lieutenant and Ptl. Ian Bole to Sergeant as well as the hiring of Ptl. Brendan Brush and Special Law Enforcement Officer Class II Sage Sysol.
Manchester Mayor Ken Palmer administered their oaths of office during a closed ceremony due to COVID-19 precautions, earlier this month.
Lt. Vega has been with the Department since 2003 and had previously served in the MTPD Investigations Bureau as a Detective and later Detective-Sergeant where he led the Narcotics Enforcement Team.
He holds a master's degree from Fairleigh Dickinson University, served as a member of the Ocean County Regional SWAT team and is in a current role as an instructor in numerous law enforcement disciplines, Chief Parker said, and Vega was presented with the Chief's Achievement Award in 2018.
Sgt. Bole began his career with the department in 2007 and served in the Traffic Safety Section.
He earned his Master's Degree from Fairleigh Dickinson University and has extensive training and experience in traffic safety matters, as well as serving as an Ocean County Police Academy Instructor and received the Chief's Recognition Award in 2014 and 2016.
Ptl. Brush is a Toms River High School East alumni who previously worked as a Class I Officer in Point Pleasant Beach.
He earned an Associate's Degree from Ocean County College and is currently pursuing his Bachelor's Degree at Kean-Ocean University.
Brush also interned with the Ocean County Prosecutor's Office Major Crime Unit.
SLEO II Sysol lives in Little Egg Harbor and graduated from Pinelands Regional High School in 2015.
He earned an Associate's Degree from Ocean County College and is working toward his Bachelor's Degree at Stockton University.
A former Class I Officer in Seaside Heights, SLEO II Sysol completed his Class II training in 2019.
"There is no question that Lt. Vega and Sgt. Bole are dedicated, resourceful and decorated officers who will continue their exemplary service to our residents in their new leadership roles," Chief Lisa Parker said in a statement. "We're also pleased to welcome Ptl. Brush and SLEO II Sysol, who have proven that they have what it takes to become successful law enforcement officers. I'd like to thank Mayor Palmer and the Township Council for their continued support of our Police Department."
Chief Parker said Officers Brush and Sysol will begin an intensive twelve week Field Training and Evaluation Program, where they will be instructed and mentored by several highly trained and seasoned officers.
Upon successful completion of the FTO Program, they'll be assigned to a patrol squad.
"We wish Lt. Vega, Sgt. Bole, Ptl. Brush, and SLEO II Sysol the best of luck as they begin the next chapters in their law enforcement careers here in Manchester Township," said Chief Parker.
To become a police officer in Manchester, men and women must first pass a rigorous physical training test.
Applicants need to complete the physical training test which consists of timed pull ups, push-ups and sit-ups before they hit the track to run a mile.
If they reach a minimum of 200 points, it's into the ring to box for about a minute, which is meant to further test an applicants ability in real life situations.
If applicants make it through the physical test, they're given a study guide for the written exam.
Chief Parker looks for signs of character and integrity on the oral exam which follows the written test.
There were 70 applicants in the 2019 testing who completed all portions of the physical exam were invited to participate in the Written Examination phase.
From there, the top scorers went before the Oral Board for extensive interviews.
Those candidates considered for employment underwent a thorough background investigation and submitted to medical, psychological, and drug screenings.
Becoming a Manchester Township Police Officer
You can follow Vin Ebenau on Twitter and Instagram and email news tips to vin.ebenau@townsquaremedia.com.
More From Townsquare Monmouth-Ocean:
Enter your number to get our free mobile app
These Pictures Show IBEW Local 400 Donating $25,000 PPE Supplies to Ocean and Monmouth County Hospitals