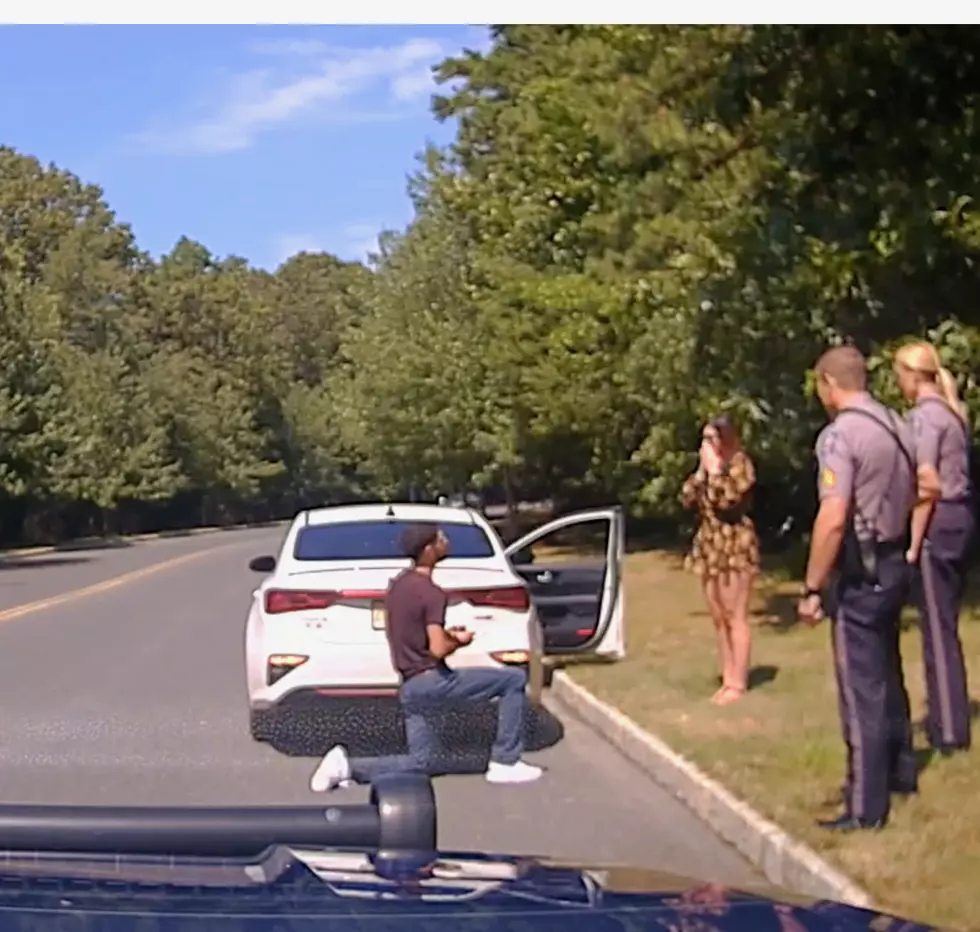 Manchester Police help stage marriage proposal at traffic stop
Manchester Police help stage marriage proposal. (Manchester Township Police Department)
Manchester Township Police Chief Lisa Parker and Sergeant Chris Cerullo were conducting an "Undercover Operation" that led to a traffic stop near Route 571.
Chief Parker started by requesting for the drivers license, registration and insurance information and then asked the driver and passenger "have you been the owner/occupant of this vehicle all day?"
The driver said yes, adding that he was at work.
Chief Parker said she was investigating "something important" and asked the occupants to step outside to the rear of the vehicle.
When both occupants were outside the vehicle Chief Parker then asked "is there anything on you right now that I need to know about?"
It turns out there was...an engagement ring.
As soon as the driver of the car, identified as Matt, moved a step to the right his girlfriend, Brianna Rhein, put her hands over her mouth and said "shut up...I'm shaking right now" in shock.
Matt then got down on one knee.
"Brianna, I love you more than anything from the day I met you until now. There's nothing more that I want than to spend the rest of my life with you. Everything has come full circle. Will you marry me?"
Chief Lisa Parker said afterwards that Brianna, is the daughter of Manchester Police Command Support Assistant Ron Rhein.
"Before coming to Manchester Township, CSA Rhein was a sergeant in Howell, so Brianna grew up around the police profession and Matt recognized how special it would be to incorporate it into his proposal. It turned out to be an uplifting and memorable surprise for all! The entire Manchester Township Police Department wishes the happy couple the best of luck on their engagement!"
Congratulations Matt and Brianna from all of us at Townsquare Media as well!
You can follow Vin Ebenau on Twitter and Instagram and email news tips to vin.ebenau@townsquaremedia.com.
More From Townsquare Monmouth-Ocean:
Enter your number to get our free mobile app
These Pictures Show IBEW Local 400 Donating $25,000 PPE Supplies to Ocean and Monmouth County Hospitals