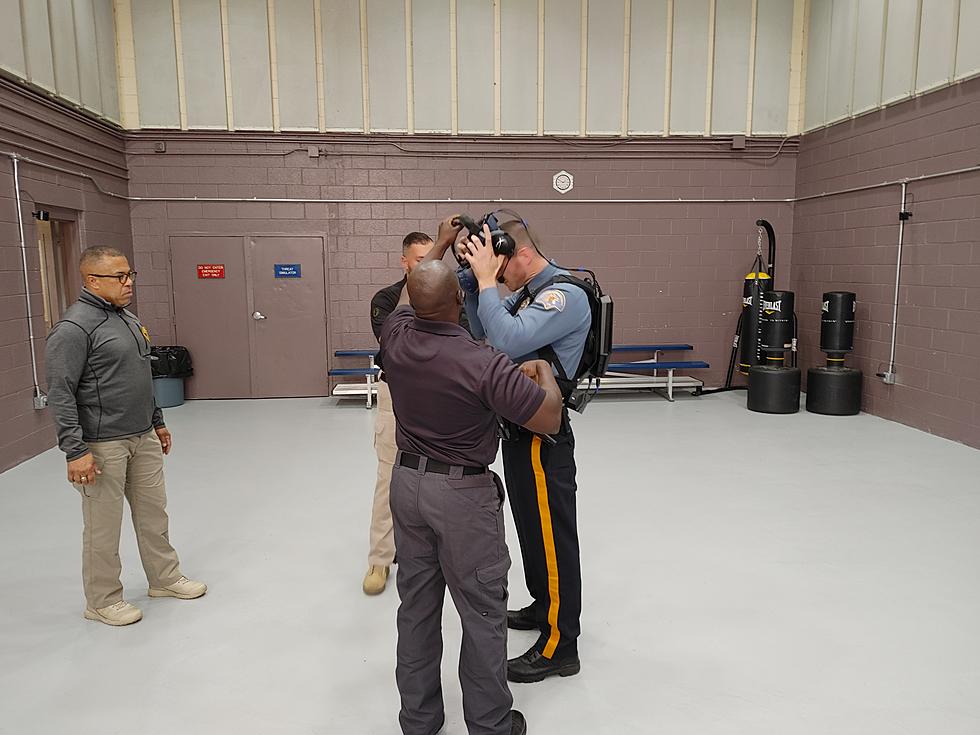 How new state of the art virtual training will help Monmouth County Law Enforcement
(Photo: Vin Ebenau, Townsquare Media NJ)
The Monmouth County Sheriff's Office has unveiled a new state of the art, next level kind of virtual training for those in the police academy and throughout the law enforcement ranks to get real-feeling, accurate situations in practice to help be more prepared for any such reality.
It's called the APEX Officer Training Program and is being run primarily out of the STARS Facility in Freehold Township where other training programs take place.
"APEX Officer is the new augmented virtual reality goggle system, it's computerized and server driven," Monmouth County Sheriff Shaun Golden said at a press conference. "It allows for complete interaction between our participants, and in this particular case, all of our police recruits, (and) all of our law enforcement officers that will be training on this system not just here in Monmouth County but around the state of New Jersey that come to use this STARS Facility."
They've brought in a program that Sheriff Golden explains has been successful in de-escalation training as well as diffusing situations.
This virtual program will allow officers to experience various scenarios to which they'll encounter in the field from motor vehicle stops to an interaction with someone with a mental health illness or a situation where a weapon is shown.
"Those interactions are part of the scenario based training of APEX Officer," Golden said.
It's just the latest initiative brought to reality in Monmouth County to assist law enforcement with the full backing and investment from the Board of Commissioners.
"You walk in the borders of Monmouth County and we are pro-law enforcement and we will do and give the tools that are needed and this is a perfect example," Monmouth County Commissioner Director Tom Arnone said. "None of this could happen without the leadership of our Sheriff and our Prosecutor putting all these cutting edge facilities together and it's remarkable to say that we're the only county in the state of New Jersey that has a building (STARS Facility) like this -- when you think about that in today's world, that's amazing."
In today's current climate with calls for more transparency and police training, Acting Monmouth County Prosecutor Lori Linskey explains that this APEX Officer program will help in that effort.
"I think it's incumbent that we do all that we can to build trust in our communities that we serve and one way to do that is to provide our police officers with every possible tool to deescalate situations and to minimize the use of force," Linskey said. "Police officers are often placed in situations where they are to make split second decisions and every single situation that they encounter is unique. Replicating those circumstances in a traditional classroom setting is virtually impossible, but not with virtual reality and that's why I am so excited about this, this new training that we have. It's an absolute game changer in that it's immersive, it's interactive in a way that classroom training just can't be."
While most training sessions with the APEX Officer program will take place at the STARS Facility, there will be others, because of this advanced technology, that will occur on the road.
"The nice part about the system too is that it's portable," Golden said. "So while we are here at the STARS Facility and we have it set up permanently here in the facility, we have a portable set that we can bring out to various locations and various agencies and they can have the same experience without all having to travel here. If we want to train the masses, per say, in law enforcement of a big agency, we can do that as well."
While officers will be able to train in any number of scenarios with this APEX virtual program, there is a particular focus that takes precedent.
"It's not as much about use of force as it is about de-escalation or encountering those conflicts and being able to diffuse those situations," Golden said. "A lot of the departments that we spoke of that use this system throughout the country use it for just simple communication and interview techniques with general members of the public that come across or some type of field interview that they have while on a stop or encountering a person just walking or a complaint call so that's where it's going to come in and really have value for us."
Monmouth County APEX Officer Training Program
When Ocean and Monmouth County Police saved the day