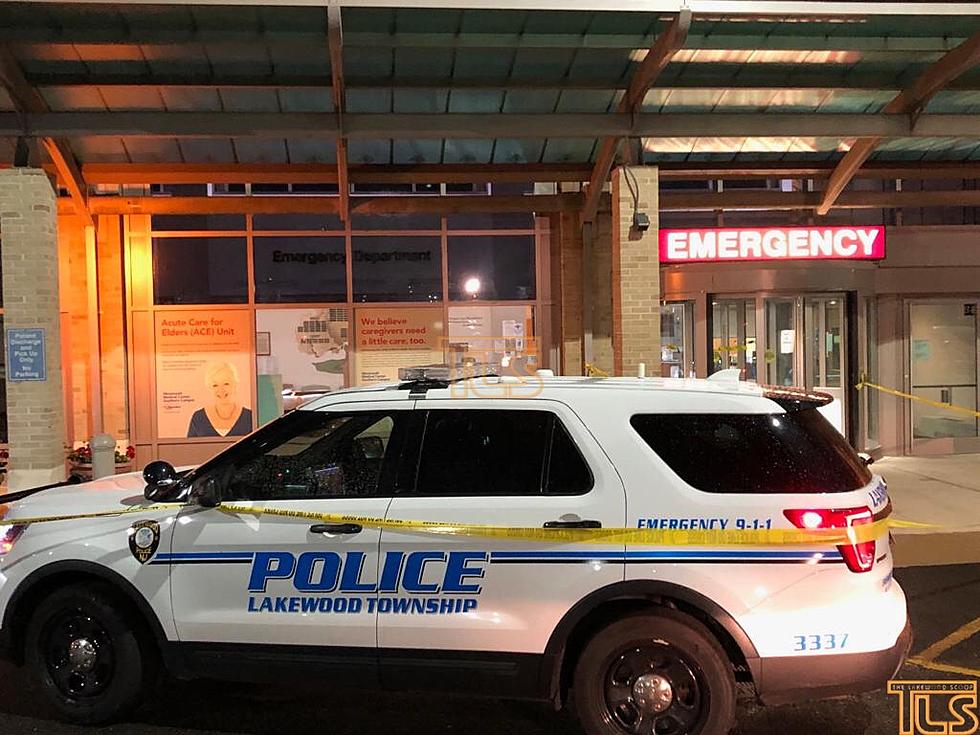 Lakewood man talked into surrendering after attack, attempted murder on police officers
Lakewood Police car outside Monmouth Medical Center Southern Campus. (The Lakewood Scoop)
A Lakewood man, whose mother reported him to police for acting erratically in the home, is in the Ocean County Jail following an attack on police officers inside the home on Saturday night, Lakewood Police announced on Sunday.
Two officers responded to the Lisa Robyn Circle home around 7:10 pm on a call for a man and woman being involved in a verbal altercation.
When they got there, they didn't find anyone in need of assistance, but then 50-year old Kadiatu Sesay ran them down and told them she and a friend were talking in her living room when her 25-year old son, Stanley Williams, came downstairs and began acting erratically.
Officers went back to the home with backup, went to Stanley's bedroom door which he opened and the began attacking two of the officers with a knife to their face and head and kept going after them into the stairway, police said.
The officers then left the home until backup arrived and get treatment for their injuries.
As backup arrived, so did the Lakewood Police Department Special Response Team and Crisis Negotiator who was able to speak with Stanely to try and convince him to surrender, to no avail.
It was around 2:30 am Sunday at this point.
The Lakewood SRT, along with assistance from the Ocean County SWAT, then entered the home and saw Stanley on the staircase, "armed with what appeared to be a handgun."
Stanley then went back to his room, police said, and as officers tried again to ask him to surrender, he ignored them.
Tactical teams were then set up and rounds of pepper spray went into Stanley's bedroom.
Then Stanley left his room, unarmed and was arrested on the spot without further incident.
Officers then found an "approximately 12" smooth edge knife" which is what Stanley allegedly used to strike the two responding officers and they found the firearm he had which turned out to be a realistic looking pellet gun.
Stanley Williams is being charged with Possession of a Firearm, Possession of a Weapon, Possession of a Weapon for an Unlawful Purpose, Aggravated Assault on a Police Officer, and the Attempted Murder of two Police Officers.
"The Lakewood Police Department would like to thank the Lakewood Emergency Medical Services, the staff at Monmouth Medical Center Southern Campus, the Ocean County Prosecutors Office, the Ocean County Sheriff's Office, and the members of Chaverim who volunteered their time last evening."
You can follow Vin Ebenau on Twitter and Instagram and email news tips to vin.ebenau@townsquaremedia.com.
Have You Seen Them? Ocean County's Most Wanted
Have You Seen Them? Monmouth County's Most Wanted
NEXT: 10 Jersey Shore School Districts Losing Millions From S2 School Funding Formula
Ten times drunk driving changed New Jersey Lives Forever
12 Times Being High Cost NJ Residents & Towns
Strange NJ Laws You've Never Heard Of
Marijuana legal in NJ: How do the laws work?
Answers to common questions about legalized recreational marijuana in New Jersey and rules about underage use of weed.
NEXT: INSIDE JOE PESCI'S HILARIOUSLY OVER-THE-TOP LAVALLETTE MANSION
LOOK: GO INSIDE JON BON JOVI'S $20 MILLION MIDDLETOWN MANSION
Go Inside Mike 'The Situation's' NJ Mansion
TAKE A TOUR OF JON BON JOVI'S NEW $43 MILLION PALM BEACH MANSION
Jersey Shore Nor'easter 2021 Listener Pictures
LOOK INSIDE: The Most Expensive House in Rumson
This is the most expensive house for sale in Rumson, NJ in 2021
Peek Inside Snooki's New Toms River Waterfront Home
LOOK: See the iconic cars that debuted the year you were born
NEXT: The 100 Best Places to Live on the East Coast