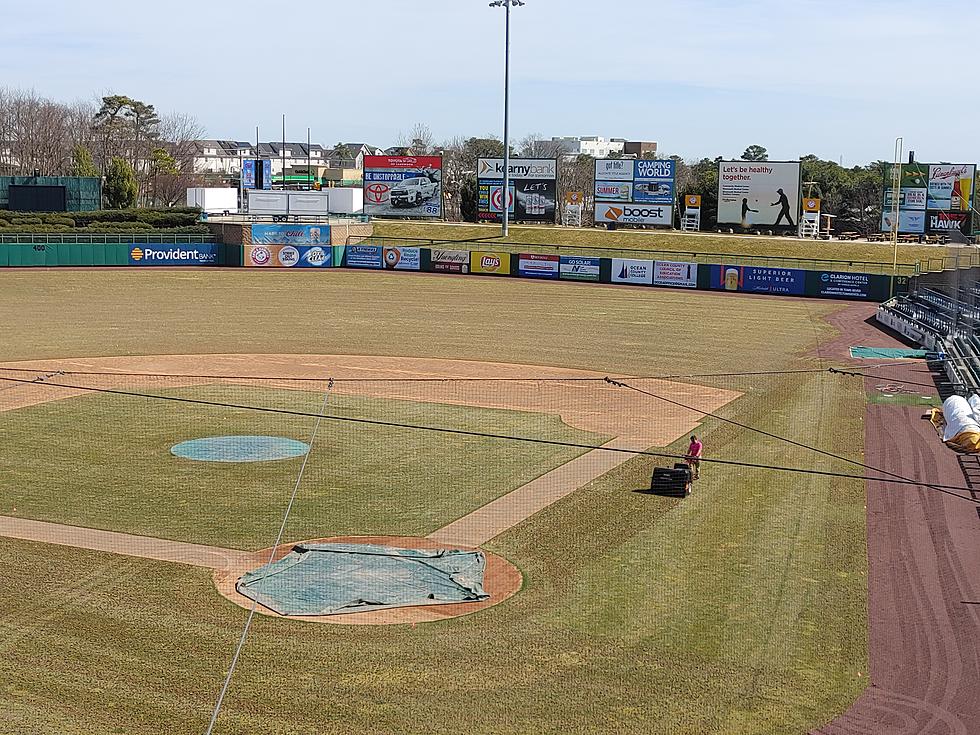 Jersey Shore BlueClaws unveil new Shore themed name of ballpark in Lakewood, NJ
(Photo: Vin Ebenau, Townsquare Media NJ)
Things just keep getting more and more exciting ahead of another season of Jersey Shore BlueClaws baseball.
It's been a multi-year effort since the current ownership group, Shore Town Baseball, bought the team in 2017 to make this ballclub a Jersey Shore team and illustrate that within the confines of the concourse and field.
We told you earlier this week about the new and exciting 'Blue Wave Bar' inside the ballpark with all new food and beer on-site, which comes with all the games and activities returning for the 2022 season after certain state Covid protocols were in place last season.
On Friday, the Jersey Shore BlueClaws announced that for the first time since inception in 2001, the ballpark will have a new name -- ShoreTown Ballpark.
"The Jersey Shore sits at the forefront of our identity," Art Matin, head of the Shore Town Baseball/BlueClaws ownership group, said in a written statement on Friday. "We can't think of anything better than a day at the ballpark with friends or family. It's time away from the grind of everyday life. It's a ballgame, boardwalk games, mini-golf, a hot dog, and a cold beer. ShoreTown Ballpark is the next step in that transformation for the Jersey Shore's Hometown Team."
There are lots of exciting reasons to check out the newly named ballpark for the 2022 season including, as mentioned, the Blue Wave Bar."While previously, this space was only open to Suite-holders and season ticket holders, we felt that with this new renovation it was important to make this an area that everyone in the park can enjoy," BlueClaws Team President Joe Ricciutti, said in a written statement on Friday.
As Jersey Shore's Hometown Team, BlueClaws fans will feel at home while stopping into the Blue Wave Bar for some food or drinks at a game. Fans will recognize their town, beach, or favorite spot to catch a Jersey Shore sunset, featured among the many photos on display throughout the bar.
On Saturday, 2022 single-game BlueClaws tickets go on sale at 8:00 am online and in-person at ShoreTown Ballpark from 1:00 pm until 3:00 pm, when you'll also be able to enjoy a meal in the Blue Wave Bar.
The season opens up on Friday, April 8.
For more on the changes with the Jersey Shore BlueClaws, here is Team President Joe Ricciutti.
Jersey Shore BlueClaws 2022 Additions
BlueClaws memories over the years