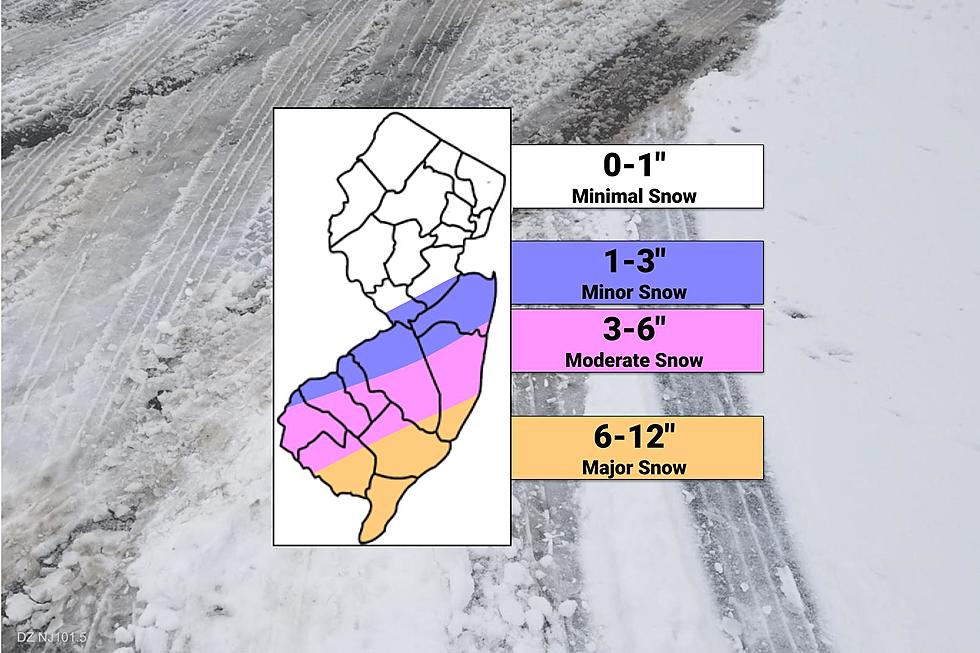 Today is Stormwatch Test Day!
When this happens you might need us. (Dan Zarrow, Townsquare Media)
Soon enough SNOW (along with ice, wind and cold) is coming and in preparation we have designated today as a "Snow Drill Day."  It's our way of getting you ready for Ocean County Stormwatch which is what we at WOBM call our notification service during times of bad and severe weather.
Clearly times have changed from the 70's, 80's and even 90's.  During those so-called "old days" the only way to find out if your school was closed or meeting cancelled was to listen to the radio.  We would read that complete list in alphabetical order and if you tuned and just missed the details of your school you would have to wait for what seemed like an eternity to get the information you cared about.
Things are very different in 2023. You no longer have to wait for anything to be read on the air.  Our Stormwatch program is linked to our website (wobm.com) and App and participants are able to use the system to report weather-related information for schools, organizations and others.  The best part is they can do this 24/7 and the information is posted immediately and can be viewed on your mobile device, laptop and/or tablet. The best way to get the info as soon as we have it is to download our FREE station App and you'll even receive news alerts once school districts begin reporting closings and delays.
So back to today's Snow Drill.   This is the day for all participating schools and organizations to make sure they have their credentials handy for when bad weather strikes.  Also, if you are changing primary contacts from last year we need to know.  Credentials don't change from year to year so we encourage you to try a TEST closure by simply following the procedure you have used in the past…in addition you were sent an email yesterday so refer to that for directions.
If you are not currently part of Ocean County Stormwatch but want to be included just go on our website (or App) and click on the STORMWATCH tab at the top and it will allow you to register.  I guess today is our unofficial welcome to winter.
A list of NJ malls where you can get photos with Santa for the 2023 holiday season
The annual New Jersey tradition is back for the 2023 holiday season, along with pet photos, special events, and exclusive sensory sessions.
More details and locations will be added as the holiday season progresses, so please check back often for updates. Malls are listed in alphabetical order.
Gallery Credit: Mike Brant