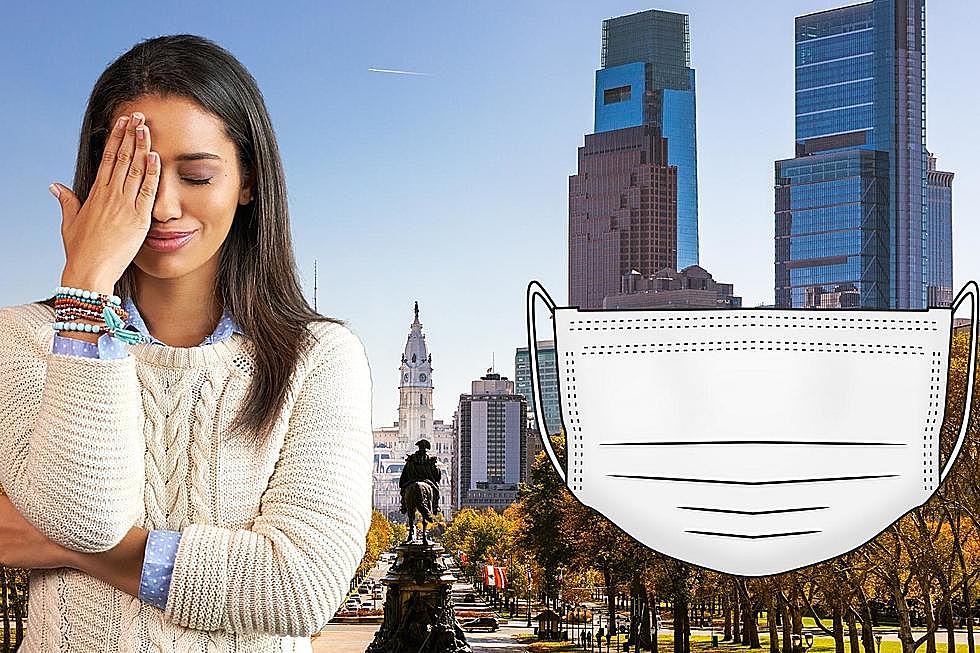 Indoor masks return to Philadelphia: What about New Jersey?
Townsquare Media photo illustration
PHILADELPHIA — Philadelphia is reinstating its indoor mask mandate after reporting a sharp increase in coronavirus infections.
The city's top health official, Dr. Cheryl Bettigole, says that COVID-19 cases have risen more than 50% in 10 days. That's the threshold at which the city's guidelines call for people to wear masks indoors.
The city is reporting more than 140 cases per day, a fraction of what it saw at the height of the omicron surge. In January, the city was recording close to 4,000 cases a day. But Bettigole says the recent sharp increase in infections indicates the city might be at the beginning of a new wave.
The mandate, which had been dropped on March 2, will begin on April 18.
Will masks return to New Jersey?
New Jersey Gov. Phil Murphy has been saying for months that a return of masking and social-distancing mandates would be unlikely any time soon.
While the rate of transmission in New Jersey on Monday stood at 1.23 (public health officials like to see that number under 1.0), COVID-19 hospitalizations totaled 366. For comparison, there were well over 2,000 daily hospitalizations in the state at this time last year.
Hospitals on Monday also were reporting two dozen COVID-19 on life support. Last April, hospitals had 10 times as many.
In Philadelphia, hospitals were reporting 44 hospitalizations, down from a week ago.
Still, some schools in New Jersey have recently brought back or extended masking requirements, at least temporarily.
According to the CDC, the community risk level was considered low for all 21 counties. The CDC also listed Philadelphia County as low.
NJ county fairs make a comeback: Check out the schedule for 2022
UPDATED 4/10: A current list of county fairs happening across the Garden State for 2022. From rides, food, animals, and hot air balloons, each county fair has something unique to offer.
(Fairs are listed in geographical order from South NJ to North NJ)
These are the best hiking spots in New Jersey
A trip to New Jersey doesn't have to be all about the beach. Our state has some incredible trails, waterfalls, and lakes to enjoy.
From the Pine Barrens to the Appalachian Trail to the hidden gems of New Jersey, you have plenty of options for a great hike. Hiking is such a great way to spend time outdoors and enjoy nature, plus it's a great workout.
Before you go out on the trails and explore some of our listeners' suggestions, I have some tips on hiking etiquette from the
American Hiking Society.
If you are going downhill and run into an uphill hiker, step to the side and give the uphill hiker space. A hiker going uphill has the right of way unless they stop to catch their breath.
Always stay on the trail, you may see side paths, unless they are marked as an official trail, steer clear of them. By going off-trail you may cause damage to the ecosystems around the trail, the plants, and wildlife that live there.
You also do not want to disturb the wildlife you encounter, just keep your distance from the wildlife and continue hiking.
Bicyclists should yield to hikers and horses. Hikers should also yield to horses, but I'm not sure how many horses you will encounter on the trails in New Jersey.
If you are thinking of bringing your dog on your hike, they should be leashed, and make sure to clean up all pet waste.
Lastly, be mindful of the weather, if the trail is too muddy, it's probably best to save your hike for another day.
I asked our listeners for their suggestions of the best hiking spots in New Jersey, check out their suggestions: