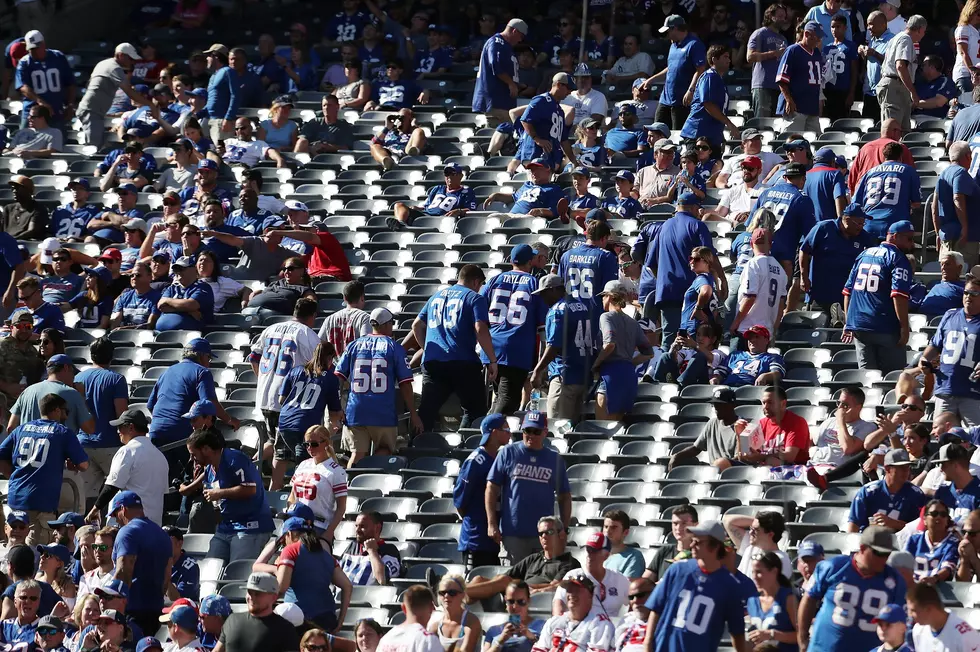 Football Gloom and a Political Prediction
Fans leave the Giants game at MetLife Stadium in the fourth quarter (Al Bello/Getty Images)
You can tell it's football season because on a Sunday morning whether you're in a convenience store, diner or just about anywhere you'll see people wearing team jerseys and other gear.
Men and women, boys and girls it does not matter as you see many wearing Giants, Jets & Eagles clothing and hats and yes other NFL teams as well.
On the subject it appears Giants fans are in for a long season as for the sixth time in the last 7 years they are off to an 0-2 start.  Based on what I heard yesterday that means they have only a 12% chance to make the playoffs and if the Jets lose tonight to Cleveland they will join them with those long odds.
The good news is you could be a Dolphins fan as Miami just might be one of the worst teams in recent history after losing their first two games by the combined score of 102-10.
Feel bad for second year tight end Mike Gesicki, the former Southern Regional and Penn State standout who has three catches in those two losses.
And now a trio of Monday morning musings:
How's this for a prediction?  I think it's very possible that despite being the Democratic front-runner Joe Biden drops out of the race for President in the next few months.  He is simply awful when it comes to debates and now he has many in his own party going after him.
At the very least I believe he'll likely announce soon that if elected he will only serve one term.  There's going to be a lot of fireworks in the months ahead.
A new sexual misconduct allegation against Supreme Court justice Brett Kavanaugh?  It comes from a New York Times story that is shaky at best but in the world we live in you are now guilty before being proven innocent.
Consider yourself blessed if you've never had back problems because until you do you can't imagine how much it affects you in a negative manner.  I've been dealing with sciatica for the last few weeks and it's miserable, impacting everything from sleeping to driving.  Hopefully it will get better and soon.