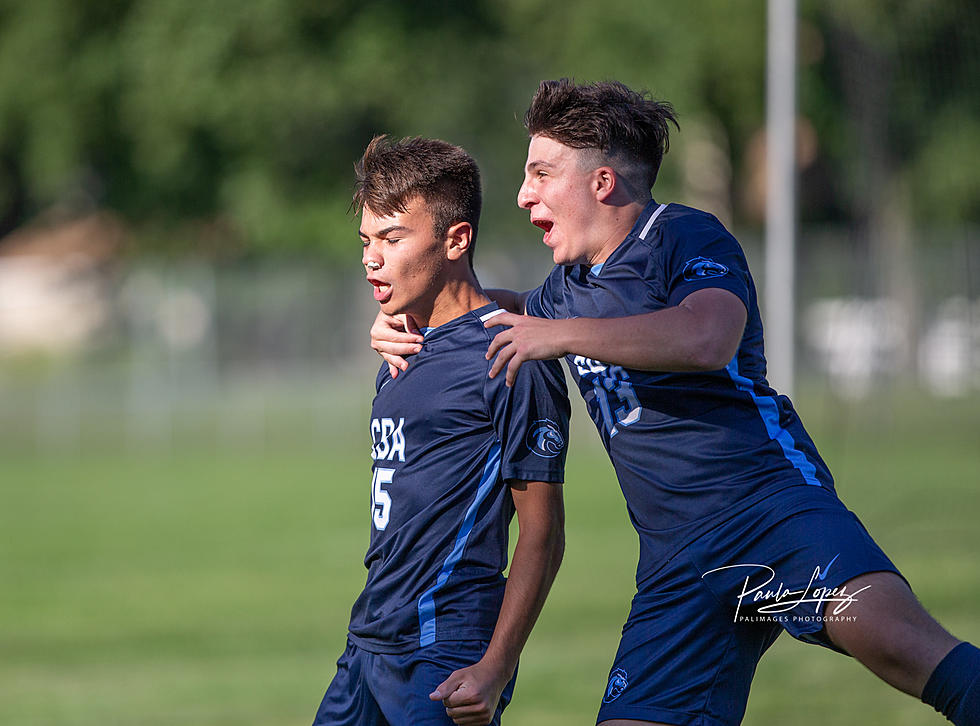 Boys Soccer – CBA and Seton Hall Prep Both Look to Complete Historic Seasons
Senior Jake Homowitz celebrates his goal with teammate Joe Lucignano. (Photo by Paula Lopez)
NJSIAA Non-Public A Championship Game
Sunday, Nov. 14, 2021
At Kean University, 5:30 p.m.
Christian Brothers Academy (20-1) vs. Seton Hall Prep (19-0-1)
Teams at a Glance
CBA
Head Coach: Tom Mulligan
Past Championship Appearances: 1974, 1979, 1992, 1993, 1996, 1998, 2000, 2001, 2002, 2004, 2006, 2007, 2009, 2011, 2015, 2016, 2017, 2018 (18)
Past Championships: 1992, 1998, 2000, 2002, 2011, 2016, 2018 (7)
Road to the Final: Defeated No. 8 Union Catholic, 2-0; No. 4 St. Augustine, 2-1; No. 3 Notre Dame, 5-4
Top Scoring Threats
Dylan Cupo, Sr. (21 goals, 5 assists)
Will Thygeson, Jr., (5 goals, 9 assists)
Jack D'Eletto, Jr. (6 goals, 6 assists)
Dylan Millevoi, So. (9 goals, 2 assists)
Jake Homowitz, Sr. (2 goals, 6 assists)
Dimitry Corba, So. (4 goals, 1 assist)
Marco Mastriani, Sr. (4 goals)
Defenders to Watch
Declan Kelly, Sr. (1 goal, 3 assists)
Jack McGagh, Sr. (1 goal, 3 assists)
Lawrence Mancino, So. (4 assists)
Charlie Paparella, Jr. (2 assists)
Goalkeepers
Ryan Hayes, Sr.
Joe Grossman, So.
Seton Hall Prep
Head Coach: Marty Berman
Past Championship Appearances: 1975, 1977, 2005, 2007, 2009, 2016, 2019 (7)
Past Championships: 2007, 2009, 2019 (3)
Road to the Final: Defeated No. 8 Oratory Prep, 8-0; No. 4 Bergen Catholic, 2-0; No. 2 Delbarton, 1-0
Top Scoring Threats
Joaquin Niehenke, Jr. (11 goals, 13 assists)
David Schuster, Sr. (11 goals, 6 assists)
Drew Ligotti, Sr. (7 goals, 11 assists)
Eddie Krupski, So. (8 goals, 5 assists)
Brian Sheehan, Sr. (5 goals, 13 assists)
Charles Giordano, Sr., (6 goals, 7 assists)
Defenders to Watch
Zaiden James, Sr. (1 goal, 4 assists)
Edward Zazzali, Sr. (4 goals, 7 assists)
Alex Oladapo, Jr., (4 assists)
C.J. Bubniak, Sr. (4 assists)
Goalkeeper
Aidan Batista, Sr.
Breakdown
Two of the state's hottest teams collide in the nightcap on Sunday night – the fourth time CBA and Seton Hall will play one another in the state final. The Pirates own the 2-1 edge, but CBA won the most recent meeting, which came in the form of a 1-0 win in 2016. That CBA victory capped a 24-1 season and if the Colts can even the championship series with another win on Sunday, it will cap another one-loss season with division, conference and state championships for CBA.
In the third game of the season on Sept. 11, CBA lost a 4-3 game to LaSalle of Pennsylvania on a goal with one second left. Since then, the Colts have ripped off 18 wins in a row while winning the Class A North and Shore Conference Tournament championships. In winning the SCT, CBA shut out all four opponents while scoring 12 goals in the four games. They have not been quite as dominant in the NJSIAA Tournament, needing overtime to beat St. Augustine in the sectional semifinal round before surviving a 5-4 win over Notre Dame in Thursday's South Jersey Non-Public A championship.
Seton Hall, meanwhile, has not always won in lopsided fashion but the Pirates hardly ever give up goals. Opponents have scored just six goals in 20 games this season against Seton Hall and 15 of those matches have ended with a Pirates shutout. Just one team managed to score two goals against the state's top-ranked team and it was in a 7-2 win over Belleville. The only game Seton Hall failed to win was a 1-1 draw against a Montclair side it went on to defeat in the Essex County Tournament semifinals.
While Seton Hall has been stingy allowing goals, CBA has been relentless on the attack. The Colts have not been shutout and have been held to one goal just three times – all 1-0 victories against Middletown South, East Brunswick and Manalapan. To highlight CBA's ability to score against a quality defensive team, South Jersey Group IV champion Toms River North has allowed only 12 goals all season long and seven of them have come in two games vs. CBA.
Seton Hall Prep will have to contend with CBA's three-headed monster of Dylan Cupo, Will Thygeson and Jack D'Eletto, who wreaked havoc in Thursday's 5-4 barnburner vs. Notre Dame. D'Eletto and Thygeson have speed and maneuverability that few backs can suppress and Cupo has scored in the biggest moments of the season and against the toughest competition. The senior striker has seven goals and three assists in postseason play and his multi-goal games have come against Freehold Township, Toms River North, Manalapan, Pinelands and Notre Dame.
For CBA to win, its defense will have to hold up better than it did in Thursday's wild win over Notre Dame, because scoring more than a single goal will be a tall order. By the same token, keeping CBA will be equally difficult for Seton Hall Prep, which is why the Pirates will likely be require to figure out a way to win without a clean sheet. This game is likely to be a race to the second goal and while CBA has only been held that low three times, Seton Hall Prep has given up two goals an even fewer number of times.
Also, if you are thinking about a potential shootout to decide the championship, CBA has been to 18 championship games and never been tied after 100 minutes. Seton Hall has also never shared a title or gone to penalties in its seven trips to the final and the Non-Public A final has only ended up tied after 100 minutes three times in 51 seasons and not once since 2003.
The Pick: Seton Hall Prep, 2-1