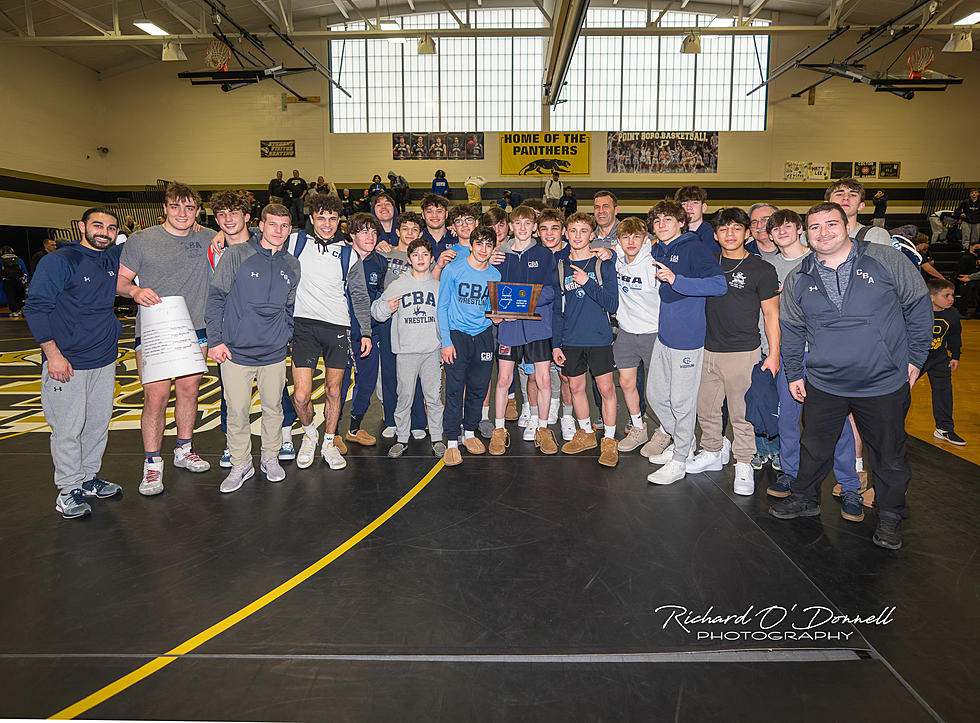 District 21 Wrestling: Christian Brothers Academy Punctuates Historic Season with Team Title Plus MOW and Coach of the Year Awards
Richard E. O'Donnell
POINT PLEASANT BOROUGH -- Christian Brothers Academy had already put together the greatest season in program history when it entered Point Boro's Memorial Middle School for the NJSIAA District 21 Tournament on Saturday morning. By the time the Colts left, there was a massive exclamation point at the end of their 2022 season.
CBA, ranked No. 1 in the final Shore Sports Network Wrestling Top 10, overpowered the field at the District 21 Tournament with a program-record 10 individual champions and 13 total medalists to win their fifth district team title and first since 2016. The 10 individual champions broke the previous record of six which was set all the way back in 1968. The Colts scored 296 points to win the team title by 180 points over second-place Point Boro. CBA's point total was the fifth-highest in the state behind Bergen Catholic (348 in District 5), St. Joseph-Montvale (339.5 in District 2), Delbarton (323 in District 9), and Warren Hills (319.5 in District 12).
Sophomore Tyler Venet won the 106-pound title as the No. 3 seed, beating two Shore Conference ranked wrestlers in the process, and was voted as the tournament's Most Outstanding Wrestlers. CBA head coach Billy Ashnault was voted as the District 21 Coach of the Year for a season in which he led the Colts to the Non-Public South A sectional title, the Shore Conference Tournament championship, and a share of the Cass A North division title while finishing No. 1 in the Shore and No. 5 in New Jersey.
The top three finishers in each weight class advanced to the Region 6 Tournament, which will be contested on Friday and Saturday at Toms River North's RWJBarnabas Health Arena. The district second- and third-place finishers will wrestle in the pre-quarterfinals while the district champions receive a bye into the quarterfinals. Both of those rounds will be wrestled on Friday night.
"It was a great season for the whole team and those were our three goals: Shore Conference champs, sectional champs, district champs, and we accomplished all of them," said senior 126-pounder Garrett Totten, a two-time state medalist who secured his first district title on Saturday. "It was a great team effort all year and now you're going to see our kids do some damage."
"The guys were firing today and took care of what they had to," Ashnault said. "We even had some good upsets."
One of those upsets was Venet in the 106-pound bracket. The sophomore has been one of the Shore's best at that weight throughout the season and rose to another level by beating two ranked wrestlers to win a district title and claim MOW honors.
Click here for a photo gallery by Richard O'Donnell
In the semifinals. Venet, seeded third and ranked No. 6 in the SSN individual rankings, used a reversal and two back points in the third period to defeat Point Boro freshman Joey DeAngelo, 5-3. DeAngelo was seeded second and ranked No. 10 in the Shore. In the championship bout, Venet took on top-seeded Anthony Urso of Jackson Liberty. Trailing 3-1 entering the third period, Venet scored a reversal and put Urso to his back in the final minute of the bout, finishing off the fall at the 5:25 mark to claim a district title and set the tone for the Colts' dominant final round.
"I knew I had to come in really confident," Vent said. "I made sure I came out and wrestled hard and made it my match."
"Looking at that kid last year, he's the total opposite now," Ashnault said of Venet, who was 3-6 as a freshman at 106. "He came back at 106 and he's done everything we've asked and it's really paid off."
The other big winner for CBA was senior Nico Punzi, who also won a district title as a No. 3 seed. In the 144-pound bracket, Punzi defeated two top-six wrestlers in the SSN rankings to claim his first district championship. In the semifinals, Punzi pinned Manasquan's David Lisk, the second seed and ranked No. 6 in the Shore, after building a commanding 11-1 lead in the third period. In the final, Punzi defeated Toms River North's Jake Rosenthal, 7-4, to take out the No. 1 seed and No. 3-ranked 144-pounder in the Shore.
After a scoreless first period, Rosenthal escaped to take a 1-0 lead but Punzi then took him down to take a 2-1 lead. Rosenthal escaped again and got in on a shot attempt, but Punzi was able to turn it into a takedown of his own before putting Rosenthal to his back for three near-fall points. The five-point move gave Punzi a 7-2 lead heading to the third period and helped him absorb a third-period takedown by Rosenthal.
"He got in on the leg and I was on the edge; I wasn't sure if he was going to drive me out or not but I saw that ankle and I just had to go for the pick," Punzi said. "He just happened to go to his back and I held him there."
It was a revenge win for Punzi after Rosenthal had pinned him in the semifinals of the season-opening Colt Classic.
"It was really fun, I'm glad I got to go out there and perform," Punzi said. "Obviously, getting the win over Rosenthal was great. He's really good and I really respect him, and maybe I'll see him at regions."
Of CBA's eight other champions, seven were the No. 1 seed and heavy favorites in their respective brackets. The other was junior Rob Canterino, who was seeded second at 215 pounds because he had no previous criteria. Canterino won his first district title with a dominant 16-6 major decision over the No. 1 seed, Jackson Liberty's Jake Klein.
Juniors Tyler Barrett (150) and Zander Silva (157) won their second district titles, while sophomore Alex Nini (120), Totten (126), junior Julian George (138), senior Nick Stump (165), and junior Anthony Lawrence (175) each secured their first district championships. Junior Peter Grippo finished second at 190 and sophomore Alex Provines placed third at 113 pounds.
Provines was CBA's backup 106-pounder for most of the season but was thrust into action when senior starting 113-pounder Vin Principe suffered an injury that prevented him from competing in the postseason. Provines got his shot and is now heading to the Region 6 Tournament.
"It's really unfortunate what happened to Vin, his season ended because of something he couldn't control," Ashnault said. "We'd love to have him here but Alex got a chance to step in and he took advantage of the opportunity. I tell him to always be ready."
Ocean's Jared Tracey, Point Boro's Frankie Burgio, Toms River North's Joe Dolci claim first district titles
At 190 pounds, Ocean senior Jared Tracey rolled to his first district championship with two wins by fall, including a pin over CBA's Peter Grippo in 3:05 in the championship bout. His victory extended Ocean's streak of seasons with at least one district champion to 18 in a row.
"It definitely feels good to get the district title and keep the streak going for the team," Tracey said.
Tracey is a two-time state qualifier looking to end his career with some hardware, and in order to achieve those goals, he made it a mission to change his body over the offseason. He competed at 152, 160, and 182 pounds the past three seasons but was wrestling above his ideal weight in most instances.
"This offseason I put in more time in the weight room than I did wrestling," Tracey said. "I lifted a lot and grinded every day for that."
Tracey is banking on the added strength he has up at 190 coupled with his technicality, especially from the top position, to take him far down the road to Atlantic City.
"They (most 190-pounders) are definitely not as technical," Tracey said. "I wrestled at 152, bumped up a lot. They're strong like football players but I have the technique."
Tracey is now 22-1 on the season with his lone loss coming to Mount Olive's Anthony Moscatello at the Mustang Classic. If he has his way, he'll see him again down in Boardwalk Hall.
"My goal this year is to be a district and region champ and be top three in the state," Tracey said. "I've been going 110 percent all year to get there."
At 113 pounds, Point Boro freshman Frankie Burgio pinned his way to a district title to extended Point Boro's streak to 25 consecutive years with a district champion.
Toms River North sophomore Joe Dolci won the 132-pound district title with a 24-8 technical fall over Lakewood's Edgar Silva. Dolci was the No. 2 seed and defeated CBA freshman AJ Falcone, 6-1, in the semifinals.
District 21 By the Numbers
1-CBA, 296 points: 10 champions, 13 region qualifiers; 5th district team title;11 straight years with a district champion.
2-Point Boro, 116 points: 1 champion, 7 region qualifiers; 25 straight years with a district champion.
3-Toms River North, 110.5 points: 1 champion, 6 region qualifiers; 9 straight years with a district champion
4-Ocean, 105 points: 1 champion, 5 region qualifiers; 18 straight years with a district champion
5-Jackson Liberty, 88 points: 3 region qualifiers.
6-Hamilton West, 80 points:
7-Lakewood, 58 points: 2 region qualifiers; 2 finalists for the first time since 2005.
8-Manasquan, 54 points: 1 medal winner
9-Steinert, 33 points:
10-St. Rose, 18 points: 2 fourth-place finishers.
District 21 Results
At Point Pleasant Borough High School
Outstanding Wrestler: Tyler Venet, So., 106, CBA
Coach of the Year: Billy Ashnault, CBA
Assistant Coach of the Year: Connor Maliff, Toms River North
Finals
106: 3-Tyler Venet (CBA) p. 1-Anthony Urso (Jackson Liberty) 5:25
113: 1-Frankie Burgio (Point Boro) p. 2-Luke Bruch (Hamilton West), 2:15
120: 1-Alex Nini (CBA) p. 2-Peter Abline (Jackson Liberty), 1:41
126: 1-Garrett Totten (CBA) md. 3-Cole Anderson (Toms River North), 10-1
132: 2-Joe Dolci (Toms River North) tf. 4-Edgar Silva (Lakewood), 5:08 (24-8)
138: 1-Julian George (CBA) tf. 2-Gio Poniros (Ocean), 2:49 (19-3)
144: 3-Nico Punzi (CBA) d. 1-Jake Rosenthal (Toms River North), 7-4
150: 1-Tyler Barrett (CBA) md. 3-Jack Thompson (Point Boro), 14-4
157: 1-Zander Silva (CBA) d. 2-Shane Cartegena-Walsh (Ocean), 3-2
165: 1-Nick Stump (CBA) p. 2-Elson Peralta (Hamilton West), 4:14
175: 1-Anthony Lawrence (CBA) md. 3-Dontae Bryan (Hamilton West), 12-0
190: 1-Jared Tracey (Ocean) p. 2-Peter Grippo (CBA), 3:55
215: 2-Robert Canterino (CBA) md. 1-Jake Klein (Jackson Liberty), 16-6
285: 2-Jacob Howland (Hamilton West) p. 4-Xavion Moore (Lakewood), 2:58
Third-Place Bouts
106: 2-Joey DeAngelo (Point Boro) by injury default over 5-Luke Meehan (Toms River North)
113: 6-Alex Provines (CBA) p. 4-Edgar Floes Chacon (Lakewood), 5:14
120: 4-Zack Kerico (Toms River North) d. 3-Michael O'Connor (Manasquan), 4-1
126: 2-James Farina (Ocean) by forfeit over 4-Jack Kane (St. Rose)
132: 3-AJ Falcone (CBA) by forfeit over 1-Salvatore Fumarola (Steinert)
138: 4-Torey Falkinburg (Manasquan) d. 3-Robert Connelley (St. Rose), 5-2
144: 4-Ryan Acquisto (Point Boro) p. 2-David Lisk (Manasquan), 5:37
150: 2-Nick Benner (Ocean) p. 5-Jose Avila (Manasquan). 0:34
157: 6-Josh Figueroa (Toms River North) p. 5-Max Bandelt (Jackson Liberty), 1:15
165: 3-Jacob Messano (Point Boro) d. 5-Kevin Kraemer (Manasquan), 9-6
175: 2-Ryan Winn (Toms River North) d. 4-Kareem Fayed (Jackson Liberty), 7-5
190: 3-Louis Bilardo (Steinert) p. 4-Noah Mammeri (Manasquan), 1:06
215: 3-Justin Krosnicki (Point Boro) d. 4-Frank Romeo (Lakewood), 6-2
285: 3-Luke Wilson (Point Boro) p. 1-Luis Valente (Jackson Liberty), 2:24
Semifinals
106
1-Anthony Urso (Jackson Liberty) p. 5-Luke Meehan (Toms River North), 0:22
3-Tyler Venet (CBA) vs. 2-Joey DeAngelo (Point Boro), 5-3
113
1-Frankie Burgio (Point Boro) p. 4-Edgar Flores Chacon (Lakewood), 0:32
2-Luke Bruch (Hamilton West) d. 6-Alex Provines (CBA) 4-0
120
1-Alex Nini (CB) p. 4-Zack Kerico (Toms River North), 1:51
2-Peter Abline (Jackson Liberty) md. 3-Michael O'Connor (Manasquan), 11-2
126
1-Garrett Totten (CBA) p. 4-Jack Kane (St. Rose), 2:53
3-Cole Anderson (Toms River North) d. 2-James Farina (Ocean), 8-3
132
4-Edgar Silva (Lakewood) p. 1-Salvatore Fumarola (Steinert), 1:15
2-Joe Dolci (Toms River North) d. 3-AJ Falcone (CBA), 6-1
138
1-Julian George (CBA) p. 4-Torey Falkinburg (Manasquan), 4:44
2-Gio Poniros (Ocean) p. 3-Robert Connellley (St. Rose), 2:54
144
1-Jake Rosenthal (Toms River North) p. 4-Ryan Acquisto (Point Boro), 1:38
3-Nico Punzi (CBA) p. 2-David Lisk (Manasquan), 5:46
150
1-Tyler Barrett (CBA) p. 5-Jose Avila (Manasquan) 1:14
3-Jack Thompson (Point Boro) d. 2-Nick Benner (Ocean), 3-1
157
1-Zander Silva (CBA) tf. 5-Max Bandelt (Jackson Liberty), 2:20 (16-0)
2-Shane Cartagena-Walsh (Ocean) p. 6-Josh Figueroa (Toms River North), 3:18
165
1-Nick Stump (CBA) p. 5-Kevin Kraemer (Manasquan), 4:21
2-Elson Peralta (Hamilton West) p. 3-Jacob Messano (Point Boro), 0:32
175
1-Anthony Lawrence (CBA) p, 4-Kareem Fayed (Jackson Liberty), 1:11
3-Bryan Dontae (Hamilton West) p. 2-Ryan Winn (Toms River North), 5:01
190
1-Jared Tracey (Ocean) p. 4-Noah Mammeri (Manasquan), 1:06
2-Peter Grippo (CBA) p. 3-Louis Bilardo (Steinert), 4:22
215
1-Jake Klein (Jackson Liberty) p. 4-Frank Romeo (Lakewood)
2-Robert Canterino (CBA) p. 3-Justin Krosnicki (Point Boro), 1:44
285
4-Xavion Moore (Lakewood) p. 1-Luis Valente (Jackson Liberty)
2-Jacob Howland (Hamilton West) p. 3-Luke Wilson (Point Boro), 1:57
Click here for a photo gallery by Richard O'Donnell
District 21 Wrestling
5 Things Growing Up In New Jersey Say About You