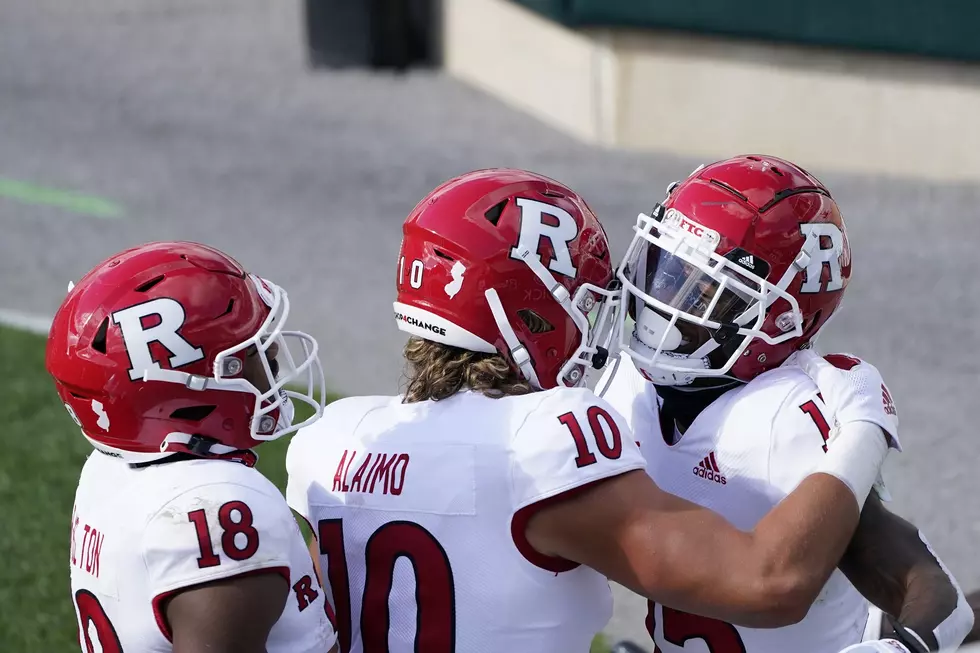 A Letter to Rutgers Scarlet Knights Football Fans
Rutgers wide receiver Shameen Jones, right, is congratulated by teammates after catching a 14-yard pass for a touchdown against Michigan State (AP Photo/Carlos Osorio)
This is an open letter to those of you who are alumni, fans and supporters of Rutgers University and its football program as well as those of you who simply have pride in New Jersey and want to see the state's only major college program succeed.
Congratulations on your victory over Michigan State Saturday to not only start the delayed Big Ten season but the second tenure of head coach Greg Schiano.  It was an impressive performance as your Scarlet Knights ended a 21-game conference losing streak in beating the Spartans for the first time since entering the Big Ten.
As I tweeted myself, "I guess Schiano was a good hire.  Had Rutgers ready to play today…very impressive."
Those of you who root for the scarlet and a combination or black, gray or white have every reason to celebrate and enjoy the victory, especially considering the miserable seasons you have had to suffer through going just 13-47 over the past five years.
But that's in the past as Chris Ash and Kyle Flood are gone and Schiano, a true "Jersey Guy" is back on the banks of the old Raritan.  He has already shown he will recruit better and bring energy and swagger back to the program with his "keep chopping" mentality.  No doubt the really bad times are about to become a distant memory.
However many of you could not simply enjoy this badly-needed victory without also taking a shot at Penn State who lost by one point later in the day to Indiana, a game that came down to a controversial call at the very end.
I am a PSU fan who is not blaming the loss on that play but rather many plays during the game which my team did not make.  No excuses, too many mental mistakes including those by the coaching staff.
I'm not sure what delighted you Rutgers fans (including my friend Todd Frazier) more…the fact the Scarlet Knights won or the Nittany Lions lost.  I know Rutgers has an inferiority complex with Penn State on the football field even if they won't admit it.  In all honesty I understand that as a Mets fan who knows we will never be the Yankees.
And when it comes to football, well let's just say we'll see you on December 5th. Until then I will wish the best for our New Jersey team, after all I live here too.