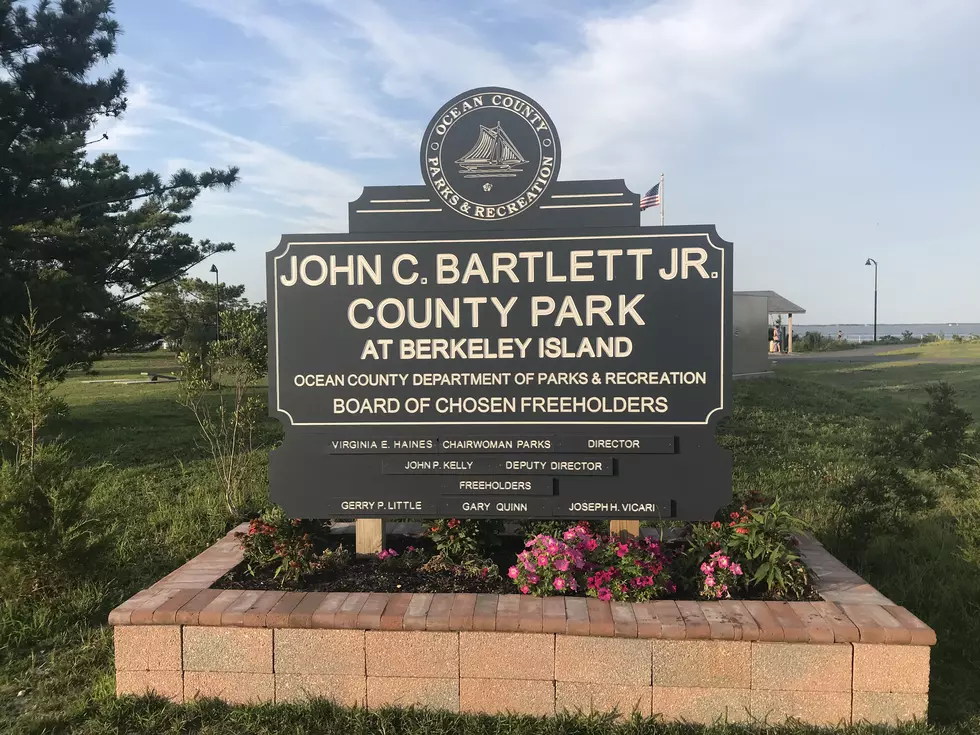 Uncovering a Jersey Shore Gem
Sign at the entrance to John Bartlett County Park (Kevin Williams, Townsquare Media NJ)
Some random notes following the final weekend of July and what a weekend in was for those of us who love the beach.
As a matter of fact we had five superb beach days in-a-row in what was the best stretch of weather this summer.  It's all about the wind and when it's coming off the water it's like the beach version of air conditioning.
Even when WOBM was located on Route 9 in Bayville I think I had only been to nearby Berkeley Island Park on a couple of occasions.  That county park suffered severe damage during Superstorm Sandy and afterwards was completely redesigned and renovated before reopening in 2018.
Shortly after that it was renamed John C. Bartlett Jr. County Park at Berkeley Island after the longtime Ocean County Freeholder who truly is the godfather of the county parks system.  It was a fitting tribute of Bartlett who was there for the dedication and only eight months later would pass away after a long battle with cancer.
I mention this because Friday I visited the park that carries his name for the first time and frankly I was blown away.  My wife's family had a cousin's reunion with some 50 traveling from as far away as upstate New York.
The park is truly impressive with a children's splash park as part of the playground area, a fishing and crabbing pier, picnic areas with grills, bocce, corn hole and horseshoe courts and a marvelous pavilion to relax under. (I'm not very good at bocce). While it was my first time it's certainly not a secret as many visit there on a regular basis as it's become a popular destination.
Speaking of popular, South Seaside Park has a trio of restaurants within walking distance of one another that are favorites of many, especially during the summer season.  We had terrific celebration dinner at Chef Mike's ABG on Saturday (my 24 oz. porterhouse steak was amazing) and it was packed, the same for Bum Roger's Crabhouse and Ebby's.
While all three are different they are very good and make for nice dining options for those who are vacationing in that area.