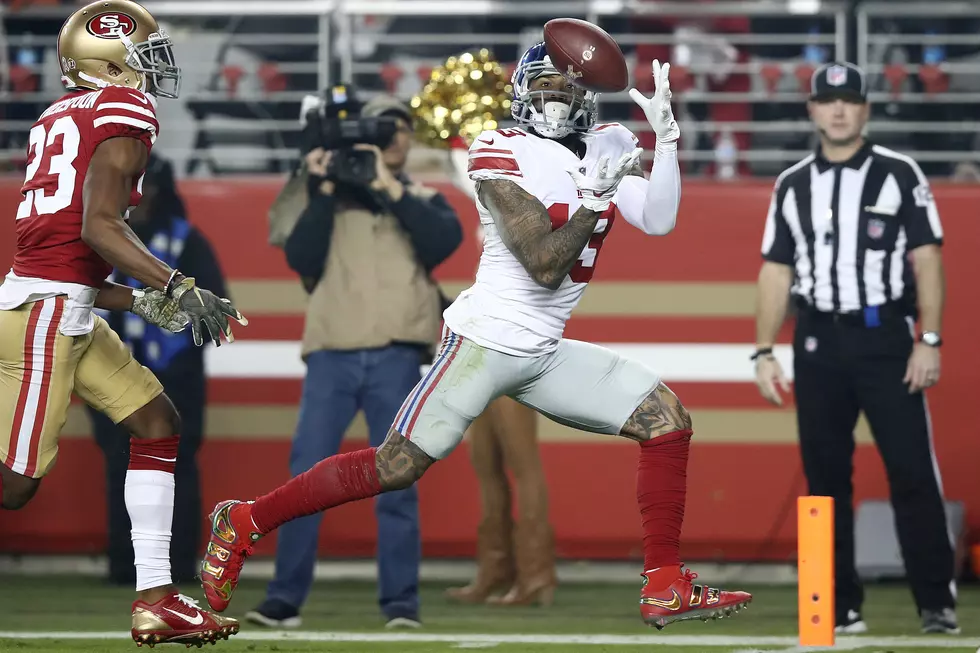 Times That Try Sports Fans Souls
Odell Beckham #13 of the New York Giants catches a 20-yard touchdown (Ezra Shaw/Getty Images)
Sports is supposed to provide a relief from the daily grind, a way to escape the stress of everyday life.  At its best is gives you excitement and joy but of course at its worst it only adds to the misery that you're actually trying to get away from.
These are not good times for fans of NY/NJ teams and that's made even worse by the good times those in Boston have had and even our friends to the west in Philadelphia.  Let's examine this a bit closer by sport:
Football- We of course know the Eagles won their first Super Bowl just over nine months ago so they are the reigning champions although they are struggling this season.  Then there is the Patriots who have appeared in a record ten Super Bowls and won five of them and are clearly a contender again this season. The Giants of course have great history, winning four Super Bowls (beating New England twice) but have fallen on tough times and only made the playoffs once in the last 7 years.
As for the Jets…well 1968 was magical but it's been downhill since.
Basketball- The Celtics are the most storied franchise in NBA history with 17 championships, the latest coming in 2008.  They are pretty good these days and clearly a contender in the Eastern Conference.  The 76ers had not been relevant for many years until recently but their best days are ahead with a young, talented and exciting team as they try and win a championship for the first time in 35 years.
The Knicks have been a mess, have not won a title since I was a senior in high school and while the future may be better it's not bright yet.
Hockey- Here's where a bit of New Jersey helps because the Devils have been until recently a model franchise but they are New Jersey and not New York.   The Flyers have had their moments but have not won a Stanley Cup since 1975 and seem to underachieve often.  The Bruins won the cup in 2011 and lost in the finals two years later and have been on a pretty decent roll.  The Rangers...well 1994 was great and 2014 was okay but it may be a while before they play in May. The Islanders…they can't even find a place to play.
Baseball- This should be where New York shines because of the Yankees but as we know there has not been a parade down the "Canyon of Heroes" since 2009 and the Red Sox have won the World Series four times in the last 15 years.  The Phillies sure had a nice run and after some lean years are getting better.  The Mets…well let's just stop right there.
When it comes to college sports…Philly has Villanova basketball, Boston has college hockey and NY/NJ has….Rutgers football.  Point made!