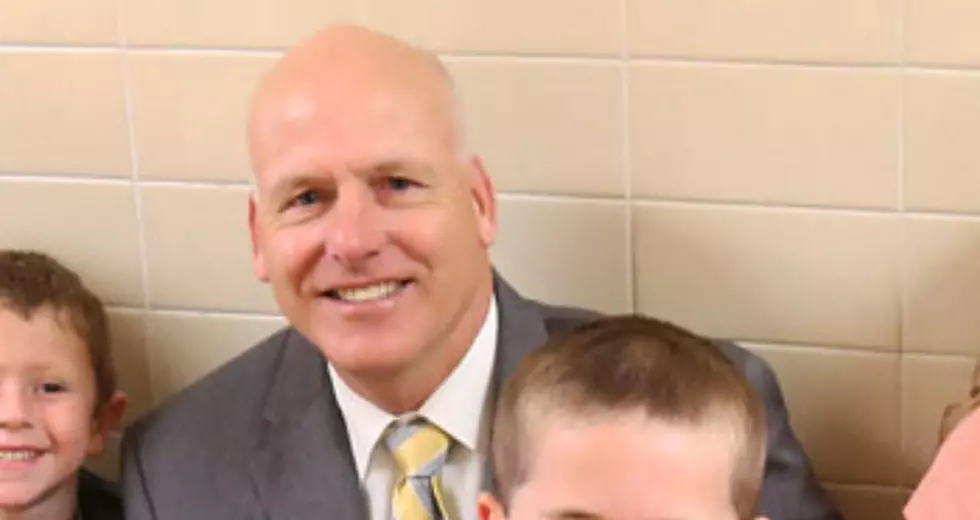 These NJ districts may have to raise taxes and cut programs anyway
Superintendent David Healy (Toms River Regional Schools)
TOMS RIVER — This Ocean County school district could have to slash junior varsity sports, courtesy busing, course offerings and teachers — all while raising property taxes anyway — as a result of a school funding plan signed into law by Gov. Phil Murphy.
Schools superintendent David Healy this week called on parents and residents to lobby state lawmakers and the Murphy administration to restore funding, saying that the district stands to lose $70 million in state aid over the next seven years.
The new $8.43 billion funding formula, which was developed by Democratic lawmakers, shifted state aid to more than 300 school districts that they said have been underfunded for nearly a decade. Unlike Murphy's initial proposal, the adopted measure also cuts aid to almost 200 districts.
While losing aid may be bad enough, the new law forces any district that is spending less than what the state defines as "adequacy" to raise taxes by 2 percent annually to make up for the lost aid. The law also allows districts formerly known as "Abbots" to raise their taxes by more than the 2 percent cap to make up the difference in state aid.
Another law that Murphy signed would allow Jersey City to impose a payroll tax of up to 1 percent on people who work in the city to make up for the $3.5 million in lost aid.
Toms River was one of the districts that lost state aid under the new formula.
Until now, the Toms River school budget was a source of pride for district officials because their cost-per-pupil was lower than the state average. But now, because the district spends $30 million less than what the state expects them to, the district will have to keep raising taxes until the year 2025.
Although data released by Murphy's office calculated the Toms River aid loss as less than $1 million, district officials said the loss is actually greater because the state cut $2.4 million from its aid allotment last year.
Officials estimated that taxes might have to be raised by as much as $1,300 a year for the average Toms River homeowner, according to a report in Toms River Patch. Such a tax hike was avoided this year because the district dipped into its reserves to appropriate the $2.4 million that the district lost in state aid, Healy said in a letter.
"It is difficult if not impossible to overstate the negative short- and long-term impact of these projected cuts, and while we seek not to alarm or provoke anxieties, it is incumbent on us to adequately communicate what is at stake," Healy said in a letter to parents on Thursday.
The letter included emails and phone numbers for more than a dozen elected officials, including Murphy, Lt. Gov. Sheila Oliver and Education Commissioner Lamont Repollet.
"Tell them that enough is enough," Healy's letter says. "Remind them that the future of our children and community is at stake. Demand that they restore our state aid in full and encourage them to, finally, fix the state education funding formula so that school aid is distributed fairly to all districts."
District officials have said that the data used to calculate state aid is flawed because it doesn't take into account the loss of taxable property as result of Superstorm Sandy. Lawmakers representing the Jersey Shore have introduced a bill that would restore state aid to districts in shore counties where property valuations have not rebounded to the level of the 2012-2013 budget year.
It is not clear how many other districts will be forced to raise taxes. A spokesman for the Department of Education on Friday said the department still did not have a finalized list.
But a draft list circulated by lawmakers last month indicated that at least two dozen other districts may end up in the same position as Toms River.
Below is a list of towns that may be forced to raise taxes coupled with how much they lost in state aid:
Belmar — State aid: $967,565
Loss:-$8,029
Bradley Beach — State aid: $1,024,036
Loss: -$25,982
Brick — State aid: $34,180,137
Loss: -$1,124,684
Cape May — State aid: $368,854
Loss: -$22,884
Clearview Regional — State aid: $14,906,929
Loss: -$93,165
Collingswood — State aid: $10,151,980
Loss: -$24,412
Commercial Township — State aid: $9,310,905
Loss: -$958,213
Deal — State aid: $199,415
Loss: -$117,758
Elsinboro — State aid: $523,338
Loss: -$42,855
Englewood — State aid: $4,759,794
Loss: -$404,801
Haddon Heights — State aid: $1,252,870
Loss: -$48,653
Hopewell Township (Cumberland) — State aid: $3,103,052
Loss: $48,308
Jersey City — State aid: $406,904,292
Loss: -$3,500,000
Lakehurst — State aid: $5,976,021
Loss: -$46,017
Lakewood — State aid: $23,465,461
Loss: -$1,327,579
Lawrence (Cumberland) — State aid: $5,789,972
Loss: -$2,456
Little Egg Harbor — State aid: $9,402,948
Loss: -$93,592
Lower Township — State aid: $8,901,789
Loss: -$275,567
Old Bridge — State aid: $44,192,948
Loss: -$586,794
Oldmans — State aid: $1,508,215
Loss: -$26,549
Ridgefield — State aid: $2,601,290
Loss: -$31,125
Seaside Park — State aid: $151,894
Loss: -$2,181
Weehawken — State aid: $2,613,441
Loss: -$54,813