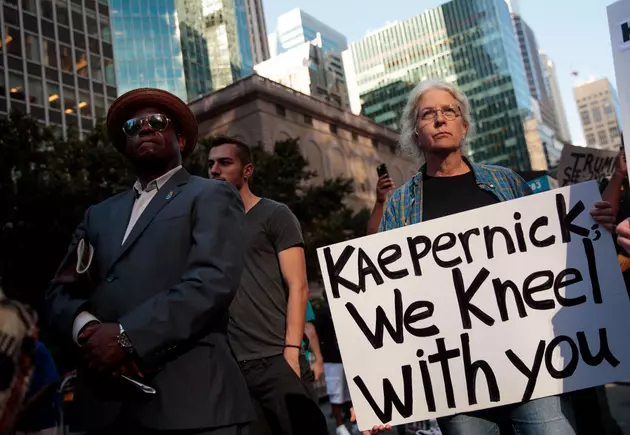 The Wide World of Sports Controversies
Activists rally in support of NFL quarterback Colin Kaepernick outside the offices of the National Football League in New York (Drew Angerer/Getty Images)
Rarely do I spend time on national sports subjects but there are three of them I feel compelled to comment on:
First is the story involving ESPN announcer Robert Lee who this week was pulled from working Virginia's football season opener in Charlottesville for the network because of the similarity of his name to Confederate general Robert E. Lee. Of course the resemblance between the two ends there.
The Civil War General died 150 years ago and the living Lee is Asian-American.  ESPN shifted Lee to another game basically to keep him out of the city that was the scene of violent protests earlier this month that began with fanatical white supremacists protesting the possible removal of a statue of guess who? Robert E. Lee.
Of course if the announcer was known as Bob, Bobby, Rob or Robby Lee this would not be an issue.  The fact that it is an issue in simply insane.
Then there is the on-going controversy involving former San Francisco 49ers quarterback Colin Kaepernick who continues to be an unsigned free agent which his supporters believe is a direct attempt by NFL owners to keep him out of the league because he initiated the National Anthem protests last season.
More than 1,000 people showed their support for Kaepernick on Wednesday by protesting outside the NFL office in New York but it would appear to be a longshot that he will be signed by a team before the regular season begins.
I don't think NFL owners are colluding to keep him out of football but they don't like controversy, especially with a player who at this point would be a backup.  The 29-year old is better than many current quarterbacks on team rosters but he is not an elite player and I'm sure not worth the headaches to teams and owners.
And finally there is the Mayweather-McGregor fiasco that will finally take place Saturday night or early Sunday morning.  This has been the most overblown and hyped event in sports history. Actually, is it really sports?
Both got into the gutter during pre-fight promotion and everything was included. .Race, masculinity, you name it.  It was everything we don't need and this fight is one we don't need but millions of suckers will pluck down $100 and then complain afterwards.  You deserve it. (Yes I am prepared to eat my words later).