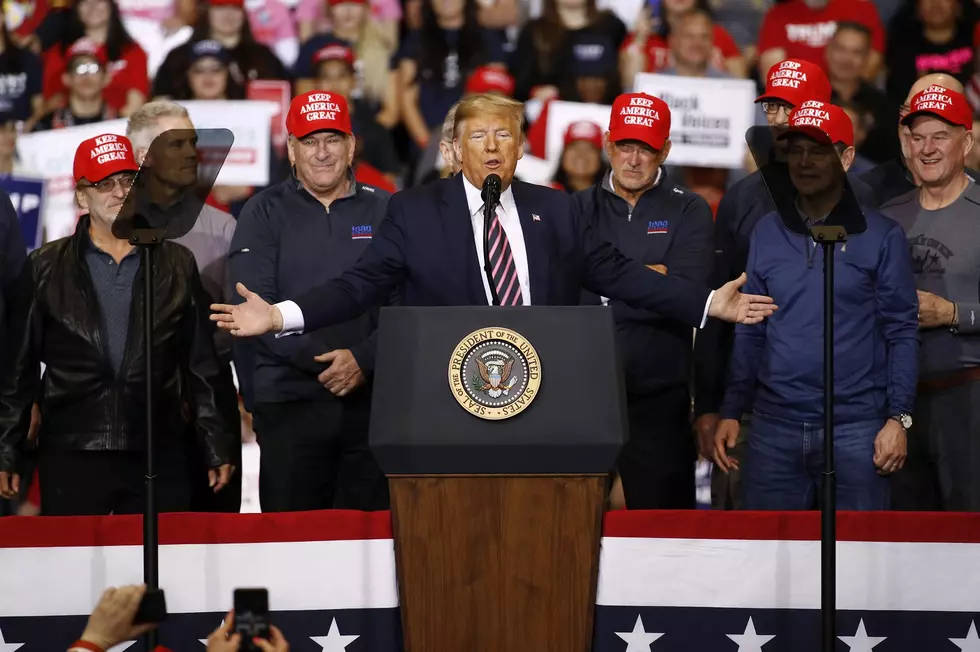 Tarnish from Trump on 1980 US Hockey Team?
President Donald Trump speaks after bringing members of the 1980 U.S men's Olympic hockey team onstage during a campaign rally in Las Vegas (AP Photo/Patrick Semansky)
There's a little tarnish on the 40th "feel good" anniversary of the 1980 U.S. Olympic hockey team beating the Soviet Union and going on to win the gold medal in Lake Placid, New York.
Many members of the team were in Las Vegas for a reunion celebration and appeared on stage Friday night at a rally for President Trump wearing those well-known red "Keep America Great" hats.
Their Twitter account posted a tweet and photo using coach Herb Brook's often used quote "The name on the front is more important that the name on the back" but that did not go over with many who attacked the team for playing politics.
They then issued a follow-up tweet that read, "To us, this is not about politics or choosing sides.  This is about proudly representing the United States of America.  Whether your beliefs are Democratic, Republican, Independent, etc. we support that and are proud to represent the USA.  It is an honor and a privilege."
That did not stop the negative criticism of those who did not understand why the team members attended the rally and wore the red hats and it has left a bad taste in mouths of many at a time which should been all about reflection and celebration.
For what it's worth I watched the movie "Miracle" last night for about the 100th time and I still can't believe we won that game.
I did not get to really enjoy the weekend weather as I was inside both Saturday & Sunday for the Shore Conference Basketball Tournament at the RWJBarnabas Health Arena.  Sunday saw all the boys higher seeds advance, including Toms River North who outscored Marlboro 114-85 in game that felt like a track meet.
I cannot recall a team scoring that many points and certainly not in a post-season tournament.  The Mariners will face Red Bank Catholic in Thursday's semifinals on what is their home court before top-seed Manasquan meets Holmdel.
The girls semifinals are Tuesday and as expected feature the top four seeds in St. John Vianney, Manchester, Red Bank Catholic and St. Rose.
As a public service I would like to tell you not to see the movie "Downhill" which opened on Valentine's Day and is bombing at the box office.  There is good reason why because it is terrible and one of the few times we really thought about walking out of a movie before it ended.
Julia Louis-Dreyfus and Will Ferrell are called the stars but there are none in this 85 minute disaster.