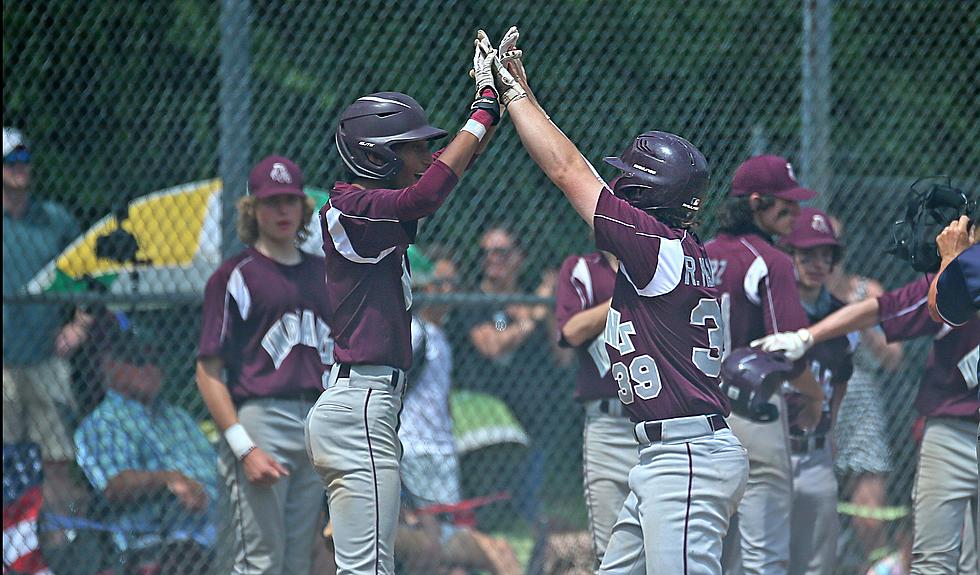 Shore Conference (NJ) Baseball Saturday Scoreboard, 6/12/21
Senior Tyler Madeo (left) greets classmate Ryan Mackle (right) after Mackle's home run vs. Point Beach. (Photo by Ray Richardson)
Monmouth County Tournament
Quarterfinals
(4) Rumson-Fair Haven 2, (5) Freehold Twp. 1
Liam Murphy lined a game-tying RBI double in the bottom of the fifth and Johnny Bruno scored the winning run on a throwing error in the same inning to make a winner out of Mike Amendola and the Bulldogs (20-6-1) against the Patriots (16-9).
Amendola allowed one unearned run on three hits and three walks while striking out two in his complete-game effort.
Zach Gorman took the tough loss for Freehold Township, pitching all six innings and allowing one earned run on three hits and one walk while striking out seven. Junior shortstop Ryan Keegan went 2-for-3 with a run scored to lead the Patriots lineup.
Rumson will next play Wednesday in the MCT semifinals against the winner of the quarterfinal game between No. 1 Manalapan and No. 9 Colts Neck, which is scheduled for Tuesday.
Ocean County Tournament
Semifinals
(2) Central 4, (11) Toms River North 2
The Golden Eagles broke through for four runs in the bottom of the sixth inning and Connor Shea closed out a win over the Mariners (9-13) that sends Central (18-9) to the Ocean County Tournament final for the first time since winning it in 2014.
Central will host the winner of Saturday night's second semifinal between No. 9 Toms River South and No. 4 Brick Memorial in the OCT final, which is currently scheduled for Wednesday.
Trailing 2-0 in the bottom of the sixth, Central got going with a one-out single by Evan Agrapides, followed by a double off the fence by Shane Sajewicz to set up the Golden Eagles with runners on second and third and one out. Trevor Coltenbeck then delivered a sacrifice fly to cut the Toms River North lead in half.
Cam Leiter then hit a ground ball to shortstop that resulted in a throwing error and Sajewicz scoring the tying run. Anthony Musso then ripped a single off of pitcher Brenden Lavallee and Billy Sottilare hit a ground ball toward first that the Mariners also failed to turn into an out, allowing Leiter to score the go-ahead run.
Cristian Soto added an RBI single for insurance to complete the four-run rally.
Shea pitched four scoreless innings of relief to earn the win after replacing starter Jeremy Bruner.
Toms River North starting pitcher Jack Tava gave himself a 1-0 lead with an RBI single in the top of the first inning and the Mariners extended their lead to 2-0 in the fourth, when Brandon Valles doubled and scored on a squeeze bunt by Zach Goodale.
(4) Brick Memorial 6, (9) Toms River South 0
Sophomore Brady Leach pitched a five-hit shutout on just 64 pitches and the Mustangs (16-11) blanked the Indians (12-12) to reach the OCT championship game for the first time since 2013.
Leach struck out three, walked one, went to a three-ball count only twice in the game and completed four of the seven innings in nine pitches or fewer, with a high of 14 pitches in the top of the second.
Leach also gave himself a 1-0 lead when he hit a first-inning sacrifice fly to score senior Reese Hackett, who led off the game with a double.
Brick Memorial added three in the third, with junior catcher Joey Nolan picking up two RBI on a single and courtesy runner Aidan Patella stealing home on the back end of a double-steal for a 4-0 lead.
The Mustangs capped the scoring in the fourth with an RBI ground out by Joe Gioia and a sacrifice fly by Cole Manfro.
Junior right fielder Ryan Turner helped Leach preserve the shutout with two outfield assists - one to cut a run down at the plate to end the top of the fifth and the other to catch Toms River South centerfielder Ty Madeo trying to stretch a single into a double in the sixth.
Hackett reached base in all four of his plate appearances, finishing 2-for-3 with a double and two runs scored. Manfro was 1-for-3 with a run and an RBI, Nolan was 1-for-2 with two RBI, Max Cala was 1-for-3 with a run and Anthony Martino finished 1-for-2 with a walk and a stolen base for Brick Memorial.
Toms River South starting pitcher Joe Schifilliti pitched the first 3 1/3 innings and was charged with all six runs - five of them earned. Schifilliti also finished 2-for-3 at the plate.
Regular Season
Class A Central
Raritan 6, Holmdel 2
John Molnar pitched a five-hit complete game with three strikeouts and the Rockets completed a sweep of the Hornets to finish off their 2021 Class A Central division schedule.
Kai Kruk was 1-for-2 with a double and two runs, John Bachmann was 2-for-2 with a run and an RBI and Justin Kilyk went 2-for-3 with a double in the Raritan win.