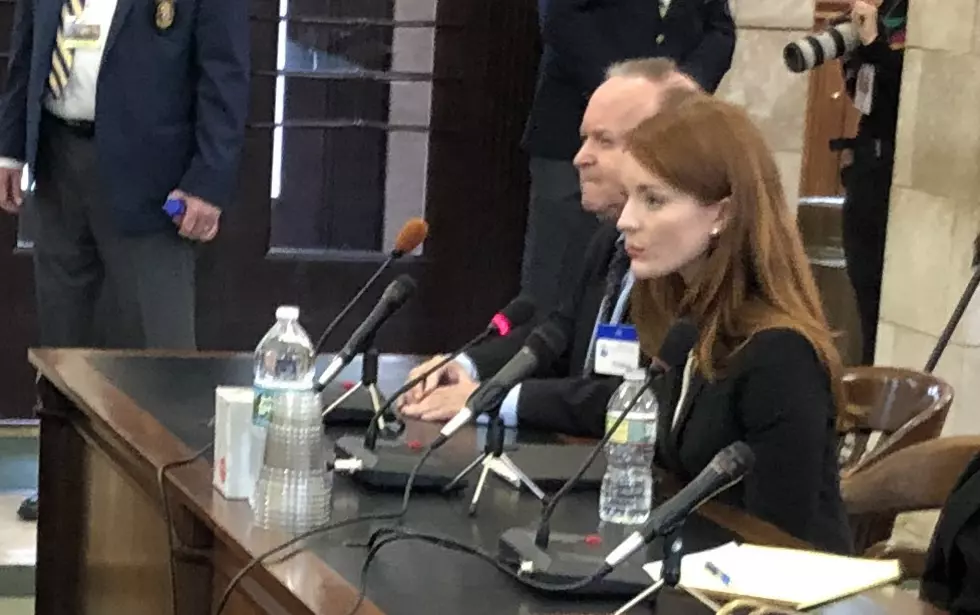 Sex assault accuser says Murphy administration let her down — 'I hoped for justice'
Katie Brennan before a Legislative investigation panel Tuesday, Dec. 4, 2018. Michael Symons/Townsquare Media
TRENTON — The woman who accused a former Murphy administration and campaign staffer of sexual assault spoke in public for the first time — before a Select Oversight Committee of the state Legislature, which is investigating how the administration handled the accusation.
The hearing Tuesday morning comes after the Attorney General's Office last week concluded that the Hudson County Prosecutor's Office did nothing wrong in handling the accusations brought forward by Katie Brennan. Prosecutors chose not to press charges because Al Alvarez claimed the conduct was consensual.
Alvarez resigned from his position on the New Jersey Schools Development Authority in October after the Wall Street Journal reported on on Brennan's story. Brennan said she learned that the Murphy administration kept Alvarez onboard after the January transition even after she brought the April 2017 incident to their attention.
"I should not have to be here today," Brennan told lawmakers Tuesday. "I should not have been attacked. I reported my attack to the police and the Hudson County Prosecutor's Office, and my report went unheard. I reported my attack to the campaign and transition committee and administration, and it went unheard. I asked to report my attack to the governor and first lady, and my request went unheard. I and no survivor should have to tell their story to the newspaper to be heard.
"I had access to people in the highest positions of power in the state of New Jersey, and at each turn my pleas for help went unanswered. Somehow, it wasn't a priority to address my sexual assault and working with my rapist until it impacted them."
Brennan said before reporting the assault to the Jersey City Police Department, she called her friend Justin Braz, who was working for the campaign and is now deputy chief of staff for legislative affairs. She says Braz later told others in the transition office what had happened to Brennan, without disclosing her identity. He also helped run interference so Brennan wouldn't have to interact with Alvarez at events such as the gubernatorial debate at William Paterson University.
"I continued to work with the Murphy campaign because I did not want to let the assault stand in the way of me working for the campaign and Gov. Murphy's administration. As a victim of sexual assault, I should not be the one to give up my career goals in favor of the career goals of my rapist."
Brennan said she saw Alvarez repeatedly at campaign events after the assault. She sent a letter to him asking that he not contact her, and she sent a letter during the transition asking that he not decide whether to hire her for a job in the administration.
On Dec. 1, 2017, she found out Hudson County prosecutors wouldn't bring charges, which surprised her. She had cleared Braz to tell the transition office charges were coming so they could be prepared for the likely publicity.
"There are no words to describe the hollowness and the disappointment I felt. The trauma, the invasive tests, the questioning, the waiting were all for nothing. They said they didn't believe a jury would convict so it would be irresponsible to arrest. In other words, they didn't think that people would believe me."
"But now transition counsel knew that Mr. Alvarez had sexually assaulted someone. I hoped for action. I hoped for justice in another form. It never came."
On Wall Street Journal reporting that Chief of Staff Pete Cammarano knew about the sexual assault but didn't know Brennan was the victim: "Just the knowledge that there was an allegation of sexual assault by one transition team member against one of the transition team's senior staffers should have been enough to trigger action. Yet still, nothing."
She said she didn't see him every day but lived with constant threat of seeing Alvarez at joint meetings of chiefs of staff or around Trenton.
"I wanted to stop Al Alvarez from ever attacking another woman again. I wanted survivors to receive justice. I wanted New Jersey to do better. I wanted survivors to be heard. So I kept working to be heard."
On March 20, she met with Murphy chief counsel Matt Platkin in Jersey City. Platkin was horrified and said he'd contact the Attorney General's Office. She thought "I'd finally get help and protection in my workplace." On March 22, at separate meeting in Princeton, she said she told Murphy's deputy chief counsel Parimal Garg, who is a friend.
State ethics officer Heather Taylor informed Brennan on April 24 that the state couldn't take action because she and Alvarez weren't state employees at time of the assault.
"The administration took this position even though I continued to have to work in Mr. Alvarez's presence both during the campaign and after, when he was employed first by the transition team and later by the administration. Once again, no action. Once again, my voice went unheard."
"I heard nothing further. And I still sought justice. And I still wanted to stop Al Alvarez from assaulting again. And I still wanted more for the survivors of New Jersey. I thought that if any administration can make progressive reforms, it would be this one."
On June 1, she emailed the governor and Tammy Murphy asking for a meeting. Email back from governor within the hour: "We know you well. Hang in. We're on it."
"I felt a glimmer of hope," she said.
Murphy didn't ask what the sensitive matter was that she referred to. No meeting was scheduled. She said she heard that weekend from Jonathan Berkon, an attorney with the international firm Perkins Coie and counsel to the Murphy campaign. Berkon advised that Alvarez would be leaving the administration. He wouldn't provide details about the separation because it's a personnel matter. That was June. She learned in September that Alvarez hadn't left, and he remained on the job until October.
"My only power left was my voice. I told my story to the Wall Street Journal," she said. "Why did I have to tell my story to the Wall Street Journal for the administration to acknowledge that it should not have hired Mr. Alvarez?"
"We all have a lot of work to do. It's not about one bad actor. This isn't about one incident. It isn't about one hiring. This is about a pervasive culture of assault and violence. It is every person who looks the other way instead of acting. It's the millions of survivors in New Jersey before me whose attackers never saw conviction. It's the survivors before me whose employers kept perpetrators of violence and harassment. It's the millions of survivors who are only able to come forward years later to find out that it's too late," she said.
"We can work to prevent sexual assault. We won't be able to change the entire country's culture overnight, but we can each play a part. We can believe survivors. We can stop 'he said, she said' from always becoming 'he said.'
"We can improve the justice system. Prosecutors, judges and juries can receive training and remove bias. This, honorable members of the Legislature, this is your role. We can enact laws like Maryland and Michigan that make it easier to pursue justice for survivors of sexual assault, such as allowing prior and additional accusations to be used at trial. This is your role. We can remove the two-year statute of limitations on sexual assault claims so that when all else fails, survivors can pursue a civil case when they are ready. This is your role.
"We can improve workplace hiring and employment practices. Since I came forward, two other women have said Al Alvarez attacked them before me. But his record showed no trace. Character reports matter. This is your role."
"These reforms did not exist for me or for the million survivors before me. But they can exist for the next survivor. Because, unfortunately, there will be a next one. It is our role to ensure that then they report, they get the justice that they deserve."