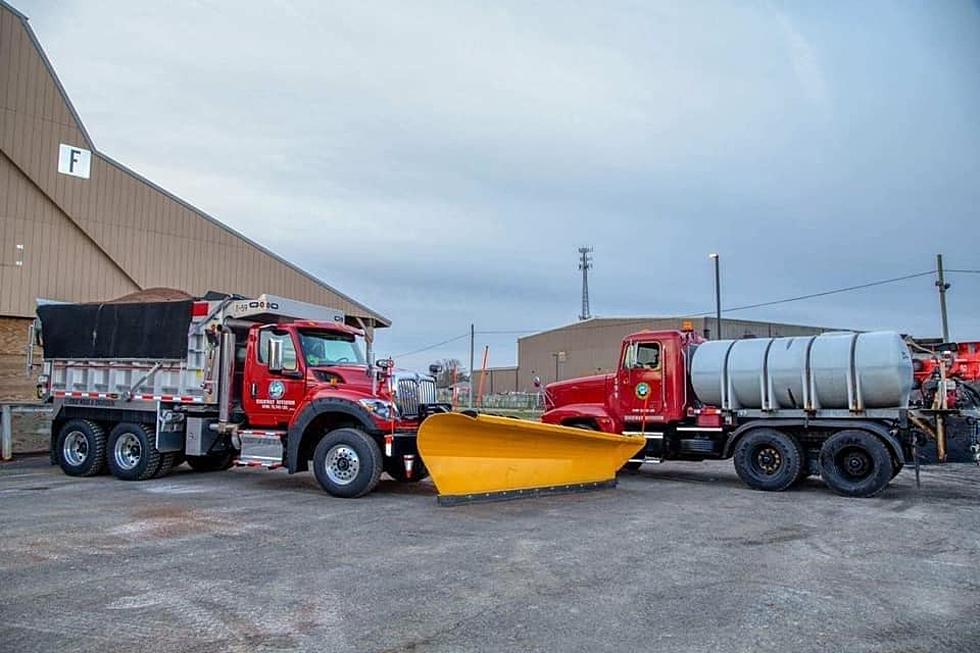 Rapid snowfall creates challenges for crews plowing Monmouth County, NJ roads
(Photo: Monmouth County Government)
The rapid, quick paced snowfall was a challenge for road crews to start the morning everywhere especially as it intensified around 4:00 am.
It presented an obstacle as well with crews cleaning roads before commuters ventured out into the storm.
Throughout the morning in Monmouth County, things have remained relatively quiet.
"So far in Monmouth County, the highways are pretty quiet, we don't have any major accidents or any major road closures to speak of. Obviously with the snowfall coming down very fast, the plows are going to try and catch up," Monmouth County Sheriff Shaun Golden tells Townsquare Media News.
Between the Monmouth County Public Works Department and the Monmouth County Office of Emergency Management including the efforts of OEM Coordinator Mike Oppegaard, Golden says they've been monitoring the storm since last night.
"All the brine was set down on over our 1,000 miles of lane roadways here in Monmouth County," Golden said.
Even with all the equipment, the snow fall and road conditions are slowing them down so Golden asks that you be mindful of the crews out there today.
"We have about up to 180 pieces of equipment that will be out today, but again, with the rapid snowfall coming down the plows do have a hard time keeping up so let them do the work this morning," Golden said. "If you don't have to go out, we encourage you to stay home until the plows can take care of the roadways. If you do have to have to go out, give yourself plenty of time and driving distance between vehicles because it's very slippery out there right now."
The other request if you do have to go out is to have common sense and courtesy for other drivers before even leaving your driveway.
"What we want to stress is -- please clean your vehicles off -- there (could be) 4-5 inches of snow on the vehicles, that will harden as the temperatures drop and it can certainly fly off a hazardous piece of debris for drivers behind you," Golden said.
Whether it's this morning, this afternoon when the snow is done or tonight when temperatures really drop, Golden is concerned about the re-icing of residual wet roadways.
"We want drivers to to be extra careful and take extra time. In light of some recent accidents and pileups that we had here in Monmouth County, we're encouraging all drivers to take it slow and give themselves plenty of distance in between," Golden said.
How snow has impacted New Jersey residents