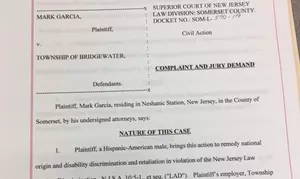 'Porch monkey,' 'wetback' and other slurs lawsuit says Bridgewater DPW workers used
Legal complaint against Bridgewater.
BRIDGEWATER — Township officials did little to squelch a racist culture in the Department of Public Works and retaliated against an employee who complained, a new lawsuit claims.
Mark Garcia, who began working for the township in 2005, says he and other black and Hispanic employees were often subjected to racist slurs by white colleagues in the presence of supervisors.
In a court document submitted in response to the lawsuit, which was filed May in Superior Court in Somerville, the township's lawyers dispute Garcia's characterizations and say that the complaints of wrongdoing were investigated and handled appropriately.
This is the latest lawsuit alleging workplace bigotry in a Somerset County municipality. Neighboring Somerville agreed to pay a total of $2.43 million to five black borough DPW workers in 2015 and last year after they claimed years of racist treatment and discrimination in promotions.
In addition to the hefty settlement, the borough fired its longtime DPW superintendent and agreed to impanel a workplace diversity committee.
Garcia's lawsuit paints a similar picture of Bridgewater's DPW yard, saying Township Administrator James Naples and Mayor Dan Hayes "knew of the discriminatory, harassing and retaliatory culture against Hispanics and other minorities that permeated the Public Works Department, but they did nothing to stop it." Neither Naples nor Hayes had returned a request for comment by Thursday afternoon.
Garcia, who describes himself as an American-born citizen of Mexican descent, says things started going downhill for him in 2015, when he stood up for a black co-worker who General Foreman Robert Kwiatek had said was auditioning for "The Planet of Apes" when he was absent.
Garcia's lawsuit says DPW Assistant Superintendent Ralph Boccanfuso heard that remark but did nothing. Garcia said he later filed a complaint and officials retaliated by denying him a promotion to become a driver — instead giving the job to a white worker who did not have the proper license.
In a legal filing in response to the lawsuit, the township acknowledged that a complaint had been made about Kwiatek and said it was "promptly investigated" and "remedial actions were taken."
The lawsuit says Kwiatek also had often used words like "ni***r" and "porch monkey." Neither Kwiatek nor Boccanfuso have yet returned messages left Thursday afternoon on their work voicemails.
Garcia says his harassment continued with another worker asking him if ate Taco Bell or rice and beans for dinner, and saying "at least I'm a citizen."
The lawsuit says he filed a complaint against this worker, but officials suspended both for a day.
"In Bridgewater, the harasser and vicim both get punished equally," his lawsuit says.
In a court filing, the township responded to this specific allegation by saying that the workers had filed complaints against each other.
Garcia says that his superiors found his reaction to the harassment to be too "aggressive," but his lawsuit says other officials were never punished for making bigoted comments about employees.
For example, Garcia says, he "learned" from someone else that Boccanfuso had called a Hispanic contractor a "wetback" in 2012. When Garcia filed a complaint about that in 2015, he says, officials told him he was too late.
In 2015, he says, a probationary laborer referred to Hispanics as "wetbacks" while he was in a vehicle with Garcia and foreman Jim Rice.
Garcia objected by saying, "I'm Mexican, I don't appreciate that."
Rice said, "Well, I'm Irish," and made no effort to stop the comments, the lawsuit claims.
Garcia then filed another complaint and got more harassment, his lawsuit alleges. Other workers took to calling him a "rat," he says.
Garcia's lawsuit seeks an unspecified amount in damages for violation of the state's Law Against Discrimination. He also seeks reimbursement for medical expenses as a result of taking medical leave to deal with harassment-related effects on his mental and emotional health, and to get the driver's position he was passed over for.
His attorney is Nancy Erika Smith of Montclair firm Smith Mullin.