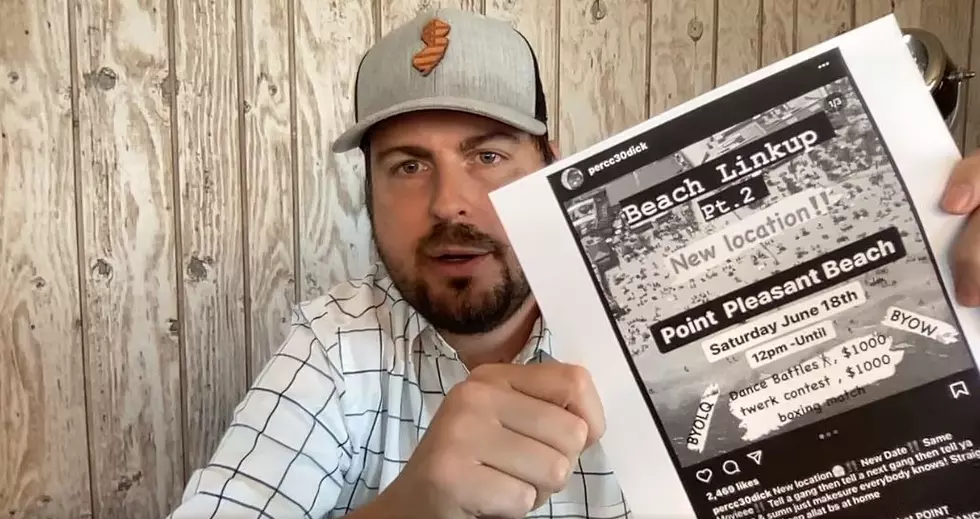 Point Pleasant, NJ Mayor Fuming At Pop-Up Party Planners On Social Media [VIDEO]
Paul Kanitra FB Screenshot
It has only been a few weeks since thousands ambushed Long Branch for a social media pop-up party but it feels like yesterday.
Various arrests were made, substantial damage was done to the town, businesses were forced to close and the shore town only made it through thanks to the quick response of law enforcement in surrounding towns.
And yet somehow, there are flyers circulating on social media for another pop-up party.
This time, the target is Point Pleasant Beach and the rumored party is set to take place on on the weekend of Sunday, June 19th.
I'll say this. Point Pleasant Mayor Paul Kanitra is PISSED and rightfully so.
The Long Branch party resulted in various arrests and an unspeakable amount of damage so why on earth plan another?
Well Kanitra isn't having it and he has a message for the party goer planners as well as anyone who plans to attend.
He posted a 9-minute video warning the public but also, asking for help from the state so he can properly punish those deserving and to ensure this can never happen at the shore again.
He is not messing around.
This isn't the first time Paul has had something to say to partygoers who did not treat the Jersey Shore with respect.
Back in 2020, a similar occurrence took place in Point Pleasant leaving parts of the town trashed and destroyed and just like now, he had a message for those at fault:
Do not even give me that whole, "Kids will be kids" argument.
I was an idiot with my friends but we would gather in one of our parent's basements. We would not peruse throughout the town to see what we could destroy as we drank.
Here is what I don't understand.
Eventually, one of these pop-up parties is going to result in something that is irreversible.
We have one Jersey Shore. One set of beaches. One set of boardwalks.
If kids - and yes, I used the words KIDS on purpose -- go town by town with these parties, there will be no Jersey Shore left to come to.
Be young and stupid all you want.
But I would take Mayor Paul Kanitra's advice and knock it off because eventually, you won't be able to outrun the consequences.
How about we focus on something a bit more positive happening at the Jersey Shore:
Your Official 2022 PNC Bank Arts Center Concert Schedule
15 Beloved New Jersey Italian Restaurants Too Delectable Not to Try