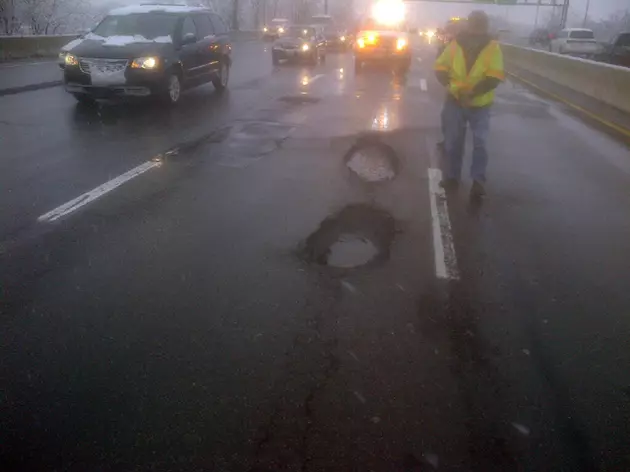 NJ traffic delays blamed on extra-large potholes caused by rain
Repair crews work on patching 3 potholes on the Garden State Parkway southbound in Clark in 2016 (NJ Turnpike Authority)
WATCHUNG — Large potholes on Route 78 caused big delays for Wednesday morning's commute.
DOT spokesman Steven Schapiro said a repair crew was dispatched around 6:30 a.m. near Exit 41 (Deepdale Rd) in Watchung to fix a pothole in the left lane.
"Whenever we have emergency pothole repair our goal is to get it repaired within four hours. I think our response time was even quicker than that last year," Schapiro said, adding that Wednesday morning's repair took an hour.
Big backups remained for much of the morning commute through that area even after all the lanes were opened, according to New Jersey Traffic's Bob Williams.
The rain from this week's nor'easter with a lot of rain and freezing temperatures overnight  is "a recipe for potholes as the water gets into the cracks and freezes and expands and deteriorates the pavement."
State Police spokesman Alejandro Goez said that they've called for DOT crews to make pothole repairs to several areas of the highway through Hunterdon, Somerset and Union counties this week. There was also a large pothole on the westbound side near the Turnpike tolls.
"This stretch of roadway has been in great need of repair. The extreme temperature swings and the nor'easter has really taken its toll. Listeners report that the pothole near Exit 41 is large enough to swallow a car," New Jersey Fast Traffic's Bob Williams said.
Schapiro said a repaving project on the eastbound side was suspended for the winter but was able to withstand winter weather. The project on the westbound side was completed last year.
"They took care of a lot of the more serious cracks and potholes that were in the white lines between the lanes. That was the worst part of it and was addressed first," Schapiro said.
The DOT's website takes reports about potholes on roads they maintain.  Reports can also be made about litter, graffiti. traffic light issues and  animals along the road.
More from New Jersey 101.5