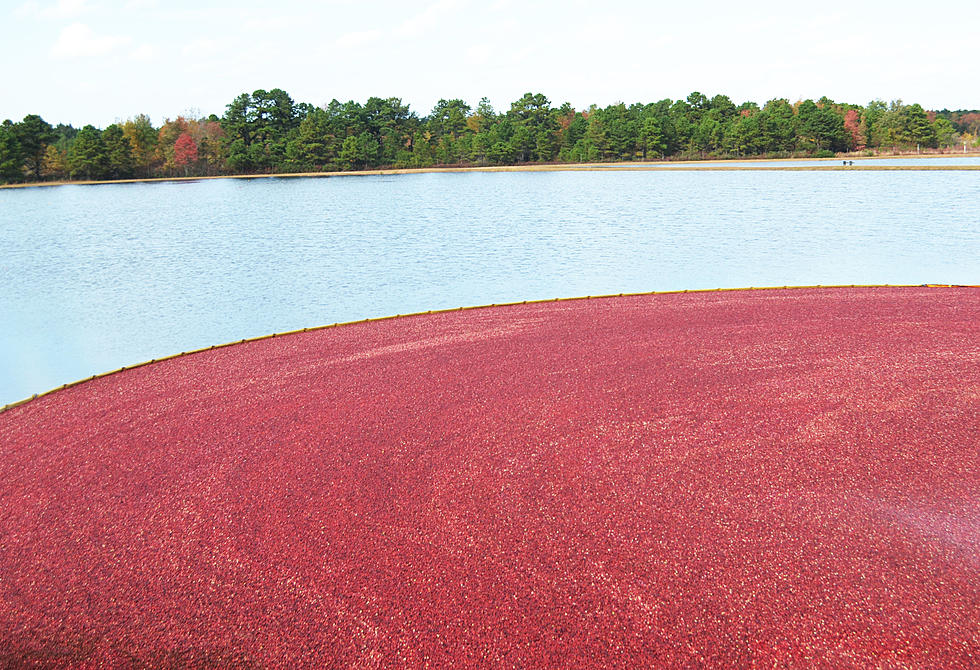 NJ produces a lot of America's cranberries: Could crop be wiped out?
Cranberry bog at a Burlington County farm (Photo Credit: NJ Dept. of Agriculture)
🔴 Climate change can cause NJ cranberries to overheat and it's getting worse
🔴 Root diseases can also cause the cranberries to collapse
🔴 This is what New Jersey farmers are doing about it
---
While the New Jersey Department of Agriculture won't get the production reports for cranberries until the first week of May, it looks like the 2022 harvest may have been a hearty one.
According to the U.S. Department of Agriculture, New Jersey cranberry farmers were expected to harvest 590,000 barrels, comparable to 2021's strong production of 589,000.
In terms of actual production sales, or sales of the berries, in 2021 it was just over $23 million, said Jeff Wolfe, public information officer at the NJ Department of Agriculture.
As of November, New Jersey ranked third in the nation when it came to cranberry production.
But the state's cranberry crop could be in trouble due to climate change.
What is the concern?
Climate change is when the baseline temperature increases, says Peter Oudemans, Rutgers professor of plant biology and director at the P.E. Marucci Blueberry and Cranberry Research and Extension Center.
He said, as the temperature goes up, things can change, and one or two degrees can make a big difference. One problem with the overheating of cranberries is that as the berries turn red, they can no longer cool themselves through transpiration.
The water going from the roots up into the leaves will cool the leaves. The berries can cool themselves as they are growing, but when they turn red they cannot do that anymore, so they start to overheat, Oudemans said.
"What we're finding is that later in the season the berries start to overheat and that can remove about 20 or 30 percent of the crop. This is something we've had to deal with in the last five to 10 years, and it's getting worse and worse," he said.
In late August, there are ambient temperatures of 90 and above at the level of the cranberry plants. When that happens, the combination of that high ambient temperature and solar radiation will overheat the cranberries, Oudemans said.
The internal temperature of the cranberries at that point can reach up to 130 degrees, which means they start to bake, he added.
While cranberry harvest is from late September to early November, the damage to the cranberries occurs around Labor Day weekend. Oudemans said that is the worst weekend for the overheating of the fruit.
His main concern with climate change is not so much that there is a dramatic change. But he said there has been a change in patterns. Rainfall is occurring in more intense periods. Then, there are periods of drought. It's very difficult to manage water and conserve water in reservoirs to compensate for when there is no rain.
Also, there are root diseases that exist in cranberry. Oudemans said one is called Phytophthora root rot. That particular disease will rot the roots and if it gets really hot, the cranberries literally collapse, he said.
What can farmers do to help their cranberry crops?
Oudemans said the overheating of the berries has been going on for the past five years or so but Rutgers researchers have been working to identify the types of days where they can experience overheating. This has allowed the growers to hold "growing practices" where they can alleviate some of the damage.
"What we have found is that very short irrigation periods, sort of like misting can really help cool that crop. One or two mistings a day can prevent that damage from happening all together," he said.
Rutgers scientists have also developed an artificial cranberry that was printed from a 3-D printer.
"It's hollow so we can put a tiny thermistor inside of that cranberry and it mimics a real cranberry. So, we can measure what real cranberries are experiencing in the field, and then respond to that with the irrigation practices," Oudemans said.
Rutgers student, Dave Jones of Northfield is the one who found the company, Shapeways and he, along with Oudemans and other scientists designed the fake cranberry, tested it, redesigned it, and it works like a charm, he said.
The Rutgers P.E. Marucci Blueberry and Cranberry Research and Extension Center is made of up scientists who work directly with the cranberry and blueberry industry in New Jersey, where they do agricultural and horticultural research.
So, they know all the farmers personally, they interact with them and do research on their farms and on the Rutgers farm in Chatsworth, Oudemans said.
Hopefully, together they can continue to find ways to protect the state's beloved cranberry crop.
Farmers in New Jersey have been growing cranberries since at least the 1840s, according to the NJ Department of Agriculture. Almost all the cranberries harvested in the state are sold to Ocean Spray.
So, the next time you drink a glass of Ocean Spray Cranberry juice, chances are you're drinking a New Jersey cranberry.
Jen Ursillo is a reporter and anchor for New Jersey 101.5. You can reach her at jennifer.ursillo@townsquaremedia.com
Click here to contact an editor about feedback or a correction for this story.
Every NJ celebrity with a star on the Hollywood Walk of Fame