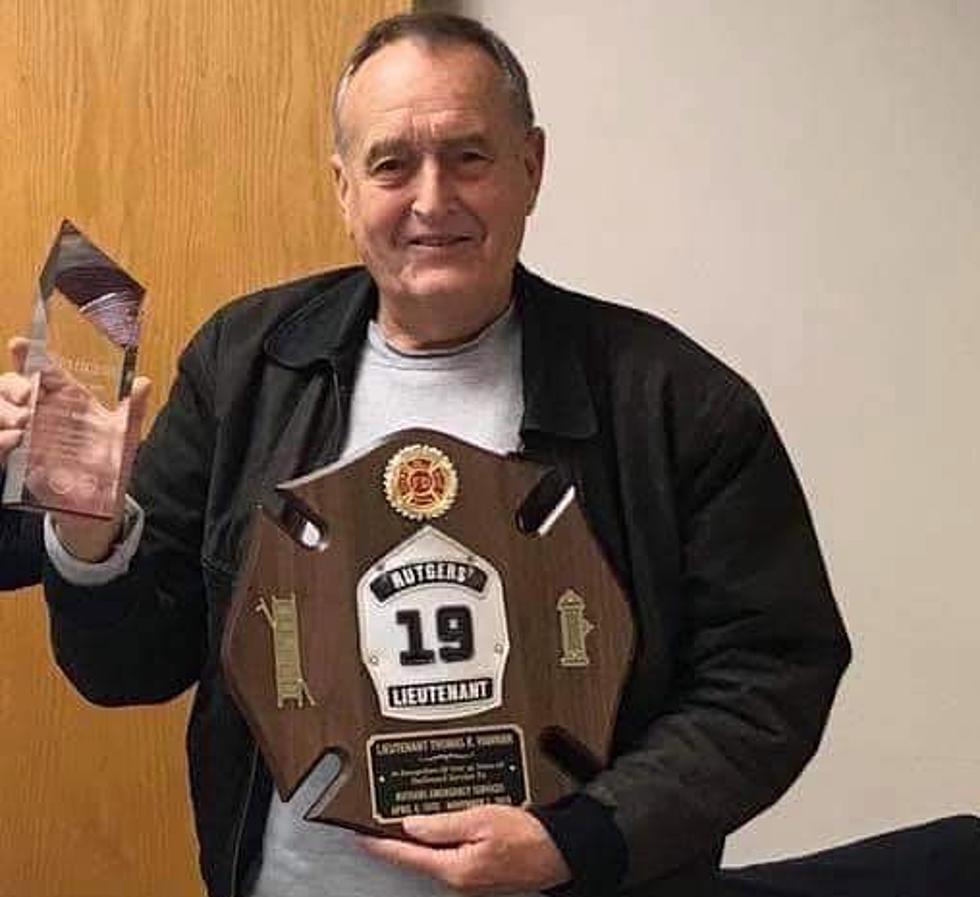 New Jersey Communities mourn loss of firefighter from Point Pleasant Beach
(Photo Courtesy: Dan Goresh, East Dover Volunteer Fire Company)
One of our unsung heroes is heading to fight fires in the Heavenly Kingdom as a valued firefighter and first responder.
Thomas R. Hannan, Jr., 73, of Point Pleasant Beach was a Lieutenant with the Rutgers University Emergency Services who passed away last weekend following a battle with cancer.
Lt. Hannan dedicated his life to serving and helping others including for 46-years with Rutgers before retiring in 2018, Captain Dan Goresh tells Townsquare Media News.
"His reach can be felt throughout the state, as former members of Rutgers Emergency Services whom have graduated, or have moved on to more rewarding careers know how vital this man was to not only our community, but the Fire and Emergency Services family as a whole," Goresh said. "He has had an impact on former members, so much so that they pursued careers not only in Local Fire Departments but have become police officers, nurses, federal agents, and doctors just to name a few. You can see the affect he has had on people by all those who have shared Rutgers University Emergency Services Facebook posts about the man and the photos and stories about him."
As a way to remember our fallen hero and provide everyone the opportunity to say one last goodbye, Goresh said that a memorial service for Hannan will be held this Saturday.
"Folks from all over will caravan from Rutgers Piscataway to the service in Point Pleasant where he called home for well over 46 years," Goresh said.
The caravan will lead to a service being held at St. Peter's Church, in Point Pleasant Beach at 10:00 am.
Captain Hannan also passed along a letter to Townsquare Media News written by Rutgers University Emergency Services Lieutenant Erin Macri who goes into detail on the life and each that Lt. Hannan had with RU, Point Pleasant Beach and beyond.
"Thomas R. Hannan, Jr. 73 of Pt. Pleasant Beach, son of Dorothy Barry Hannan and Thomas R. Hannan Sr. passed away Friday evening, June 4th, 2021 at his residence, in peace with his family and friends by his side.
Born in New Brunswick, Tommy spent his life living here as well as Point Pleasant Beach, he always referred to the shore as home.
One of Tommy's attributes, besides his charm, and humility, was his passion for serving his community.
He started his career as a firefighter at the age of 16, and continued on for 56 years. Tommy served North Brunswick Fire Department, Community Fire Company in Somerset, and Point Pleasant Beach Fire Company 2.
Later on, he was employed as a Lieutenant for Rutgers University Emergency Services which ran fire-rescue and emergency medical services.
He retired from Rutgers, after 46 distinguished years.
He has been a staple among the Rutgers community for the majority of his life.
Outside of firefighting, he is a Veteran of the Vietnam war serving with the United States Air Force from 1968 to 1972.
On his return from Vietnam, he worked for emergency medical services within the city of New Brunswick.
He was also a creative, enjoying painting and drawing. Some of his work is award winning in the Point Pleasant area.
There are many sketches that he left behind in our Station at Rutgers, that still remain on the walls where he left them.
Anyone who met Tommy would immediately feel that you've known him your entire life. That was just his personality and natural compassion.
He had deep rooted relationships at Rutgers, just not with emergency services, but with Athletics, the police department and the student body.
His work here, was not only for himself, but helped shape the careers of graduating students, as well as members of RUES that have gone on to other agencies, or have been promoted within.
His career has been an inspiration to us all.
A RUPD officer told me story once, how he was a new officer on a traffic stop, and in the nature of Tommy Hannan, while on shift, he pulled up in his work vehicle behind the officer, just to offer the officer an extra hand if needed.
Low and behold, there was a firearm found in the vehicle that was stopped, and the police officer attributes no one getting hurt just by Tommy stopping by to make sure everything was ok.
That's who he was. He just took care of everyone he knew.
Tommy never worried about what department or agency you were from. With him, everyone worked together no matter where you were from.
He was an EMT instructor, but was unique in the way that he would mentor his students, rather than just instruct.
His training philosophy, for every member of RUES that came through these doors was to be more inclusive, that he would share his knowledge and experience, but still learn from each other.
When talking about Tommy this week, it was mentioned that, when you think about him, and the type of person he was, it was best expressed just on his years at Rutgers.
He was eligible to retire long before his 46 years on campus, but he stayed because he loved it here.
He never referred to Rutgers as a job, but all of us were his family.
I first started my career as a Rutgers Police Dispatcher, to which I spoke to Tommy on most days, sending him to fire alarms and medical calls, but it would be almost two years until I met him in person.
That was during an emergency. My partner and I had smelled smoke in the dispatch room, and requested him to respond.
After making sure we were all ok and weren't in danger, he just hung out with us. Chit chatting and telling us bits and pieces of his story.
What may have just been a few moments of his day, made us feel like we knew him a lifetime. He was that type of character.
These are just a miniscule percentage of the stories about Tommy, that have been passed through employees, friends, and family.
The reason I am writing to you, is to try and express the impact of this man's legacy. Not just in his whole life, but how our Rutgers community was personally effected by his life-long contribution.
This letter by no means covers all of his accomplishments, but we, the members of Rutgers Emergency Services, who are saying goodbye to a hero and a legend, believe he deserves more recognition than we can offer him on our own.
Even though he held the formal title of Lieutenant here, he will always be Our Tommy.
We will be giving Tommy the best send-off we know how to, this upcoming Saturday, June 12th, 2021 at St. Peter's Church, in Point Pleasant Beach, NJ at 10:00 am."
If you would like to pay your respects or learn more information about the memorial service, you can contact Captain Bill Jackson or Captain Daniel Goresh at escaptains@ipo.rutgers.edu.
May Lt. Hannan rest in peace.
You can follow Vin Ebenau on Twitter and Instagram and email news tips to vin.ebenau@townsquaremedia.com.
When Ocean and Monmouth County Police saved the day
Have You Seen Them? Monmouth County's Most Wanted
12 Times Being High Cost NJ Residents & Towns
Have You Seen Them? Ocean County's Most Wanted
NEXT: 10 Jersey Shore School Districts Losing Millions From S2 School Funding Formula
Ten times drunk driving changed New Jersey Lives Forever
Strange NJ Laws You've Never Heard Of
Marijuana legal in NJ: How do the laws work?
Answers to common questions about legalized recreational marijuana in New Jersey and rules about underage use of weed.
NEXT: INSIDE JOE PESCI'S HILARIOUSLY OVER-THE-TOP LAVALLETTE MANSION
LOOK: GO INSIDE JON BON JOVI'S $20 MILLION MIDDLETOWN MANSION
Go Inside Mike 'The Situation's' NJ Mansion
TAKE A TOUR OF JON BON JOVI'S NEW $43 MILLION PALM BEACH MANSION
Jersey Shore Nor'easter 2021 Listener Pictures
LOOK INSIDE: The Most Expensive House in Rumson
This is the most expensive house for sale in Rumson, NJ in 2021
Peek Inside Snooki's New Toms River Waterfront Home
LOOK: See the iconic cars that debuted the year you were born
NEXT: The 100 Best Places to Live on the East Coast