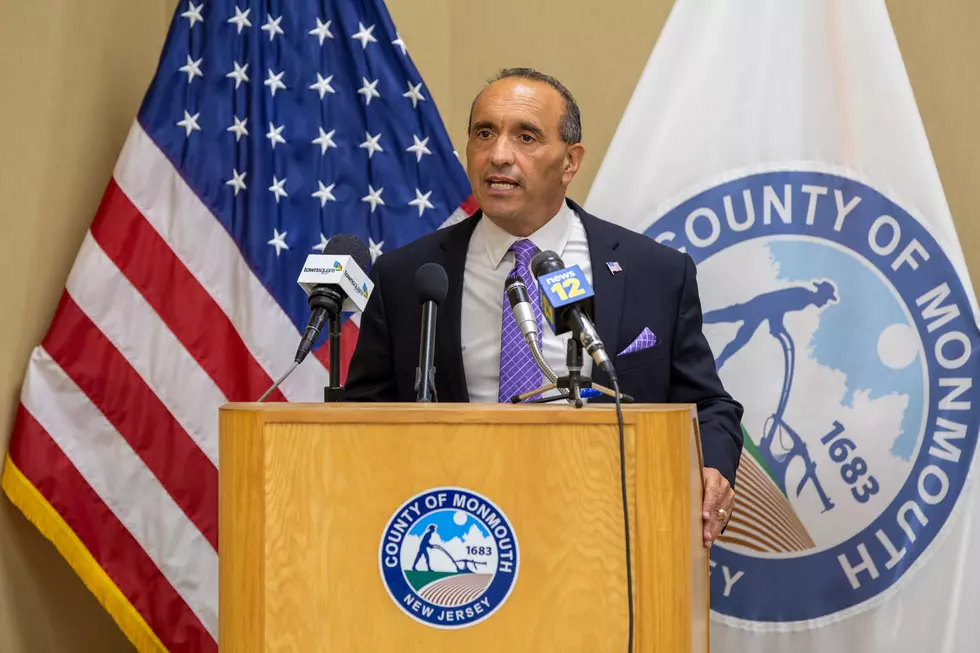 Monmouth County has new program to help struggling renters
Monmouth County Freeholder Director Tom Arnone addresses the media and reporters. (Monmouth County Government)
Need some help catching up on the rent?
In Monmouth County, the board of commissioners has started up a local version of the Emergency Rental Assistance Program to help you get back on track and stay in the residence.
Monmouth County Commissioner Director Tom Arnone said that during their last meeting they introduced their budget and along with it will be the accepting of $18,465,589.40 in direct funding from the United States Department of Treasury under the Emergency Rental Assistance Program.
Through the Monmouth County ERAP, anyone making less than 80-percent of the area media income can fill out an application to receive up to $15,000 for rental costs incurred on or after March 13 of 2020.
"These costs can include rental arrears, prospective rent up to three months to prevent homelessness or housing instability and household related expenses such as relocation fees, late fees associated with rental payments and security deposits," Arnone tells Townsquare Media News. "We are trying to curtail the potential aftermath of the homeless population and we want to try and assist and help."
There's a few requirements you have to meet in order to be eligible for the funds.
By providing eligible tenants/households with funds for rental costs, it'll also help the landlords get paid.
"Over the period freeze that has been going on throughout the pandemic, and justifiably, the financial impact has hit very hard on landlords. During that period of time they were given some sort of relief from banking institutions but now all this has come into play so it's a domino affect and they're still not receiving rental funds and they're obligated to pay their share of a mortgage or whatever it may be that they have with their financial institutions," Arnone said.
There are a few checklist items you need to make sure are applicable before receiving any of the funding.
"It's open to the tenant base. You have to reside and prove that your residence is here in Monmouth County for both yourself and the landlord," Arnone said.
Here are more of the Tenant eligibility requirements :
Must reside in the rental unit located in Monmouth County as their primary residence.
Must have experienced a loss of household income, incurred a significant cost or is facing a financial hardship due directly to COVID-19.
Must meet program income eligibility requirements.
One or more individuals within the tenant's household can demonstrate a risk of experiencing homelessness or housing instability such as past due rent, utility shut off notice, eviction notice or threat of eviction.
Landlord eligibility requirements include:
The rental property in question must be located in Monmouth County.
The Landlord must be either the owner of record in accordance with property tax records, business interest or authorized managing agent.
Arnone says you can learn more about how to receive rent aid at www.monmouthcountyerap.com or by calling (848) 801-1297 between 8:00 am and 6:00 pm Monday through Friday or 8:00 am and 1:00 pm on Saturday.
You can follow Vin Ebenau on Twitter and Instagram and email news tips to vin.ebenau@townsquaremedia.com.
When Ocean and Monmouth County Police saved the day
Have You Seen Them? Monmouth County's Most Wanted
12 Times Being High Cost NJ Residents & Towns
Have You Seen Them? Ocean County's Most Wanted
NEXT: 10 Jersey Shore School Districts Losing Millions From S2 School Funding Formula
Ten times drunk driving changed New Jersey Lives Forever
Strange NJ Laws You've Never Heard Of
Marijuana legal in NJ: How do the laws work?
Answers to common questions about legalized recreational marijuana in New Jersey and rules about underage use of weed.
NEXT: INSIDE JOE PESCI'S HILARIOUSLY OVER-THE-TOP LAVALLETTE MANSION
LOOK: GO INSIDE JON BON JOVI'S $20 MILLION MIDDLETOWN MANSION
TAKE A TOUR OF JON BON JOVI'S NEW $43 MILLION PALM BEACH MANSION
LOOK INSIDE: The Most Expensive House in Rumson
This is the most expensive house for sale in Rumson, NJ in 2021
LOOK: See the iconic cars that debuted the year you were born
NEXT: The 100 Best Places to Live on the East Coast