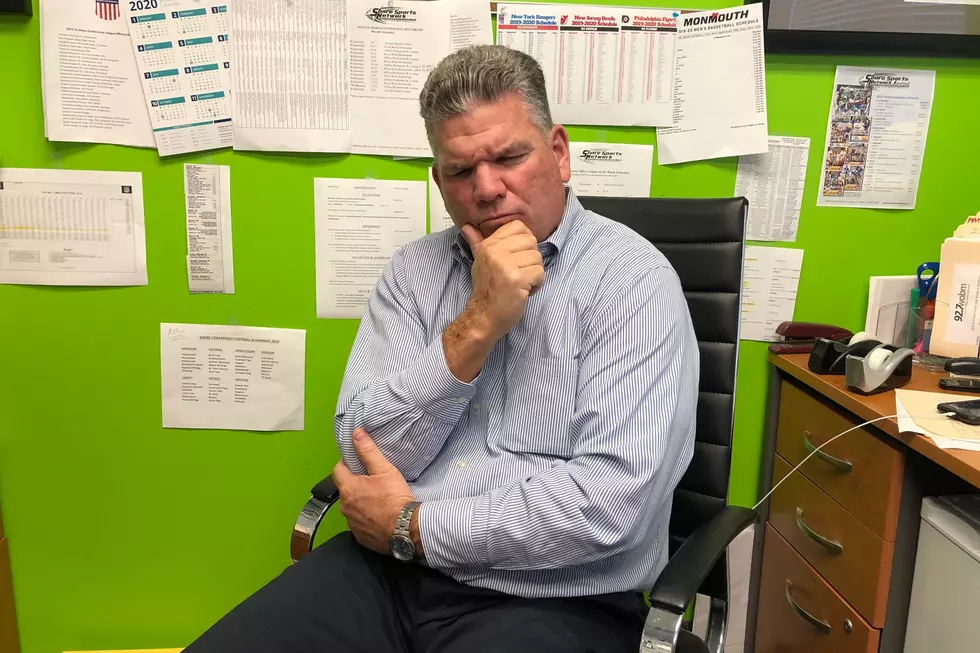 Kevin as "The Thinker" (Bradley James, Townsquare Media NJ)
Some Monday morning words of wisdom. Well,  not much wisdom but plenty of words.
I'm always saddened when hearing that a long-time local business is closing and such is the case with Wolfie's Deli & Restaurant in Toms River which is reportedly closing its doors at the end of this month. It was about this time a year ago that the place best known for its corned beef and pastrami announced it was for sale and now comes word that October 31st will be their final day.  Wolfie's first opened in Brick in 1968 and moved to Toms River ten years later. They have been in their current location on Route 37 just east of Hooper Avenue for about 20 years.  No word yet on whether the restaurant has been sold or if the Wolf family is just closing its doors.
One of the problems with sports these days is there with so many different media outlets and social media is there is way too much over analysis. There have been and will be endless stories about the Yankees failure to get to the World Series again this year and much will be about their lack of quality starting pitching.  Yes they can use a couple of starters but the bottom line is really simple and that is the guys they counted on the most did not perform in the post season outside of DJ LeMahieu and Gleyber Torres.  In 9 games, Aaron Judge & Gio Urshela each had 2 RBI's, Brett Gardner hit .176 and Gary Sanchez batted .129 with 16 strikeouts in 36 at-bats.  That is why their season came to an end in the ALCS.
There was a lot of excitement surrounding the Giants Sunday with the return of Saquon Barkley. Unfortunately he can't block and either did the offensive line which allowed 8 sacks and opened few holes in a disappointing loss to Arizona.
Bottom line, if you're a fan of the Yankees & Giants this was a miserable weekend.  Throw in Rutgers which lost its Homecoming game by 35 points and you have a trifecta of misery.