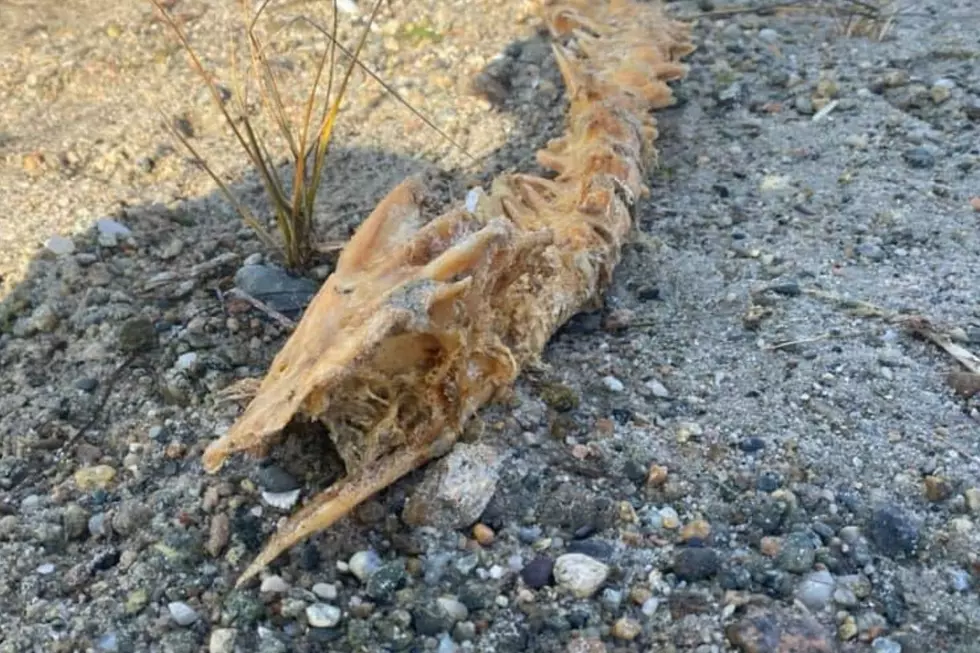 A Sea Monster on the Massachusetts Coast or Just a Giant Fish Skeleton?
Courtesy Holly Weedon
We've investigated an animal that resembled some sort of beaver, raccoon or woodchuck, and to this day, not even the Buttonwood Park Zoo could tell us what it was with 100 percent confidence.
Over on Brandt Island Road, down by the beachfront, local resident Holly Weeden was walking along the shoreline with her daughter Hadlee, collecting sea glass. As the two were enjoying a little mother-daughter time by the water this past Saturday, Hadlee came across some type of skeleton that had washed ashore – and it was very large.
"We were taken back because it was so big and wasn't sure what it was," Weeden told Fun 107. "We walk the beach all the time and have never seen anything like this."
Standing at four-foot-two, Hadlee laid down next to the strange fish skeleton to put in perspective how large it actually was.
As a second grade student at the Center School in Mattapoisett, Hadlee showed her teachers the bones to gather more information.
"She asked her science teacher at school and even he wasn't sure what it was," Weeden said.
Online speculation thought that the skeleton might be a form a sturgeon, which is strange since Brandt Island is an inlet.
"We thought it could be an eel, but my husband said that eels don't have scales," Weeden said, and for the most part, he's right – ocean-dwelling eels usually don't have scales.
Enter your number to get our free mobile app
Others said it appears to be the skeleton of a very large striped bass.
Hadlee loves animals and her mother said that she one day wants to be a zookeeper.
As of right now, the way the skull is shaped, the length of the body, and combined with my total lack of knowledge when it comes to fish or sea creatures, I'm absolutely stumped as to what it might be.
Old Superstitions That Sailors Believed at Sea