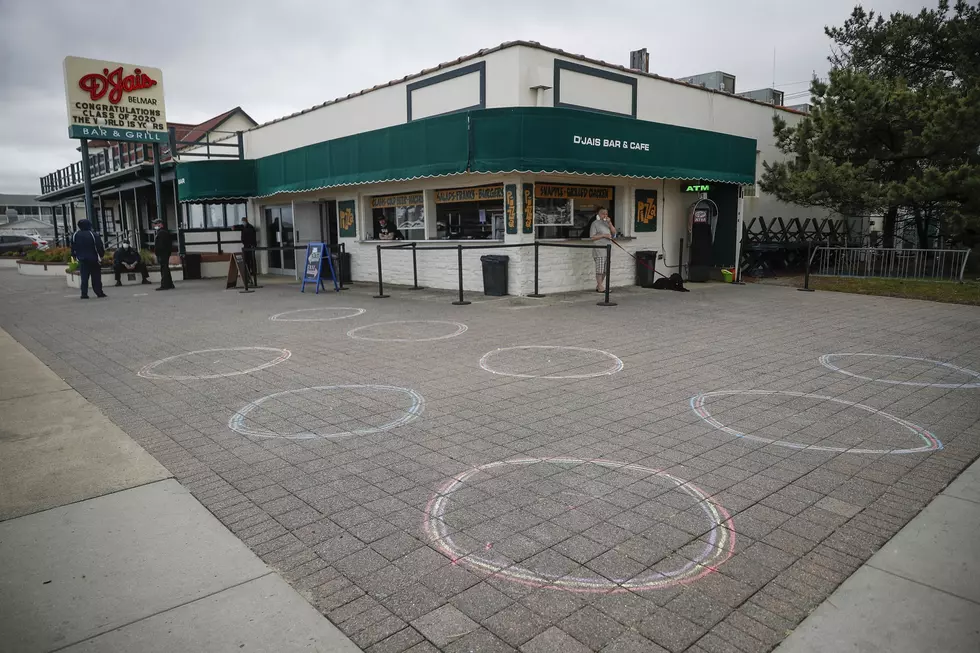 Life Before the Coronavirus Pandemic
Social distancing circles remain empty at D'jais Oceanview Bar in Belmar (AP Photo/John Minchillo)
If it seems like each of my recent daily commentaries have been based around one of two subject matters it's because they have been. With few exceptions either the coronavirus pandemic or the fallout over the death of George Floyd have been part of Hometown View each day since early March.
I went back into my personal archives and discovered that since the St. Patrick's Day Parade in Seaside on March 8th I have only done about 8 segments that did not include some mention of COVID-19 or the Black Lives Matter movement.  So I wondered what were the things I was talking about before those two began dominating the daily headlines.
We had just come off Super Tuesday which looking back turns out to be a day that could change not only the present but future of politics in our country.  On March 3rd a floundering Joe Biden resurrected his presidential candidacy by whipping front-runner Bernie Sanders in 10 of 14 states that held their primaries that day.
Just a month later Sanders suspended his campaign and Biden pretty much locked up the Democratic nomination and now appears on his way to the White House.
Think about it. Just before coronavirus became a "thing" we were talking about Michael Bloomberg, the Shore Conference Basketball Tournament, Kobe Bryant, the debut of the XFL, "Parasite" winning the Academy Award for Best Picture even though nobody really saw the film and the 40th anniversary of the "Miracle on Ice" when the US Men's hockey team beat the Soviet Union.
It was only a couple of weeks before that when Kansas City won the Super Bowl.  Quick. Do you remember who they beat?  (San Francisco by the score of 31-20).
Then of course it all changed.
On February 26th President Donald Trump held a press conference and downplayed the hype and hysteria that was just starting to build.  He said the virus posed "a very low" risk to us in America even though the day before the US Centers for Disease Control and Prevention cautioned that we should prepare for a significant disruption in our daily lives.  I guess we know which one of those predictions turned out to be correct.
Our daily lives have certainly been disrupted but for more than 125,000 Americans the virus ended their life.  I sure do look forward to talking about trivial matters at some point in the near future.