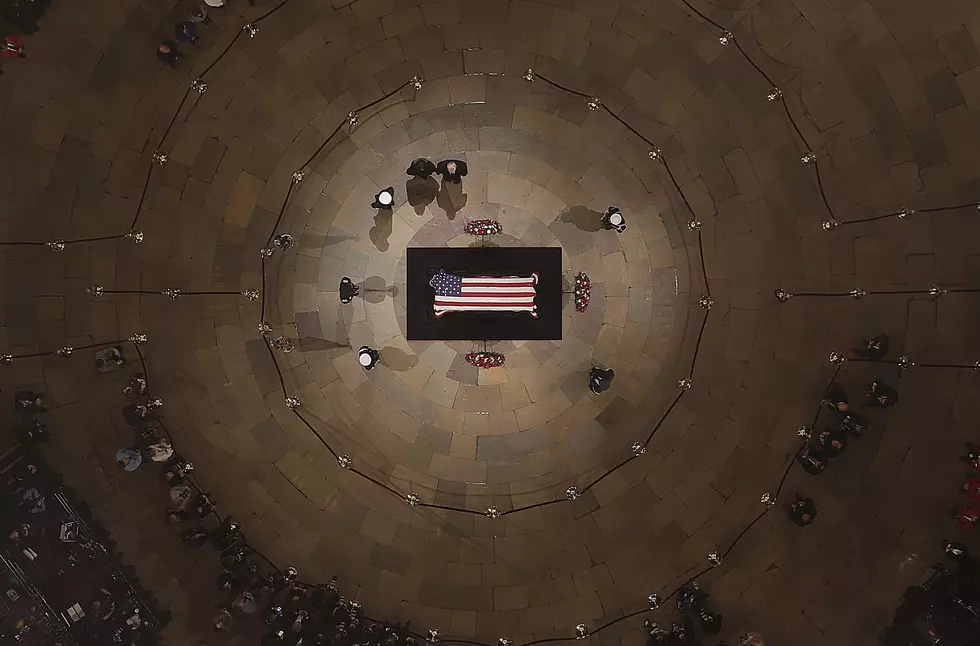 Laying a President to Rest
President Trump and first lady Melania Trump pay their respects to Former President George H. W. Bush as he lies in state in the U.S. Capitol Rotunda (Morry Gash - Pool/Getty Images)
It's a little bit of this and a little bit of that:
A moving tribute to President George H.W. Bush Monday as his flag-draped casket was taken to the Capitol Rotunda in Washington where it will lay in state until Wednesday when the 41st President of the United States will receive a state funeral.
Bush died Friday at the age of 94 and while watching Monday's ceremony both my wife and I realized that despite the incredible stress that comes with the job recent US Presidents have lived long lives. Both Gerald Ford, who died in 2006 and Ronald Regan who died in 2004 were 93 years old and Jimmy Carter who is still alive is 94.
Prior to those former leaders Herbert Hoover, the 31st President lived the longest as he was 90 when he died in 1964.
Despite what some of my co-workers might think I truly love Christmas, more so the season than anything else.  I even like Christmas music and I know I'm testing fate when I say that so far I have been very lucky. I have not heard "Dominik the Donkey" once on the radio.  That's a holiday song that I would like to see go away forever.
I'm okay with the trade the Mets finalized yesterday that brings 36-year old second baseman Robinson Cano and 24-year old relief pitcher Edwin Diaz from Seattle to the Mets.
I never really liked Cano from his days with the Yankees but I'm glad new Mets GM Brody Van Wagenen is being aggressive on the job and more moves are expected.  By the way the Mariners GM is Jerry DiPoto, a former standout pitcher at Toms River High School North who later pitched in the majors including a tenure with the Mets.
I'm not a fan of the College Football Playoffs and probably never will be.  At the least it needs to expand to eight teams even if at the end of the day Alabama would still probably win it all.
I truly believe fired Packers head coach Mike McCarthy will resurface soon in Florham Park as the head coach of the Jets.