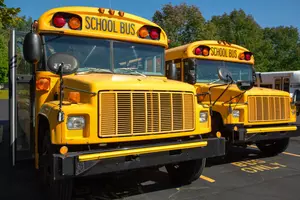 Keansburg mom must pay $39K after sending kids to Middletown schools
(Thinkstock)
MIDDLETOWN — A Monmouth County mother is on the hook for more than $39,100 after she continued sending her three children to Middletown schools last year even though the family lived in Keansburg.
The mother testified before an administrative law judge that her family was evicted in April 2016 out of a foreclosed home in Middletown. She then leased an apartment in Keansburg.
Her three children, however, continued to attend kindergarten and the fifth and ninth grades the following school year.
The mother testified that her children should have been allowed to continue schooling in Middletown under the state's Educational Stability Act. She also said that their new Keansburg address was closer to the Middletown schools than her previous Middletown home.
But an administrative law judge ruled in August -- and the commissioner of education agreed last week — that the children could not continue to attend Middletown schools because they are not homeless and their parents had no intention of returning to Middletown as residents.
As a result, the mother will be responsible for paying 2016-17 tuition in the amounts of $11,806 for kindergarten, $13,646 for fifth grade and $13,727 for the ninth grade.
Middletown has one of the least per-pupil costs in the county when all the costs to run a school district are considered. Middletown's two high schools outperform Keansburg in literacy and mathematics scores on the Partnership for Assessment of Readiness for College and Careers, according to most recent performance reports.
Also on New Jersey 101.5: