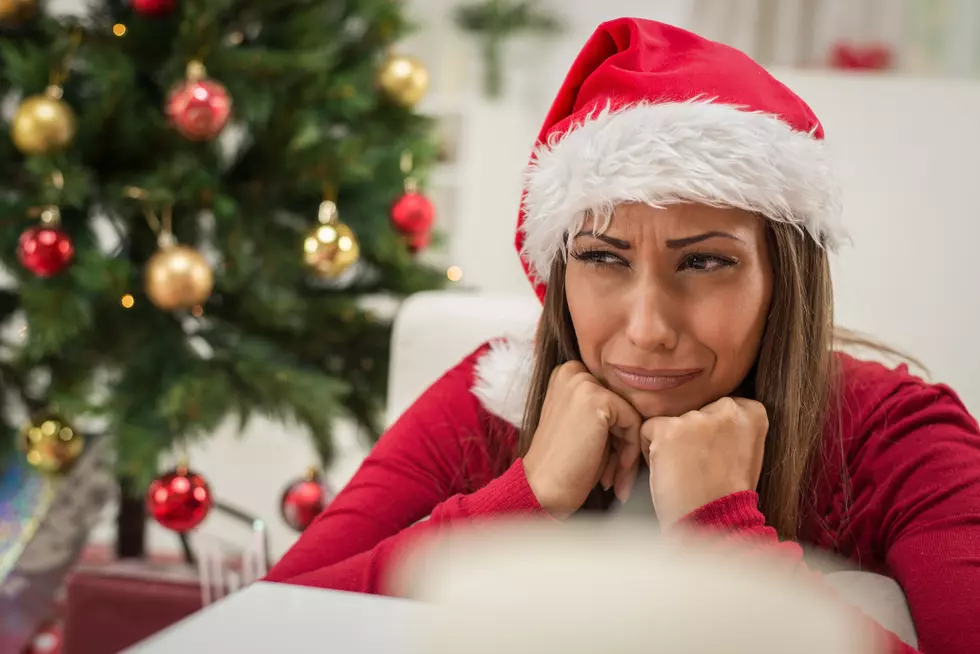 Jersey Shore Psychiatrist has a few ways to cure the Christmas, holiday blues
ThinkStock
The Christmas season brings all kinds of feel good emotions for us but there are some who have a tough time during this time of year -- perhaps lonely, depressed, single and feeling lonely, recently divorced or widowed/lost a loved one, financial woes or something else.
But there are ways for us to help them and for those struggling right now to find happiness on their own.
Dr. Ramon Solkhah, Chair of Psychiatry at Jersey Shore University Medical Center, explains the first way to curing the Christmas blues is remembering who is behind the social media posts.
"Not everything you see on social media is a true reflection of everyone's lives so it becomes very easy to get sucked in and think that everyone else is leading such phenomenal, happy lives but everyone is sort of muddling along especially during the last 20-months as we've been dealing with Covid," Solkhah said. "I think it's important to remember some of the core aspects of this time of year. We do get trapped into the financial issues and the shopping and what-have-you, but it really is about gratitude, right, and thanks."
Dr. Solkhah says that at this time of year, it's important to focus on the meaning for the season which includes gratitude and thanks for what's right there with you.
"Rather than thinking about the things you don't have or the experiences you're not having but thinking about the things that you do have in your life and being grateful for even the small things," Solkhah said.
There are some small yet instrumental things you can do to feel better during the Christmas season.
"When you're sitting there and a little bit upset, think about being able to pick up the phone and call someone or nowadays with Zoom and FaceTime, you can actually jump on a video call and actually see someone virtually if not actually in person. There are lots of little steps that we can take," Solkhah said.
For any fan of The Simpsons, you'll remember the very first episode that ever aired, "Simpsons Roasting On An Open Fire",  where Homer doesn't get his Christmas bonus and Marge has to use the jar of Christmas savings to remove a tattoo Bart got.
Desperate to make the best of things and keep his lack of bonus from Marge, Homer gets a job as a mall Santa and then goes to the dog race track and ends up later on coming home with a dog for the family, Santa's Little Helper, and everyone is happy.
There are lots of TV shows with Christmas episodes and Christmas Movies and while many will make you laugh, there are also plenty that teach a lesson or two about this time of year -- even Die Hard.
"The reason that all of us, most of us enjoy those sappy sort of movies is because there is a heartwarming message there and again these movies, etc. are fiction, they're not true but they do remind us of some of the core features of this time of year and I think that for all of us as we're watching those, to be inspired and to really take the little messages out of it," Solkhah said. "I think we all, too often, become focused on ourselves and it really is important to be focused on others even if you're single or recently widowed -- try and figure out ways that you can be connected to the greater community and volunteer at a homeless shelter or volunteer at an animal shelter -- there are so many ways that you can participate and be connected to other people and to really have some of that spirit of connection and giving and thanks."
There's no one size fits all solution, Dr. Solkhah explains, you just have to figure out what works best for you in trying to help and connect with others.
This also helps anyone who feels isolated or lonely or depressed at this time of year, which can also cause stress.
"Anything where you can turn that energy into a positive is always a good thing and is always better for our own health," Solkhah said.
One of the reasons people may feel lonely or sad during the winter months as it gets dark by 5 pm is due to what's called Seasonal Affective Disorder (SAD), which Dr. Solkhah explains can lead to more of a depression.
"There's a real depression that comes from the chemical changes in our brain related to the change in our sleep cycle and the change in the light cycle," Solkhah said. "These are people who tend to have that repetitive nature, right, every Christmas they tend to get into that emotional state. If you know that about yourself, there are ways to focus on that alone."
One way to help with that is through light therapy, Dr. Solkhah recommends, and get what's called a full spectrum lightbulb to replace in some of the lamps in your house.
LOOK: Here are the 25 best places to live in New Jersey
Stacker
compiled a list of the best places to live in New Jersey using data from
Niche
. Niche ranks places to live based on a variety of factors including cost of living, schools, health care, recreation, and weather. Cities, suburbs, and towns were included. Listings and images are from
realtor.com
.
On the list, there's a robust mix of offerings from great schools and nightlife to high walkability and public parks. Some areas have enjoyed rapid growth thanks to new businesses moving to the area, while others offer glimpses into area history with well-preserved architecture and museums. Keep reading to see if your hometown made the list.