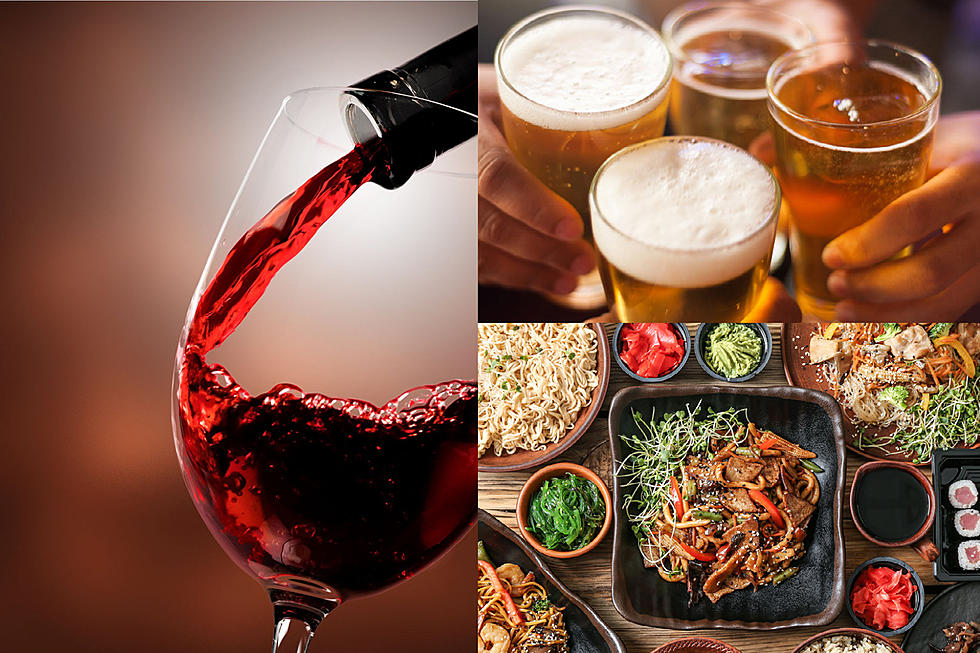 The 11 best food, wine and beer festivals in NJ this spring
Adobe Express illustration
Everyone looks forward to festival season here in NJ because after a long winter — no matter how non-winter-like it's been — we can't wait to get outside and enjoy the outdoors. And what better way to celebrate spring than with one of New Jersey's famous outdoor festivals? The Garden State is known for its fabulous food, festivals, and lately, our beers and wines are also a huge attraction.
Food trucks abound at these festivals so if you're a fan of New Jersey's amazing mobile eateries, you'll be thrilled at some of the offerings in New Jersey this spring.
Most of these festivals are very family-friendly but even if it's just you and a friend or significant other attending one of these festivals, you'll enjoy the day and make great memories, too.
Here are some of the best food, wine and beer festivals NJ has to offer!
Springfield Food Truck Festival May 7, 11 a.m. – 6 p.m.
The Springfield Community Pool Parking Lot, at 44 Morrison Avenue is where it's all happening on May 7 at the 3rd annual Springfield food truck festival. From 11 a.m. till 6 p.m. you can a fun day out of doors with fabulous food trucks, arts, and great live music.
You'll also enjoy a great Beer and Wine Garden and try your luck at their 50/50 Raffle. It's for a good cause, too, because proceeds benefit the rotary club of Springfield, the Springfield, recreation department, and JDHS senior scholarships.
Garden State Plaza Spring Food and Music Festival May 7, 12 – 7 p.m.
Come, celebrate the arrival of spring at this fun-filled Paramus festival. But you better come hungry because there will be 12+ food vendors for you to enjoy and be thirsty because they'll have local craft beer as well as wine, sangria, and hard seltzers.
Live music, too, featuring Naughty Humphrey and Guy Smiley. And it's all about the family here at the Garden State Plaza Spring food and music festival where live music, games, and activities for all ages rule the day!
Try the air-soft shooting range and the bungee trampoline. Let the kids flop around the bounce house, have their kids, painted, and more. It's $6 for everyone 6 and over and takes place at One Garden State Plaza in Paramus. And take note of the new location for this year: The West Parking lot (where they hold the circus and carnival) adjacent to Rt 4!
Branchburg Food Truck and Music Fest, May 13, 11 a.m. – 7 p.m., (Rain Date May 21)
If you love, music and food, trucks and family, and fun, the Branchburg food truck, and music fest will not disappoint. There will be a dizzying array of different gourmet foods from over 20 fantastic food trucks and vendors & a beer, sangria & margarita garden!
And of course, no spring festival would be complete without music and plenty of things for the kids to do. And this list of kids' activities is awesome. Pony rides, petting zoo, knocker ball, and hatchet tossing, (give Junior a little help with this one, please!) but wait there's more! Inflatables, face painting, and sand art. Bring your own lawn chairs, pop-ups, and blankets. Dogs welcome! It's at White Oak Park, 235 Baird Rd in Branchburg. The cost is 5 bucks and kids under 5 are free.
Brew by the Bay, May 13, 12 - 6 p.m. (May 15 rain date)
This is a lot to pack into one festival but here it goes! Brew by the Bay is a great way to kick off the spring and summer seasons. Treat yourself to some amazing brew tastings which take place on the gorgeous Highlands waterfront. The $35 ticket will get you seven 4-ounce tastings, a pint of craft beer, and a commemorative pilsner cup (for the first 300 registered).
You can also purchase additional tastings right at the event for three dollars. Additional tastings can be purchased at the event for $3. Dozens of local breweries will be represented and each will bring two styles of beer. You'll also enjoy live music, fire pits, and delicious Local Smoke cuisine. It's at the Seafarer, 1 Atlantic St., Highlands.
Keansburg Food Truck Festival, May 20, 2  – 7 p.m.
This is the fifth year for the Keansburg Food Truck Festival and it's always a blast. You can enjoy some great food from the various food truck vendors, not to mention no-limit entertainment from 2-5 p.m. and music by The Mighty Dog Band from 5-7 p.m. Enjoy some food, no-limit entertainment from 2-5 p.m., and the Muddy Dog Band from 5-7 p.m.!
And while you're stuffing your face, your kids can enjoy FREE face painting, a bounce house, and more. It all happens at 1 Beachway Ave in Keansburg and it's FREE.
New Jersey Seafood Festival, May 19 – 21
If you've never been to this festival in the past, you have no idea what you're missing. It's time to check it out. It's three days in seafood heaven. All your favorite seafood favorites like lobster rolls, and jambalaya, to coconut shrimp, crab legs, conch fritters, and pretty much anything else you could dream of. And of course, live music from popular area musicians all three days. Oh, and did I mention, it's free? It's at Pyanoe Plaza and Pyanoe Plaza Parking lot, Belmar.
2023 Asbury Park Vegan Food FestivalMay 20 & 21, 11 a.m. – 5 p.m.
The Asbury Park Vegan Food Festival is a two-day celebration that features yummy vegan and plant-based meals from local chefs, as well as vegan products, plant-based fashion, live music, and good times. All welcome! Bradley Park, 101-199 5th Ave Asbury Park, NJ. Cost: $15 – $30, kids 13 and under are free.
Jersey Shore Food Truck Festival, May 27–29
This Memorial Day weekend, Monmouth Park's biggest event – the Jersey Shore Food Truck Festival is back on its normal date and back to its normal size. Come enjoy 35 of the Jersey Shore's most mouth-watering food trucks.
Sample everything from lobster rolls to mac & cheese to fried Oreos. Amazing food, great music, live horse racing, and much more. Monmouth Park Racetrack, Oceanport Avenue, Oceanport NJ. Cost: $6
2nd Annual Bernardsville Car Show & Food Truck Fest May 29, 11 a.m.–3 p.m.
Cars of all years, makes, and models are welcome. Food trucks, hospitality tent, Power Wheels Parade, giveaways, and more! Bernards High School, 25 Olcott Ave, Bernardsville, NJ. Cost: Free, $15 for cars to register. Free for veterans.
Randolph Food Truck and Music Festival, June 3, 11 a.m.- 7 p.m.
Come on out to County College of Morris at 214 Center Grove Road in Randolph for this important benefit for Randolph Rescue Squad. You'll enjoy gourmet food, drinks, music, kids' activities, and a great family day.
If you love food trucks, you're in luck because there will be 18 of them! Not to mention live music from School of Rock Randolph, Rock Bottom & The Captains of Leisure. Vendors, beer, margaritas & sangria garden.
Plenty of activities for the kids too, including a bounce house, slide, knocker ball, 9-hole miniature golf, face painting, sand art and so much more. Please bring a nonperishable canned or boxed food item. Sorry, no pets are allowed.
Tacopalooza, June 24, 11 a.m. - 7 p.m.
Taco lovers can unite at this fantastic event, featuring beer, sangria, margaritas, and all things taco. They'll have some great vendors, live music and a corn hole tournament.
Don't forget to bring your furry friends because the festival is dog friendly. Make sure and bring your chairs and blankets. It all takes place at Hilltop Fields.
32 Lakeside Blvd, Hopatcong, NJ The event is from Noon until 7:30 p.m. Admission is $7 on-site, but kids under 5 can attend for free. If you book online in advance, your tickets are only five bucks. The festival benefits both Hopatcong PBA 149 and the local Little League team.
Another great South Jersey winery
If you like wine and good food, New Jersey is one of the best states to enjoy a winery.
Opinions expressed in the post above are those of New Jersey 101.5 talk show host Judi Franco only.
You can now listen to Dennis & Judi — On Demand! Hear New Jersey's favorite best friends anytime, anywhere and any day of the week. Download the Dennis & Judi show wherever you get podcasts, on our free app, or listen right now.
Click here to contact an editor about feedback or a correction for this story.
A look inside Laurita Winery