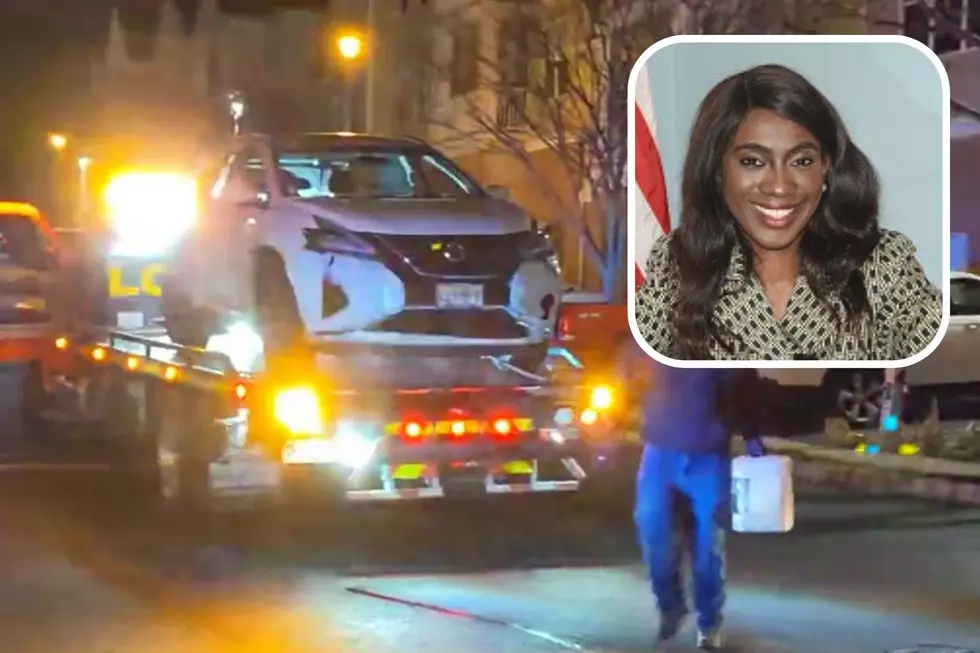 Sayreville, NJ councilwoman shot dead in front of home
SUV that was shot being removed from Samuel Circle in Sayreville (Charles Kratovil), Sayreville Councilwoman Eunice Dwumfour (Borough of Sayreville)
🔴 A woman was found dead with multiple gunshot wounds in a vehicle on Samuel Circle in Sayreville
🔴 A neighbor and member of the Sayreville Human Relations Commission identified the victim as fellow commission member and borough councilwoman Eunice Dwumfour
🔴 Police are seeking surveillance video from neighbors
---
SAYREVILLE – A borough councilwoman was killed after being shot multiple times inside her vehicle outside her home on Wednesday night.
The victim was identified by fellow officials as Councilwoman Eunice Dwumfour, 30.
Middlesex County Prosecutor Yolanda Ciccone said the woman was found around 7:20 p.m. after police received a 911 call about shots being fired on Samuel Circle. The neighborhood is off Ernston Road near the Garden State Parkway.
The woman was pronounced dead at the scene. Her identify was not disclosed by the prosecutor.
No arrests have been made in the shooting. Ciccone asked for anyone with surveillance video or information about the shooting to contact her office at 732-745-3477 or Sayreville police at 732-727-4444.
At an unrelated event Thursday afternoon FBI Special Agent in Charge James E. Dennehy was asked by a reporter Thursday afternoon if the councilwoman's death was on the FBI/DOJ's radar.
"The FBI is aware of that incident and we are working with all of our partners in order to find out more about that incident," Dennehy said. He would not disclose if an official investigation had been started into the shooting.
Shot coming home from work, neighbor says
Mahesh Chitnis, a neighbor who served with Dwumfour on Sayreville's Human Relations Commission, said Dwumfour was shot 300 feet from his house as she came home from work.
"She was a woman full of life. When she missed HRC meeting she used to ask me to put her on speaker phone so that she could participate," he wrote on his Facebook page. "When a fellow commissioner messaged me, I couldn't believe that this can happen in my town."
Another commission member, Juan-Nelia Rodriguez said he was "heartbroken" at her death and saw her while shopping earlier on Wednesday.
"She was an amazing friend, a woman who loved God. We were just at our HRC meeting January 5th 2023," Rodriguez wrote. "I can't stop crying. She was 30 years young and full of life. You will be missed my dear, precious friend."
"Shocked and saddened" by Dwumfour's death
The state Senate Thursday held a moment of silence for Dwumfour before today's session, according to lobbyist Shlomo Schorr.
Gov. Phil Murphy in a statement said he was "stunned" by an act of gun violence.
"Her career of public service was just beginning, and by all accounts she had already built a reputation as a committed member of the Borough Council who took her responsibility with the utmost diligence and seriousness," Murphy said. "I send my condolences to Councilwoman Dwumfour's family and friends, her governing body colleagues, and the entire Sayreville community."
Sayreville Mayor Victoria Kilpatrick said the community was "shocked and saddened" by Dwumfour's death and called the shooting a "despicable criminal act."
"She was a woman of deep faith and worked hard to integrate her strong Christian beliefs into her daily life as a person and a community leader," Kilpatrick said. "On a personal note I can't adequately express my feeling of sorrow at the loss of a friend."
Up and coming political newcomer
Dwumfour, a Republican, was elected to office in 2021. She was director of churches for the international ministry for Champions Royal Assembly and earned a bachelor's degree in women's studies from William Paterson University of New Jersey in 2017.
Her father told MyCentralJersey.com Dwumfour had a 12-year-old daughter from a prior relationship.
"I am incredibly shocked and saddened to hear of the tragic passing of Eunice, she was a bright and shining young woman who deeply cared about her community as a public servant in Sayreville. She had a bright future ahead of her, and this senseless act of violence took that away from her and her loved ones," Middlesex Couny GOP chairman Rob Bengivenga told New Jersey 101.5 in a statement. "My thoughts and prayers are towards her family, friends, and the residents of Sayreville during this awful time."
Kevin P. McCabe, Middlesex County Democratic party chairman, shared Bengivenga's shock.
"This and other acts of violence has to end. And it must begin with each of us. We should take this moment to be mindful of our neighbors, work together to keep our families safe, and treat each other with civility," McCabe said in a tweet.
"We are heartbroken at the tragic loss of Councilwoman Dwumfour. Our deepest sympathies to her family, friends and the Sayreville community," the New Jersey League of Municipalities said in a tweet.
Journalist Charlie Kratovil reported that Dwumfour's vehicle, a white SUV, crashed after she was shot. He said detectives believe Dwumfour appeared to have been targeted but did not know the motive.
Eric Scott contributed to this report
This is a breaking story. Check back for additional details.
Dan Alexander is a reporter for New Jersey 101.5. You can reach him at dan.alexander@townsquaremedia.com
Click here to contact an editor about feedback or a correction for this story.
LOOK: See how much gasoline cost the year you started driving
To find out more about how has the price of gas changed throughout the years, Stacker ran the numbers on the cost of a gallon of gasoline for each of the last 84 years. Using
data from the Bureau of Labor Statistics
(released in April 2020), we analyzed the average price for a gallon of unleaded regular gasoline from 1976 to 2020 along with the Consumer Price Index (CPI) for unleaded regular gasoline from 1937 to 1976, including the absolute and inflation-adjusted prices for each year.
Read on to explore the cost of gas over time and rediscover just how much a gallon was when you first started driving.
NFL pros from New Jersey
There are more than 60 active pros with NJ roots.
More than 10 players who made it to the NFL conference championship games this year have NJ ties — and four active NFL quarterbacks were born in the Garden State.
Some of them may even be on your fantasy football team.
New Jersey Goodwill stores will not accept these items