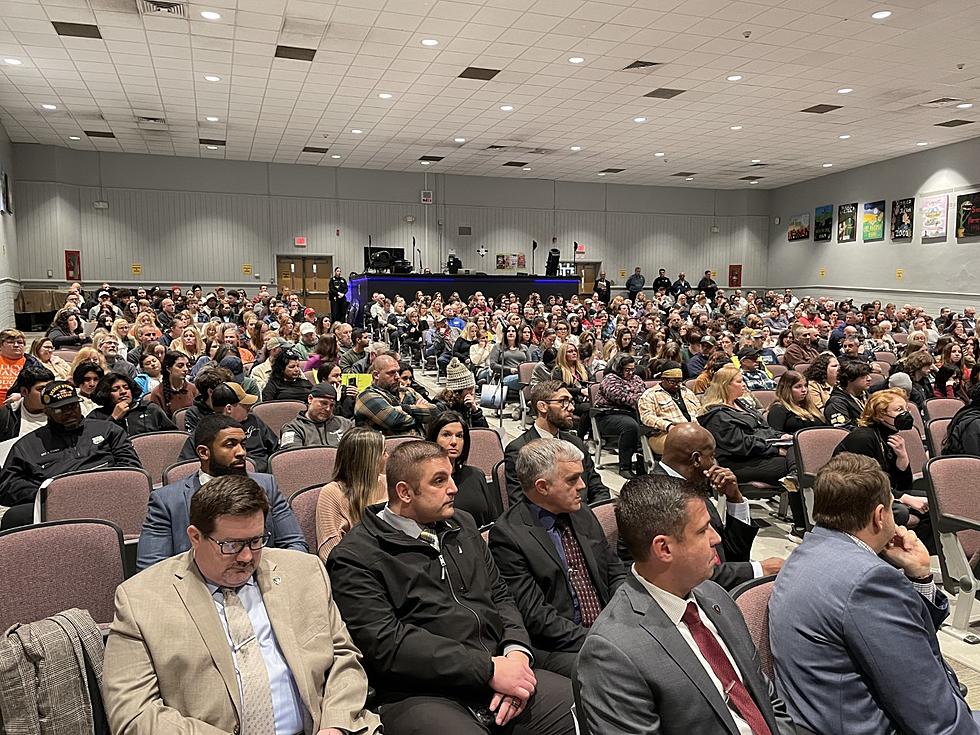 Furious parents blast NJ school leaders about bullying after freshman's suicide
David Matthau, Townsquare Media NJ
⚫ A loud, angry Board of Ed meeting in Berkeley after freshman student's suicide
⚫ An overflow crowd blasts education leaders for lax response to bullying reports at Central Regional High School
⚫ District officials agree bullying should not be tolerated
---
BERKELEY — Hundreds of people flooded the Central Regional High School auditorium  Thursday night during a loud and emotionally charged Board of Education meeting after a 14-year-old freshman took her own life this month after being bullied.
Adriana Kuch died Feb. 3, two days after a graphic video was posted on social media showing her being brutally attacked by other female students as she walked down a school hallway with her boyfriend.
Her father Michael Kuch told WNBC TV that the posting of the humiliating 50-second video drove his daughter to take her own life.
Kuch, other parents and students have expressed outrage over the school administration's handling of the case and the lack of a coherent school bullying policy.
During the Board of Education meeting John Galifi, a parent, said the school is failing its students.
"Everything in this district is handled in a reactionary way, knee jerk way, these children and we parents do not feel that you, the current administration and the school system are actually listening to us," said Galifi. "Open your eyes, it is time to listen, pay attention to what your job actually is, educating."
Students are scared
Student Hailie Engesser said she's been picked on for years, and "it's actually really, really hard to be going to school now because of all the bullying going on."
Freshman Emma Smith agreed.
"We're scared to walk in the hallway of Central. We're terrified we're going to get picked on and jumped because that's al that's been happening," Smith said.
Student Echo McNichols told the board she had been going to the school track every day "and I was followed and harassed by a group of people I didn't even know and they said awful things to me and called me names I cannot repeat in this room."
She paused, crying softly, and then said when she was with her sister "they told me I was ugly and fat and that I should kill myself, they sent us pictures of guns and told us they knew where we lived and they were going to send people to our house to come rape us."
McNichols said her mother called police and when the school was contacted they were told there wasn't much they could do, but if she felt uncomfortable she could attend classes virtually.
Diagnosed with anxiety after reliving trauma
Former student Emily Bush told members of the board "hearing what happened to Adriana was absolutely disgusting and you all should be ashamed of yourselves."
She said she graduated in 2016 from Central and her experience was nothing but depressing.
"I was diagnosed with anxiety two years ago because I was reliving trauma based on what kids did to me and said things to me at this school," Bush said.
Parent Marisa Ledesma told Board of Education members the death of Adriana has been traumatic.
"My daughter has anxiety because of this place," Ledesma said. "She has been self-harming, and she has been self-harming more now that this has happened."
Parent Crystal Mayo said the abuse at Central has been going on for far too long.
"Why did it have to take a student taking her own life for us to hit rock bottom, it should have never gone there, rock bottom should have been when a student was bullied," Mayo said.
Parent Meliasa Hickey said her daughter had been verbally abused by a teacher and she wondered out loud "how do we expect the students to learn not to bully and be better, when they are learning it from their educators."
Parent Christine Langer said her daughter has been bullied several times.
"I'll be damned if my child gets bullied anymore. I have expressed to her to take action into your own hands. I signed her up for jujitsu," Langer told board members.
Comments were made for hours, and board members quietly sat and listened, sometimes agreeing that bullying should not be tolerated.
Mourning and angry for weeks
The Ocean County community has been in mourning and engulfed in anger and turmoil for the past few weeks.
After Adriana's death was announced, students at Central Regional High walked out of the school, protesting the administration's lack of action in previous bullying cases, and many parents joined the protest.
School Superintendent Triantafillos "Tommy" Parlapanides resigned last weekend after comments he made about the girl's private life were published in media reports. In response, the district hired a $ 125-per-hour public relations firm.
Downplayed bullying accusations
Parlapanides downplayed accusations of bullying, indicating the girl had a troubled history, and when he was asked by the Daily Mail what services related to bullying were provided to Kuch before her death he indicated the girl's mother had taken her life in 2016 amid an affair, according to the publication.
He then said the school had offered drug rehab and mental health services to the 14-year-old but her father had "refused every time." It was not clear from the response whether the school had provided counseling for bullying or not.
The girl's father, Michael Kuch, called the answer an "insane deflection." He clarified to the Daily Mail that his daughter had been using a vape device to smoke marijuana as many students in the school did.
He has also questioned why school officials have not been held accountable for the tragedy.
Bullying reports will be reviewed
The Board of Education this week issued a statement indicating it had accepted Parlapanides's resignation and confirmed it would take a closer look at reports of bullying.
"The District has contacted the Department of Education and will undergo an independent assessment of the District's anti-bullying policies and ensure every necessary safeguard is in place to protect our students and staff," the board said.
Ocean County Prosecutor Bradley Billhimer has confirmed four juvenile students have been charged in the case.
One student is facing charges of aggravated assault, two have been charged with conspiracy to commit aggravated assault and the fourth is facing a harassment charge.
All four suspects have been released to their families, pending future court appearances.
Gov. Phil Murphy weighs in
Gov. Phil Murphy tweeted "Tammy & I send our deepest condolences to the family and friends of Adriana Kuch. Every student should feel safe and supported no matter where they are."
Three days ago the governor was asked if there would be "anything from the state in terms of bullying in that school in particular or just statewide."
"I can't say specifically, but the answer will be yes, we always look in the mirror after something like this. And this is an awful, awful, awful tragedy," he said.
Murphy said the Bullying Bill of Rights law he signed early last year, dubbed Mallory's Law, in remembrance of 12-year-old Mallory Grossman who took her own life, "had a big impact but clearly not a universal impact."
Mallory's Law revises provisions required in a school district's anti-bullying policy and allows for the civil liability of guardians of any minor found guilty of harassment or cyber-harassment.
Anyone in crisis and in need of immediate help can text or dial 988 or call the New Jersey Suicide Prevention Hopeline at 1-855-654-6735.
There also is a chat option on the website.
David Matthau is a reporter for New Jersey 101.5. You can reach him at david.matthau@townsquaremedia.com
Click here to contact an editor about feedback or a correction for this story.