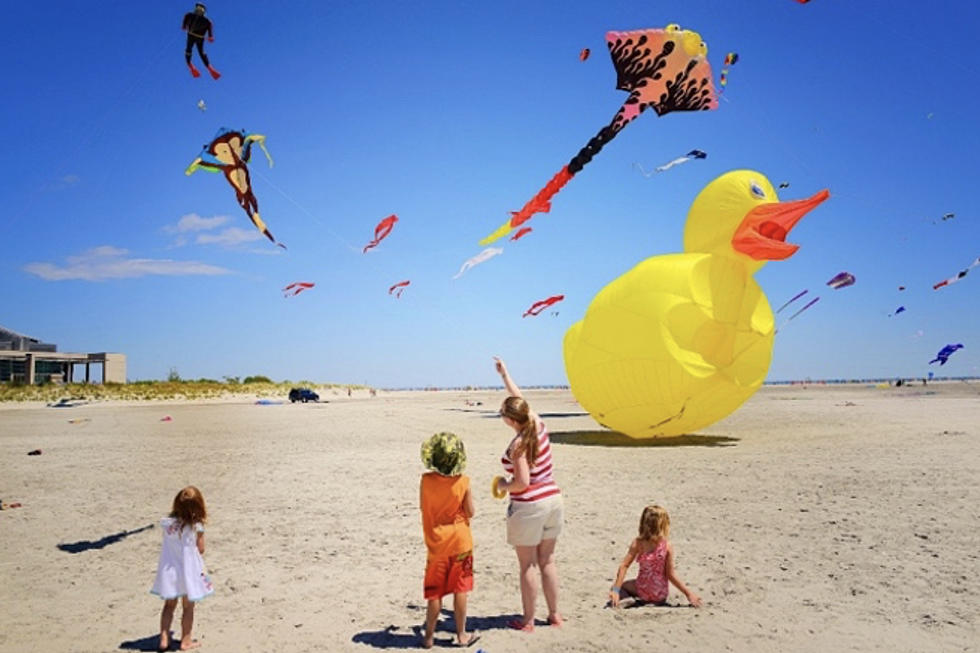 Amazing NJ kite festival is the best family kick off to summer
Photo Credit: Craig Terry
There are so many family Memorial Day activities to kick off summer. But you literally have never seen anything like the 37th annual International Kite Festival, the largest kite festival in North America, happening Friday, May 26 through Sunday, May 28.
I was lucky enough to be at the kite festival one year when my kids were small and it was the most magical event ever. Because not only do you get to see a gorgeous display of color and light in the sky and on the ground, but you get to experience the work of some of the most skilled kite fliers and kite makers in the world.
It's a jam-packed weekend of kite events beginning Friday, May 26 with the unlocking of the ocean ceremony on the beach at Andrews Avenue, south of the Wildwoods Convention Center.
Then, the Kite festivities begin! The Kate sales tent opens, and then there's a Friday night kite, social, and an illuminated kite fly at the Rio Grande Ave beach behind the famous "WILDWOODS" sign.
On Saturday you'll be treated to the quad-line kite flyers doing team flying, stack flying, mystery ballet and a learn-to-fly field that includes four-line kites.
On Saturday and Sunday, you'll get a chance to step out on the beach and try your own kites! There's also a Kite Candy Drop and a professional Fighter Kite Competition. Free kite exhibits and workshops on the beach will also be featured throughout the weekend.
You can also bid on many unique kites and collectibles at both the silent auction and the loud auction inside the Wildwoods Convention Center.
A very special event on Sunday features a hands-on "Introduction to Fighter Kites" workshop where, if you're feeling brave, you'll get an education on Fighter Kites, and learn how to handle the line, get some practice time with the pros, and join in a line touch mock competition.
And to wrap up this unbelievable experience, the World Indoor Kite Competition takes place on Sunday where kite fliers will showcase their impressive ability to fly a kite indoors without wind! There, you'll get to see and hear choreographed performances paying tribute to the music of The Beatles.
Now you may be wondering what's the cost for all of these activities and all of this fun? Well, the answer is it's all free. And, unlike almost every other beach in NJ, so are the Wildwood beaches.
I can't think of a better, more colorful way to kick off summer at this unique family-friendly event.
For more info, click here.
Stunning Jersey Shore rentals, steps from the beach
Here are 10 houses along New Jersey's coastline for an Insta-ready beachfront staycation.
Opinions expressed in the post above are those of New Jersey 101.5 talk show host Judi Franco only.
You can now listen to Dennis & Judi — On Demand! Hear New Jersey's favorite best friends anytime, anywhere and any day of the week. Download the Dennis & Judi show wherever you get podcasts, on our free app, or listen right now.
Click here to contact an editor about feedback or a correction for this story.
TAKE A TOUR OF JON BON JOVI'S NEW $43 MILLION PALM BEACH MANSION