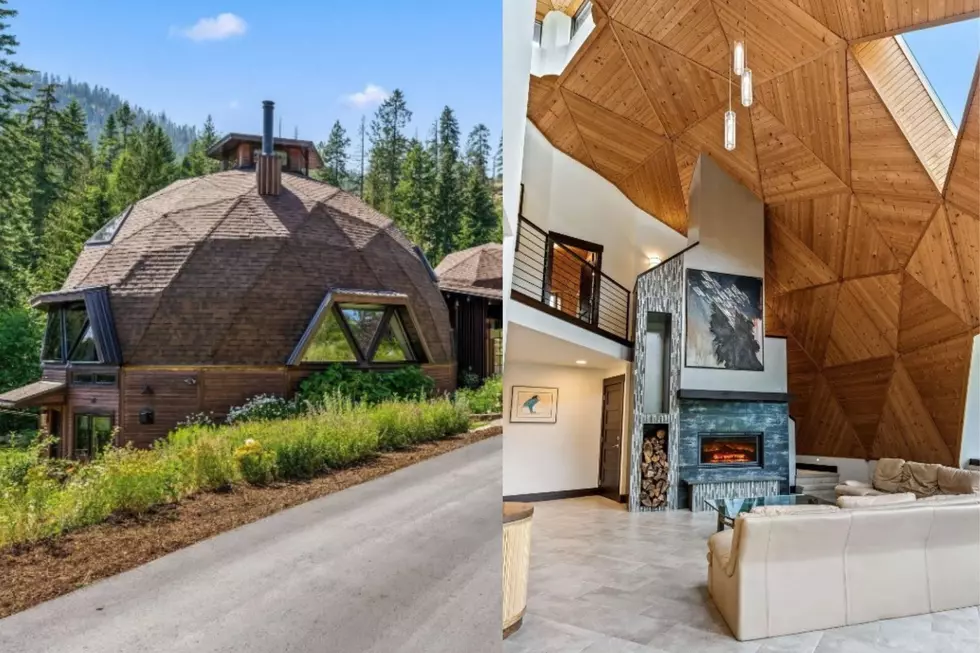 Unique Idaho Dome Home Sits Next to a National Forest [PHOTOS]
Leah Cafferty, Windermere/Coeur d'Alene Realty Inc/Realtor.com
If normal cookie-cutter houses aren't for you, you're in for a real treat with this Idaho home.
A geodesic house is for sale in Sandpoint, Idaho and it's a total eye-catcher. In fact, it was just named the week's most popular listing on Realtor.com. When you see it, you'll understand why.
What's a geodesic home?
Google dictionary describes the term geodesic as the "shortest line between two points on a sphere or other curved surface." There are several benefits to having this kind of dome home. According to 2-10, they are energy efficient, strong, and can better resist the elements. Cons are that they can be difficult to construct and divide rooms inside the sphere shape, so it requires an experienced builder. It'll also be hard to find off-the-shelf materials due to the unusual dimensions of the space.
Geodesic Dome Home in Sandpoint, Idaho
This dome was very well crafted. Originally built in 1996, it was completely redesigned down to the studs in 2016 by local architect John Sayler. It's now a luxurious work of art. The home is on 10 acres and features five bedrooms, five and a half bathrooms, a spacious kitchen, mudroom, master suite with a loft, a separate five bay garage, heated floors and so much more. It'll cost you though, as it's currently listed for $8,250,000.
It's the perfect home for nature enthusiasts too as it's surrounded by the Kaniksu National Forest and has tons of nearby trails to hike, bike, and horseback. Plus, it's within 30 minutes of Schweitzer Mountain and Lake Pend Orielle. Basically, it's a forest oasis. See for yourself.
LOOK: Unique Idaho Dome Home Sits Next to a National Forest
This secluded $8+ million sanctuary in Sandpoint, Idaho offers beauty and tranquility.
Want to see more unique forest homes?
LOOK: This Washington Cabin is Straight Out of an 'I Spy' Book
This place will basically make you feel like you're inside one of the popular books.
If historic homes are more up your ally, you'll love this.
LOOK: Famous Historic Homes in Every State