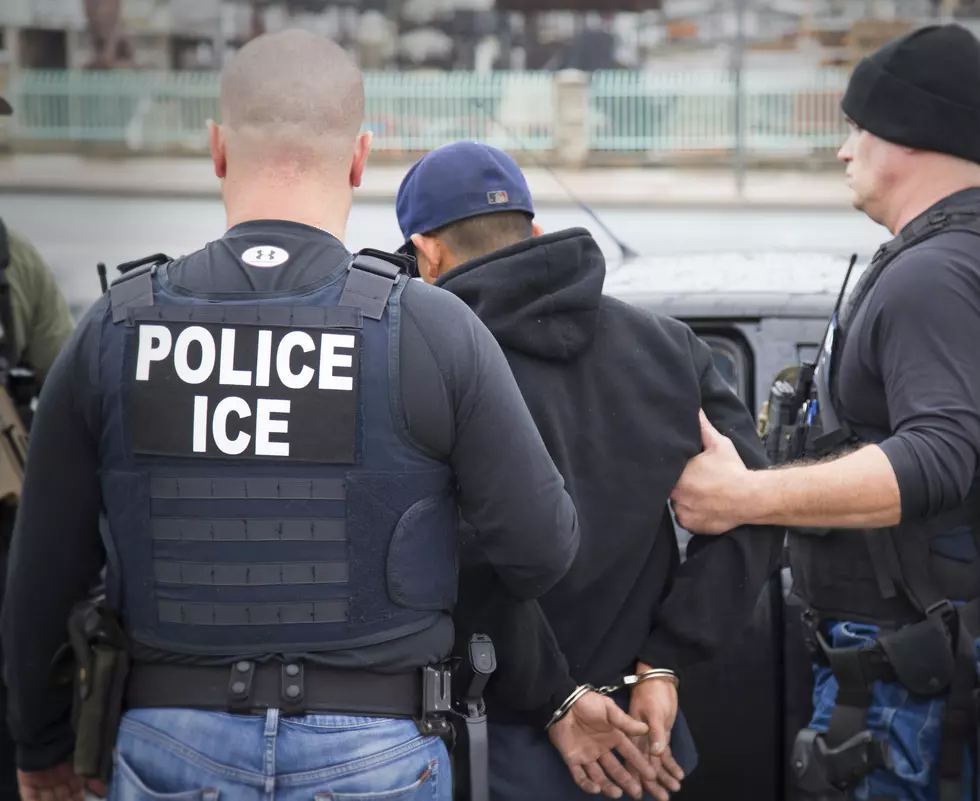 ICE threatens more raids in NJ; Trump blocked from cutting funds
(AP Photo)
A day after New Jersey adopted new guidelines clarifying how law enforcement can treat people suspected of living in the country illegally, a federal judge blocked the Trump administration from withholding funds from so-called "sanctuary" jurisdictions.
The court ruling and the new directive from the state Attorney General's Office this week are the latest developments in the conflict between the administration's hard line on illegal immigration and states like New Jersey, where leaders want to foster cooperation between law enforcement and immigrant communities.
The new rules direct police officers from not inquiring about a person's immigration status unless relevant to an investigation. The directive also bars departments from assisting ICE in civil immigration enforcement efforts and instructs county jails not to honor ICE detention requests that would keep suspects in custody longer than their scheduled release. The rules also prohibit jails from notifying ICE about an inmate's release date unless that individual has been charged with a serious criminal offense.
ICE responded Thursday by saying that the new rules would result in raids in neighborhoods and workplaces, leading to collateral and potentially dangerous arrests.
"The New Jersey attorney general's decision to further limit law enforcement's ability to cooperate with ICE undermines public safety and hinders ICE from performing its federally mandated mission," ICE Deputy Director Matthew Albence said Thursday.
"Ultimately, this directive shields certain criminal aliens, creating a state-sanctioned haven for those seeking to evade federal authorities, all at the expense of the safety and security of the very people the NJ attorney general is charged with protecting," Albence said.
An spokesman for ICE's Newark office doubled-down on Friday on the threat of raiding workplaces and neighborhoods.
"The probability is that at large arrests and worksite enforcement operations, which already exist, will likely increase due to the fact that ICE ERO will no longer have the cooperation of the jails related to immigration enforcement," Emilio Dabul told NBC Philadelphia.
Meanwhile on Friday, a federal judge said the Trump administration can't withhold over $29 million from six states and New York City.
Friday's decision involves Connecticut, Massachusetts, New Jersey, Rhode Island, Virginia and Washington state. It follows similar opinions by federal courts in California, Illinois and Pennsylvania.
However, there's no nationwide ruling — at least for now — on whether the federal government can block states, cities and counties from receiving a longtime public safety grant if they limit their cooperation with immigration officials.
The federal Department of Justice declined to comment on Friday's ruling. New York Attorney General Barbara Underwood called the decision "a major win."
The Justice Department implemented new requirement for a law enforcement grain, which included telling federal agents when immigrants in the country illegally are getting out of custody and letting agents question inmates about their immigration status. The local governments also had to agree not to set limitations on giving immigration officials citizenship information about anyone.
"We must encourage these 'sanctuary' jurisdictions to change their policies and partner with federal law enforcement to remove criminals," then-U.S. Attorney Jeff Sessions said in announcing the conditions.
But targeted states and cities said that turning police into de facto immigration agents discourages immigrants from reporting crimes or aiding investigations.
New York and the others involved in Friday's decision argued the cooperation conditions violated constitutional limits on the administration's authority over spending decisions and on federal power over states.
U.S. District Judge Edgardo Ramos agreed.
The information-sharing requirement "impinges on (the states' and city's) sovereign authority and their citizens' liberty to be regulated under their preferred state and local policies," he wrote.
However, Ramos turned down their request to strike down the conditions nationwide. A federal judge and a three-judge appeals panel in Chicago did so earlier this year, but those rulings were later limited to apply just to the city.
The Associated Press contributed to this report.