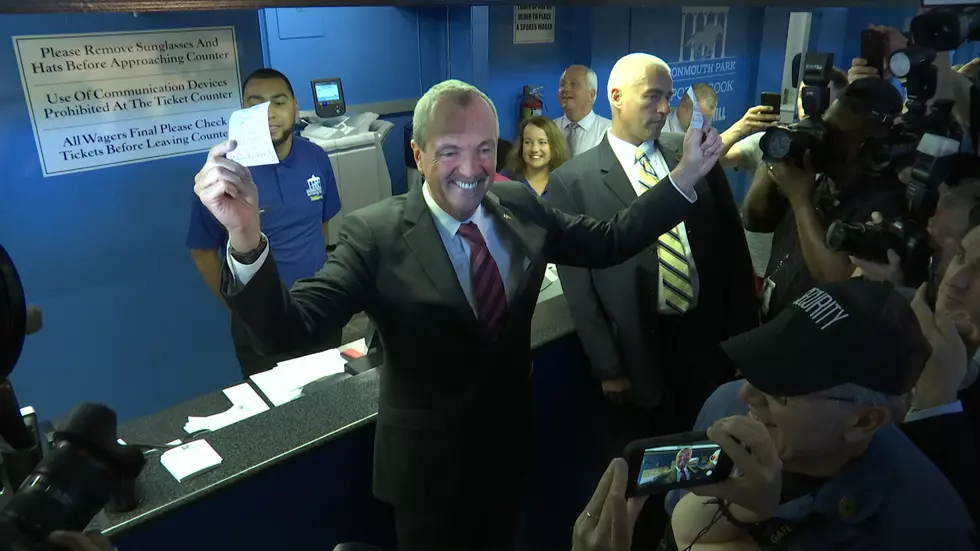 Horrible treatment claimed by women on Gov. Murphy's soccer team
Governor Phil Murphy holds two betting tickets, describing them as the first two legal sports bets in the history of this state at Monmouth Park (AP Photo/Ted Shaffrey)
TRENTON —Millionaire Gov. Phil Murphy ran as a progressive for the common man. But a professional soccer team that he owns has been accused of treating its players like peons.
Murphy is listed as a majority owner of the Sky Blue FC as a "lifelong fan of the beautiful game." The team is one of nine teams playing in the National Women's Soccer League. Among the current players for the team are olympian Carli Lloyd, of Delran.
Another report on the SB Nation site also listed "tough travel conditions, inadequate locker room and training facilities, a disorganized front office, near-total disconnect from ownership, and severe housing problems."
Allegations about the team's poor living conditions for its players first came to light after Chicago Red Stars player Sam Kerr, a former Sky Blue player, told reporters after a win over her former team that her opponents "deserve better."
"We call on management and ownership to step up and do the right thing for the sake of the players that sacrifice so much of their lives and for the fans that support them. We all deserve better," Cloud 9 said on Twitter.
"Please continue to hold us accountable as we strive to deliver the best possible product and environment for our players, coaches, staff and you as fans. We know that we must all do better, and it is paramount that we lift each other up as we work towards achieving the same common goals."
General Manager Tony Novo was mentioned as the root of many of the team's issues. Since the reports appeared, the league's Player's Association has gotten involved.
In a an interview with Soccer America before the two stories surfaced, Murphy said he is not deeply involved with running the team.
"I'm the majority owner but my principal co-owner is much more actively involved and obviously we have a professional staff at the general manager and business side as well as the coaching staff. I'm intensely involved on the capital side, but less so on operations," the governor told the website.
The team and the governor's office did not respond to a message seeking comment about the team.